4 Shipping Stocks That Could Sail Higher
Amid global supply chain disruptions and surging freight costs, shipping stocks look attractive right now. Here are four names to watch.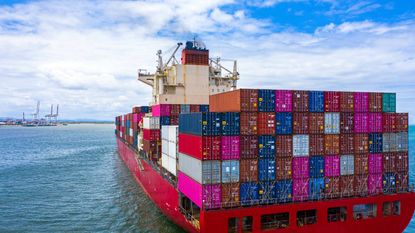 (Image credit: Getty Images)
While normally floating along behind the scenes, marine shipping stocks have percolated up as a potentially stunning investment opportunity.
Disruption in global supply chains, shortages in containers, surges in worldwide trade and a global emphasis on infrastructure spending are all disrupting the market in ways that are playing into the hands of companies involved in marine shipping.
The shipping market at large is broken down across tankers, containers and dry bulk shippers of commodities such as grains, metals and coal.
With lackluster energy markets, the action is in bulk dry shipping and containers. The latter is linked to the demand for consumer goods which have surged, while dry bulk is linked to the global trade of commodities, which are cyclical to begin with, but bolstered by existing and planned infrastructure spending.
As far as dry bulk shipping stocks go, there are plenty of these, but most are small with market capitalizations below $1 billion – and many less than $500 million. The container shipping industry, meanwhile, has few publicly traded options to choose from.
So, in addition to container shipping, investors might consider the opportunity presented by the containers themselves. While trends in dry bulk shipping are driven by supply and demand, the opportunity in containers is driven largely by chaos at shipping ports caused by closures, delays and shortages. Many experts feel rich container pricing will persist as ports continue to manage lengthy backlogs due in part to the pandemic, but also an increase in vessel capacity.
In shipping stocks, there's a lot of chaff, but the four opportunities below offer up some wheat for investors.
Data is as of Aug. 31. Dividend yields are calculated by annualizing the most recent payout and dividing by the share price.