How Amazon Ruined Whole Foods (Or Maybe Not)
I was a happy Whole Foods shopper until recently.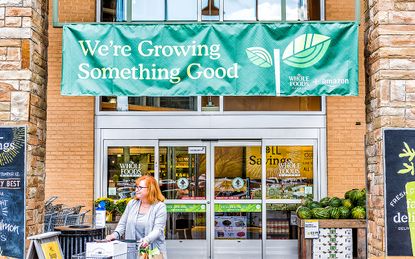 (Image credit: Getty Images)
I was a happy Whole Foods shopper until recently. I know I usually paid a premium, but I found their fruit crisper than the produce I picked through at other supermarkets, and their fresh salmon worth the cost over frozen fillets I could buy elsewhere. Plus, I often felt like I could offset some of the expense by zeroing in on Whole Foods' reasonably priced 365 Everyday Value house brand.
But now that Amazon owns the grocery chain and is aiming many of its discounts and deals exclusively at Prime members, some of the tricks to shopping at Whole Foods without going broke are no longer available. You see, I was a Whole Foods shopper but not an Amazon Prime member, which puts me in the minority. Magid, a strategy and research company, estimated that 61% of Whole Foods customers were also Prime members a little over a year ago, before the acquisition. Today, that number hovers between 75% and 80%, says Matt Sargent, Magid's senior vice-president of retail.
Without question, Amazon has changed how we shop at Whole Foods—for the worse, perhaps, but also for the better. "In a way, Amazon bought a broken business," says Elley Symmes, a supermarket industry analyst at Kantar Retail. "Organic and natural products have moved mainstream, and people are no longer willing to pay a premium."
Decide for yourself if Amazon is ruining Whole Foods or ultimately enhancing the experience for a new wave of shoppers.
1/8
It's All Prime, All the Time
Whole Foods offers exclusive rotating deals for Amazon Prime members, such as wild-caught halibut steaks for $9.99 a pound (a savings of $10 a pound) and organic yellow peaches for $1.99 a pound (saving $2 a pound). If you're not a Prime member, you don't get the discount. Download the Whole Foods Market app or subscribe to the email newsletter to track the latest Prime deals.
Whole Foods still holds sales that are open to all customers, but Prime members get an extra 10% off on all sale items. However, Darren Seifer, food and beverage industry analyst at NPD Group, wouldn't be surprised if the availability of sale prices to non-Prime members eventually goes away.
Yet another Prime perk: The Amazon Rewards Visa Signature card awards Prime shoppers 5% back on Whole Foods purchases; non-Prime cardholders get 3% back.
2/8
Say Goodbye to Store Coupons
Another way to save has disappeared for Prime and non-Prime shoppers alike: store coupons. I used to browse the digital coupons on the webpage for my local Whole Foods location, pick up printed coupon booklets while wandering the aisles, and check the Whole Foods Market app for mobile-only coupons that piqued my interest. None of those exist anymore. Whole Foods does, however, still accept manufacturer coupons.
In a shift, Prime members can now find the occasional buy-one-get-one-free deal—no coupon required—at Whole Foods, says Jim Cusson, president of retail consultancy Theory House. This is the type of incentive normally seen at conventional supermarkets, not at upscale grocers.
3/8
Prices Are Lower... and Higher
When Amazon purchased Whole Foods in the summer of 2017, it immediately slashed prices on an array of items, from bananas to avocados. Despite fanfare about the chain losing its "Whole Paycheck" reputation, analysis by Gordon Haskett Research Advisors found an average price decline of just 1.2% five weeks after the merger on the 110 products it studied. Most prices stayed the same, while some even went up. More recently, Burt P. Flickinger III, managing director of Strategic Resource Group, a consumer industry consulting firm, has found that certain goods such as frozen foods, dairy products, canned seafood, some coffee, and tea became more expensive.
But Magid, the strategy and research company, found that shopping at Whole Foods is cheaper overall under Amazon. This is especially true if you are a Prime member enjoying exclusive discounts and an additional 10% off sale items. Prime or not, get more bang for your buck by focusing on Whole Foods' 365 Everyday Value house brand, where the already reasonable prices have held steady.
And lower prices may be here to stay. Whole Foods' largest supplier, United Natural Foods, recently bought SuperValu, a grocery chain and food distributor, greatly widening its wholesale distribution network. As long as the deal goes through, Flickinger expects prices at Whole Foods to go down by the end of 2018.
4/8
Special Events Are Less Common
Meatless Mondays at my old neighborhood Whole Foods were a no-brainer on the nights I needed a quick, budget-friendly dinner. I could fill up a container with as much vegetarian food as would fit for a flat $8, making it an ideal night to enjoy mac 'n' cheese, mashed potatoes and other heavy items. On Wednesday nights, I often spotted the post-work crowd circulating the store, wine glass in hand, for Wine Down Wednesdays, where five wine tastings were paired with five nibbles. But now the events calendar for that store is blank, as are the other three Whole Foods locations in Washington, DC.
You can still find trivia nights, yoga classes, happy hours and other offerings at some locations, but those special events have largely been scaled back and tend to take place at more profitable stores or in competitive markets, says Flickinger. Symmes and Meaghan Werle, also from Kantar Retail, recently noticed that the in-store spa at Whole Foods' flagship Boston store has been converted to a fulfillment area for Prime Now, Amazon's delivery service. "I think Amazon is testing to see what sticks," says Symmes, who adds that the events and extra services once more commonly found at Whole Foods, while appealing to some shoppers, were probably costly to offer.
5/8
It's Harder to Get Free Samples
Here's a Whole Foods shopping tip a friend taught me years ago: Ask a staff member if you can take a new-to-you product home to try for free. (Etiquette dictates that you have a full basket or cart when asking.) It's up to their discretion to grant the favor. Alternatively, Whole Foods allowed most products to be sampled in-store for free, or larger items, such as a head of cabbage or a generous bag of grapes, to be portioned out to your liking.
Nowadays, Whole Foods has gotten away from allowing free take-homes because of cost pressures, says Flickinger. For other samples or special portion requests, you'll likely have to seek out a store manager rather than a team member.
6/8
More Gadgets, Fewer Local Products
You can now turn to Whole Foods for an assortment of Amazon-branded tech items. I recently spotted an Amazon display at one Whole Foods store that showcased Alexa-enabled voice assistants including the Echo, Echo Dot, Echo Show and Echo Spot. There were also Amazon Fire TV Sticks for streaming, Fire HD 8 and Fire 7 tablets, and Kindle Paperwhite e-readers. Prices were identical to what I found on Amazon.com, so no need to wait two days or more for shipping.
The competition for floor space is certainly putting pressure on suppliers big and small. Whole Foods was once known as an incubator and ally to small, local food-makers looking to break into the market, thanks to its "decentralized" model that allowed store managers more autonomy to make buying decisions, says Symmes. Now, suppliers are reportedly being asked by Whole Foods to pay higher stocking fees and to lower prices on products.
7/8
More Unity, Less Individuality
Interestingly, I noticed that the regional Twitter feeds that once flagged local sales and events at individual stores have consolidated into one company-wide feed. That might not seem like a big deal, but it has made me feel less connected to the chain, especially as a non-Prime member. Speaking of which, you can no longer sign up for the Whole Foods e-newsletter without a Prime account.
Whole Foods is also doing away with departmental specialists and brand reps that could train store associates with their products, such as in the health and beauty department, says Cusson of Theory House. "One of the highest costs is labor, and they are doing things to make themselves healthier in the long run," he says. "But it's a bit disappointing for folks who knew the old Whole Foods."
8/8
You Can Get Your Groceries Delivered
Prime members are eligible for two-hour grocery deliveries from Whole Foods (free on orders over $35) via Prime Now in several cities across the U.S., including Atlanta, Denver and San Diego, with plans to keep expanding. Squeezing that window to one hour will cost an additional $7.99.
Non-Prime members can order Whole Foods groceries for a fee directly from Instacart, a third-party delivery service, but you wouldn't know it from wandering the store. "There are no signs even though that partnership still exists," says Werle.
Associate Editor, Kiplinger's Personal Finance
Miriam lived in Toronto, Canada, before joining Kiplinger's Personal Finance in November 2012. Prior to that, she freelanced as a fact-checker for several Canadian publications, including Reader's Digest Canada, Style at Home and Air Canada's enRoute. She received a BA from the University of Toronto with a major in English literature and completed a certificate in Magazine and Web Publishing at Ryerson University.