28 Ways to Stop Wasting Money
It's a pretty good bet that you have leaks in your budget—car insurance that costs too much, bank account fees, home-energy wasters or mutual funds with high expense ratios.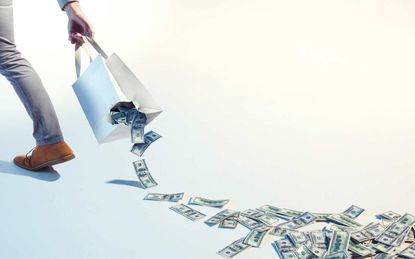 (Image credit: C.J. Burton)
It's a pretty good bet that you have leaks in your budget—car insurance that costs too much, bank account fees, home-energy wasters or mutual funds with high expense ratios. Each of those leaks in isolation won't damage your finances, but all of the drips can quickly add up to big bucks—maybe even thousands of dollars a year—going down the drain. We identify typical leaks and show you how to fix them so you can keep more money in your pocket.
SEE ALSO: Time-Tested Tactics to Build Your Wealth
1/28
Hunt for Discounts
You can find store discount codes, often worth up to 20%, at sites such as Retailmenot.com and Promocodes.com. But if you're not in the mood to conduct the search yourself, Honey (www.joinhoney.com), a browser extension available for Chrome, Safari and Firefox, searches for coupons at thousands of sites and applies the discounts at checkout. Honey also searches Amazon.com for the lowest price.
But don't just assume Amazon has the best deal. LendEDU, a comparison marketplace for loans and other financial products, compared a shopping cart of 50 identical items from Amazon and Walmart in five categories: home goods, kitchen/appliances, tech, food and beverage, and miscellaneous items. Walmart bested Amazon in every category except food and beverage.
You can score deals at the supermarket without clipping coupons. If you sign up for a loyalty card, you can save up to 30% on sale items, and you may be able to add virtual coupons to your card if you register it on the grocer's website.
2/28
Avoid Shipping Fees
If you're paying pesky shipping fees, maybe you're not shopping right. The coupon sites mentioned in the last slide may turn up free-shipping codes.
Or search Bradsdeals.com for more than 50 stores—including Coach, Dell, DKNY, Microsoft, Neiman Marcus, Nord­strom, North Face, Ray Ban and Zappos—that always offer free shipping with no minimum purchase. But compare what you buy at sites with shipping fees to make sure you're getting the best overall deal. Another option: Best Buy, Nordstrom, Target and other large retailers offer free shipping to nearby stores, so you can take advantage of the online price. Or contact customer service through the chat box to ask about free-shipping codes.
3/28
Skip the Extended Warranty
Don't pay an extra 20% on an extended warranty—your credit card may have your back.
American Express offers an extended warranty on all of its cards, and most cards from Visa and MasterCard also include this perk (Discover recently discontinued it). To see what your card issuer offers, go to WalletHub.com and search for "extended warranty." The extra warranty typically lasts up to a year beyond the manufacturer's warranty and has coverage up to $10,000.
4/28
Schedule Your Shopping Wisely
Many retailers have annual sales for particular items, typically when they're clearing out inventory to make room for the coming year's new lines. You can score big savings by marking your calendar for the best months to buy the following gear.
January: linens and bedding, exercise equipment, winter clothing
February: TVs, tax-filing software, cookware and small kitchen appliances
March: skis and snowboards, high-end fashion, luggage
April: tires, cruise vacations, hotel discounts on tax day
May: mattresses, smart-home hubs, office furniture
June: gardening tools, gym memberships, camping gear
July: swimwear, air conditioners
August: laptops, school supplies, shoes
September: older iPhone models, grills, summer clothing
October: outgoing models of sedans and SUVs, Halloween costumes, patio furniture
November: gaming systems, tablets, large appliances
December: jewelry, toys, wedding dresses
5/28
Watch Mutual Fund Fees
You might be surprised to learn the extent to which high mutual fund expenses can erode your return. Consider Primecap Odyssey Growth (POGRX), a member of the Kiplinger 25 (the list of our favorite no-load funds). The fund invests in growth-oriented, large-company stocks and charges expenses of just 0.66% of assets. The long-term annualized return for large-cap stocks is 10%. Assuming a more conservative 8%, a $10,000 investment in Odyssey Growth would be worth nearly $41,000 after 20 years.
Under the same scenario, a $10,000 investment in the Monetta Fund, a large-company growth fund with a 1.46% expense ratio, would grow to just $35,000 over two decades. You can save even more with index mutual funds and exchange-traded funds. Vanguard Russell 1000 Growth ETF (VONG), which tracks the performance of 1,000 growth-oriented, large-company stocks, charges 0.12%. Under the same assumptions, the fund would net $45,500.
SEE ALSO: The 25 Best No-Load Mutual Funds
6/28
Curtail Trading Commissions
If you're shelling out more than $5 per trade to buy or sell stocks, you're paying too much. Brokerage firms Ally, Charles Schwab and Fidelity each charge $4.95 per stock trade, beating E*Trade, TD Ameritrade and Vanguard (all at about $7 per trade). Merrill Edge levies $6.95 per trade but waives the fee entirely on up to 30 trades a month for customers who keep at least $50,000 with the firm (including its parent, Bank of America).
Investors can also trade exchange-traded funds or buy mutual funds without paying a penny in fees. Schwab offers an industry-leading 254 commission-free ETFs. Vanguard brokerage customers may buy or sell more than 70 of its ETFs without charge. Most brokers also offer thousands of no-transaction-fee mutual funds.
SEE ALSO: Best Online Brokers
7/28
Invest Tax-Efficiently
Exchange-traded funds that track a market benchmark tend to be more tax-efficient than actively managed mutual funds that invest in the same arena because the latter may distribute capital gains on a regular basis. In a taxable account, consider swapping a poor-performing mutual fund that invests in large-company stocks for an ETF such as iShares Core S&P 500 (symbol IVV). Its expense ratio is a wafer-thin 0.04%, and it distributes dividend income only from underlying stock holdings.
Municipal bond funds can be a good alternative to taxable bond funds because muni interest isn't taxed by Uncle Sam; it may also be tax-free at the state level to the extent the fund holds bonds issued by the state in which you live. Fidelity Intermediate Municipal Income (FLTMX) yields about 2%, equal to a 3.2% yield for investors in the top 37% tax bracket, or 3.4% for those also subject to the net investment income tax.
SEE ALSO: What Investors Need to Know About the New Tax Law
8/28
Don't Pay a Load
Our standard advice to mutual fund investors is to avoid funds that come with sales charges, known as loads, which can range as high as 5.75% each time you buy shares. But if you invest through a discount brokerage, you may be able to purchase a stellar load fund without paying a sales charge or transaction fee. Loomis Sayles Core Plus Bond (NEFRX), which has outperformed its benchmark in seven of the past nine calendar years, usually levies a 4.25% charge for Class A shares.
But you can purchase them load-free at brokerages such as E*Trade, Fidelity and Schwab. Much of the fund's assets are pegged to the Bloomberg Barclays Aggregate Bond index, but the managers can stray from the index if they see fit. Hotchkis & Wiley Value Opportunities (HWAAX) returns have bested the average large-company value fund in seven of the past 10 years, including so far in 2018. The fund invests in promising out-of-favor companies. A shares are available without their 5.25% load at Fidelity, Schwab and Vanguard.
SEE ALSO: The 25 Best No-Load Mutual Funds
9/28
Get Advice for Less
Investment advice from a human might cost you 1% of assets. Robo advisers typically charge about 0.25%. These virtual advisers use computer programs to match you with a diversified portfolio of low-fee ETFs tailored to your time horizon and risk tolerance.
You can find robo advisers at a slew of financial firms; Betterment, Fidelity, Merrill Lynch, Morgan Stanley, Schwab and Vanguard each offer their own service. Robos' performance depends on the mix of assets in their portfolios. Schwab Intelligent Portfolios (free) beat its peers over the past two years, thanks to its stakes in foreign stocks, high-yield debt and foreign bonds, says the Robo Report newsletter.
SEE ALSO: Advice from Financial Pros on Our Wealth Creation Channel
10/28
Get Perks With Your Phone Plan
Our pick for the best family phone plan, Sprint's Unlimited Freedom Plan, costs $100 a month through March 2019 for unlimited calling, texting and data on up to five lines (you must make automatic payments to qualify for that price). After that, it costs $60 a month for the first line, $40 for the second line and $30 for each additional line. The plan includes free access to Hulu (worth $8 a month).
Cell-phone users with low data needs can often cut costs through prepaid carriers, such as Cricket Wireless (a subsidiary of AT&T) and MetroPCS (a subsidiary of T-Mobile), which charge about $40 per month for 5 gigabytes of data with unlimited talk and text. The average monthly data use is 2.4GB, according to Nielsen.
If you need more data, consider an unlimited data plan through one of the big four carriers—and you may get a bonus perk. T-Mobile's unlimited plan comes with a free standard Netflix subscription (worth $11 per month) for accounts with two or more phone lines (cost: $120 per month for two lines). AT&T's unlimited plans (starting at $60 a month for one line) come with free HBO (worth $15 per month) and, if you opt for the Unlimited Plus plan (starting at $90 for one line), a discount on a DirecTV subscription.
SEE ALSO: Best Phone Plans for Every Type of User
11/28
Buy a New Old Phone
When you're due for a phone upgrade, save $100 or more by skipping new, pricier models and going with their cheaper, almost-as-good predecessors. The iPhone 8 retails for $700, but a new iPhone 7 starts at $550. The Samsung Galaxy S8 sells for $725, but the Galaxy S7 costs $450.
SEE ALSO: Best Phone Plans for Every Type of User
12/28
Lower Your Car Insurance Premium
The insurer that had the best rate when you bought your coverage may not be the most competitive after you add a teenage driver, get married, move, buy a new car or improve your credit score. It's a good idea to reshop your auto insurance every year or so even if nothing has changed. In a study by the Texas Insurance Department, people saved an average of $125 per year just by calling other insurers to compare rates. Weigh any premium savings against long-term customer discounts you may be earning. Also, you'll usually get a big discount if you keep your auto and home coverage with the same company.
You can compare quotes from several insurers through an independent agent (to find one, go to www.trustedchoice.com), at Insurance.com or InsuranceQuotes.com, or by visiting a few insurers' websites. Tell your company about a better quote before switching; it may reduce your rate to keep you as a customer.
Ask your insurer for a list of discounts to see if you qualify for breaks you're not receiving. If you have safe driving habits and low mileage, you may save up to 50% by signing up for a data-tracking program, such as Progressive's Snapshot, State Farm's Drive Safe & Save or Allstate's Drivewise.
If you have an old car and you're still paying for collision insurance, you may be paying more in premiums than you would collect from your insurer if you totaled your car. Check out your car's value at Edmunds.com or KBB.com, and drop collision coverage if the value of your car minus your deductible is less than what you pay for collision coverage. Or boost your deductible. Raising it from, say, $250 to $1,000 could save you 15% or 20% in premiums.
SEE ALSO: 6 Steps to Cut Your Car-Insurance Rates
13/28
Increase Your Homeowners Deductible
Raising your deductible from $250 to $500 or $1,000 can cut your premiums by 15% or more. It also makes you less likely to file small claims that could boost your premiums or lead to cancellation of your policy. Don't forget to ask your insurer about discounts for home improvements that reduce claim risks, such as installing storm shutters or impact-resistant glass. You could also snag a discount of up to 5% for a home generator.
SEE ALSO: Does Insurance Cover That?
14/28
Save in a Health Savings Account
If your family is in relatively good health, you can save money on premiums—and benefit from an HSA's triple tax benefit—by signing up for a high-deductible health insurance policy. To be eligible for an HSA in 2018, your deductible must be at least $1,350 for self-only coverage or $2,700 for family coverage. Your contributions are tax-deductible or pretax (and you may get an employer match), and the money can be used tax-free for medical expenses in any year.
If you don't have an HSA but your employer offers a flexible spending account (FSA), you can contribute up to $2,650 in 2018, and the money escapes federal income and Social Security taxes. FSA funds can be used tax-free for eligible medical expenses. You must use the cash in your account by December 31 or March 15, depending on your employer, or you'll lose it. (Some employers let you roll over $500 to the next year.)
SEE ALSO: 10 Things You Need to Know About HSAs
15/28
Don't Pay Too Much for Medicare
You have from October 15 to December 7 each year to reshop your Medicare Part D or Medicare Advantage plans. Go to www.medicare.gov/find-a-plan and type in your drugs and dosages to see how much you'd pay in premiums and out-of-pocket costs for Part D plans. Use the same tool to shop for Medicare Advantage plans.
If you're paying the Medicare surcharge but your income has decreased because of retirement, divorce or the death of a spouse, you can get your surcharge reduced. (You pay higher premiums for Part B and Part D when your adjusted gross income plus tax-exempt interest is more than $85,000 if you're single or $170,000 if married filing jointly.) See www.ssa.gov/medicare for details.
SEE ALSO: 7 Ways to Maximize Medicare Benefits
16/28
Skip Coverage You Don't Need
A lot of insurance is simply overkill—it duplicates coverage you already have or offers too little payback for the premium.
Rental car insurance. If you have car insurance with liability limits of $500,000 to $1 million, you don't need to pay $10 to $15 per day for $1 million of rental car liability insurance.
Credit and mortgage life insurance. You've probably found pitches for credit life coverage tucked in with your car loan or credit card bill. The coverage looks cheap, but the benefits are minimal: The insurance just pays off the balance on your loan. Likewise, with mortgage life insurance, the value goes down every year as your mortgage balance decreases. Plus, your heirs can't use the death benefit for anything else.
Dental insurance. Most policies pay for cleanings and checkups every six months and annual x-rays. But annual premiums commonly run $180 to $600 for policies that generally cap coverage at $2,000 or less per year for most other expenses. Many policies also make you wait six months before covering fillings or at least 12 months before covering a root canal. If your employer offers a subsidized plan, it could be a good deal. But it may be more cost-effective to add pretax money to your flexible spending account to cover dental expenses.
SEE ALSO: Retirement Planning Mistakes You'll Regret Forever
17/28
Switch to a No-Fee Rewards Card
Not getting your money's worth from a card that charges an annual fee? You have plenty of great choices among no-fee cards. The Citi Double Cash card rewards you with 1% cash back when you make a purchase and another 1% when you pay the bill, for a total of 2% on all spending. Discover It offers 5% cash back on up to $1,500 spent in categories that change quarterly; in 2018, the 5% categories include gas stations, grocery stores, restaurants and Amazon.com.
SEE ALSO: Everyday Actions That Could Affect Your Credit Score
18/28
Take Advantage of Your Card's Perks
Don't pay for benefits you can get free. Your card may offer purchase protection, which provides a refund, replacement or repair if an item you bought with the card is damaged or stolen within a few months of purchase. Some cards include travel insurance, such as for trip cancellations or lost or delayed baggage. Certain types of identity-theft monitoring, such as scanning internet black markets for your Social Security number, are available to MasterCard and Discover cardholders.
SEE ALSO: Best Rewards Credit Cards
19/28
Find a Fee-Free Bank Account
The Bank of Internet USA Essential Checking account requires no minimum balance or monthly fee and provides unlimited reimbursement of out-of-network ATM fees. Plus, it's free to have money automatically transferred from a savings account if you overdraw your checking account. The free Ally Bank Interest Checking Account yields up to 0.6%, depending on the balance. Ally reimburses up to $10 monthly in out-of-network ATM fees, and overdraft transfers from savings are free (but you'll pay a $25 fee if you choose to have Ally cover an overdraft).
SEE ALSO: Best Credit Unions Anyone Can Join
20/28
Cut Down on Interest
If you're carrying a balance on a credit card, consider transferring it to a card such as the BankAmericard Credit Card. It charges no interest for 15 months and levies no balance-transfer fee (you must make the transfer within 60 days of opening the account to capture those terms).
If you can't pay off the balance before the 0% window closes, you may be better off moving the debt to a lower-rate loan. The average rate on a $30,000 home-equity line of credit was recently 5.66%, according to Bankrate.com. Or consider a personal loan. LightStream, an online lending division of SunTrust Bank, offers rates as low as 5.49% on a debt-consolidation loan.
SEE ALSO: Kiplinger's Interest Rate Forecast
21/28
Avoid Charges When You Travel
The following cards don't charge a 3% foreign-transaction fee for each purchase.
CREDIT CARDS
Bank of America Travel Rewards Visa (no annual fee) makes it simple to earn and redeem points.
Chase Sapphire Preferred Visa ($95 annual fee, waived the first year) lets users transfer points to several partner airline and hotel programs, or use points to book travel through the Chase portal.
PenFed Pathfinder Rewards American Express (no annual fee) dangles some attractive features for travelers, plus you can earn up to four points per dollar spent on travel purchases (for more details, see kiplinger.com/links/penfed).
Charles Schwab Bank High Yield Investor Checking refunds all ATM fees to withdraw cash worldwide and charges no foreign-transaction fees to use the debit card. The account is free to open and maintain.
Capital One 360 Checking does not charge foreign-transaction fees or out-of-network ATM fees, but it won't refund fees that the ATM owner charges. The account is free to open and maintain.
DEBIT CARDS
When you withdraw cash abroad, some debit cards waive the 3% foreign-transaction fee as well as out-of-network ATM fees (commonly $2.50, according to Bankrate.com).
SEE ALSO: Secrets to Save on Travel
22/28
Install a Smart Thermostat
The first programmable thermostats promised energy savings, but homeowners didn't fully tap their potential. Smart thermostats make it easier: They learn from your habits and automatically adjust temperature settings for the highest efficiency. The Nest 3rd Generation (works with Google Home and Amazon Echo, $249), ecobee4 (with built-in Alexa Voice Service, $249) and the ecobee3 lite (works with Amazon Echo, $169) have been certified by Energy Star. Independent studies show that the Nest thermostat will save an average of 10% to 12% on heating bills and 15% on cooling bills, or an average of $130 to $145 a year.
SEE ALSO: Put Smart-Home Technologies to Work for You
23/28
Pull the Plug on Energy Vampires
U.S. households have, on average, 65 electronics and appliances plugged in, according to the Natural Resources Defense Council. Most of them consume electricity around the clock, even when they're turned off. And that's costing households $165 a year, on average. (You can see how much you're paying with the Energy Vampire calculator at www.duke-energy.com.)
The obvious way to pull the plug on these suckers is to do just that—pull the plug. An easier approach: Use a smart power strip, which cuts power to electronics, such as computers, printers and home audio/video components, that slip into standby mode. The seven-outlet Smart Strip Power Strip and automatic switching surge protector ($25.75 at www.smarthomeusa.com; $33.95 for a 10-outlet strip) automatically turns outlets on or off when it detects whether an electronic device plugged into it is on, off or in standby mode.
SEE ALSO: 6 Home Projects That Save Energy and Money
24/28
Stop the Leaks
If you can rattle a door or a window in its frame, or you can see light around it, your home is letting in hot air in the summer and drafts in the winter. To save 5% to 20% on your energy bills, weather-strip around doors and between the sashes of double-hung windows. Caulk other cracks and gaps. You'll save another 5% to 15% on your energy bills if you have your heating and cooling equipment tuned up annually (about $70 to $100 per unit) and change the air filter at least every three months.
SEE ALSO: 10 Projects to Help You Live in Your Home Forever
25/28
Ditch the Old Fridge
About one-third of Americans have an old, inefficient refrigerator in their basement or garage. To see what you can save by retiring yours, use the "Flip Your Fridge" calculator at EnergyStar.gov. For example, if you got rid of a side-by-side model built in the early 2000s, you could save an average of $90 to $150 annually.
SEE ALSO: Unlock 11 Secrets of Home Improvement Shopping at Lowe's
26/28
Buy Energy Star
When it's time to replace appliances, get an Energy Star–certified model. Your clothes washer and dryer gulp the most energy in your home. By replacing them with Energy Star models, you would use only about half as much energy and water, and the typical household could save an average of $113 annually compared with standard models.
SEE ALSO: 12 Secrets to Shopping at Home Depot
27/28
Install LED Bulbs
Homeowners could save about $1,000 over 10 years by replacing 20 incandescent or halogen lightbulbs with LED bulbs, according to a 2017 price survey and cost analysis by the Consumer Federation of America. Most stores now sell 60-watt LEDs for less than $5 per bulb.
SEE ALSO: 5 Best (and 2 Worst) Things About Shopping at Lowe's
28/28
Home Sellers: Don't Pay 6%
The standard real estate commission is 6%, but in 2017, the average was 5.1% and falling, according to Real Trends, a real estate consulting company.
A shortage of housing inventory and pressure from discount and flat-fee brokerages are behind the trend. At Redfin, now available in more than 80 cities, sellers pay the usual 3% commission to the buyer's agent but just 1.5%—or 1% in some cities, including Washington, D.C.—to their agent. At a rate of 4.5%, you'd save $6,000 on a $400,000 home.
SEE ALSO: How Smart a Home Seller Are You?