5 Ways Supermarkets Trick Shoppers
Ever go to the supermarket for milk and instead come home with a trunk full of groceries?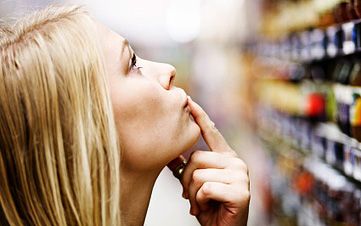 (Image credit: iStockphoto)
Ever go to the supermarket for milk and instead come home with a trunk full of groceries? Don't blame yourself -- blame the tricks that retailers play on the subconscious portion of a shopper's brain, which influences emotions and behavior. Scientists estimate that we make 80% of our shopping decisions based on subtle signals of which we're not even consciously aware. Increasingly, marketers are on the scent, using a set of techniques called neuromarketing to craft advertisements, packaging and in-store displays that appeal to the emotions and subconscious mind.
These techniques can be difficult to identify. In fact, in a hectic supermarket setting, the brain consciously processes only one-billionth of the information it receives every second. But staying conscious of your subconscious, and the tricks that marketers play on it, can help you make purchases that appeal to your wallet rather than your impulses.
We reveal five of the most common neuromarketing techniques and how to uncover them in the shopping aisle.
1/5
Dollars and Scents
You think: "Wow, I'm starving -- maybe I'll pick up some bread."
In reality: You just passed the in-store bakery located near the entrance.
Whether you shop at Walmart, Whole Foods or somewhere in-between, the in-store bakery usually sits just inside the front door. It's no coincidence. Shoppers who smell fresh-baked bread and pastries on their way into the store tend to feel hungrier while shopping, which makes them buy more.
And it doesn't have to pack Auntie Anne's level of pretzel power to affect your buying habits. Even a subtle, unrecognized scent can change your buying behavior, says Donna Sturgess, president of neuromarketing firm Buyology Inc. This applies to less savory scents, as well. Buyology found that the scent of fresh-cut grass in a hardware store caused consumers to believe the service level increased by 49%. Because we associate hard work and toughness with the outdoors, customers also ascribed those traits to store employees.
2/5
Color-Coding
You think: "Crest seems like the best-value toothpaste."
In reality: Crest is the only toothpaste in a blue box.
We all know that red means stop and green means go. But our subconscious associations with color actually go much deeper, influencing how we understand price, value and quality. Marketers often use blue to target budget-conscious consumers, who associate the color with trust and stability. (You'll notice it crops up often at banks and on credit cards.) Red invokes a fight-or-flight response that can spur impulse buying. And because purple is rarely found in nature, we tend to relate it to luxury, royalty and richness. On a crowded supermarket shelf, purple products look like the highest quality.
3/5
Sound Check
You think: "I have so much energy! Man, I love grocery shopping."
In reality: "Pumped Up Kicks" plays in the background.
Retailers sink a lot of time and money into crafting upbeat playlists, and it's not because they appreciate Top 40 tunes. Music makes people happy -- and happy people buy more stuff. Sounds can also impact our emotions and buying habits outside the store. Buyology's Sturgess says that consumers have strong subconscious reactions to noises such as a burger sizzling or a bottle opening.
And if you've seen the recent PediaCare commercial of a laughing baby in a highchair, then you've definitely been played. Buyology research found that a baby's giggle is the single most powerful sound for both men and women. Faced with a shelf of identical-looking medicines, you'll most likely remember the PediaCare, even if it's not rationally the cheapest or best product there.
4/5
The Art of Graphics
You think: "This mascara looks right to me."
In reality: This mascara model is looking right at you.
We prefer certain images and in-store displays to others, but we don't always know why. That's because visuals and graphics operate primarily on our subconscious, causing us to make certain assumptions about a product. Photos of people who seem to make eye contact with us foster a sense of connection and understanding, says Andrew Pohlmann, a partner at marketing consultant Neurofocus.
Women prefer to see photos of people in social settings. Men prefer short messages and images of advancement and success. And we all feel drawn more strongly to boxes, ads and displays that place images on the left. Because of the way our brain processes visuals and text, we understand these more quickly than right-image signs and displays.
5/5
Picture of Health
You think: "Whoa, this carton of expensive orange juice looks really fresh."
In reality: Some clever marketer slapped a picture of an orange on it.
You'd never think, "Oh, these pricey potato chips must be healthier because there's a photo of a farm on the bag." But subconsciously, images of ingredients are the most powerful way to make a product seem healthy or fresh. Think of Hidden Valley salad dressing, which puts a farm on its label, or bread packaging that incorporates sheaves of wheat or other grains.
According to Buyology chairman Martin Lindstrom, this is the same reason stores such as Whole Foods place displays of cut flowers at their entrances. Mentally, these fresh ingredients encourage us to think that everything we see is fresh and, thus, worth a higher price -- whether or not that's actually the case.