Five Reasons You Shouldn't Shop on Amazon Prime Day
Think twice before getting lured into buying a bunch of stuff you don't need just because it's on sale.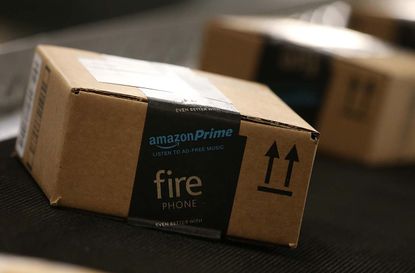 (Image credit: 2015 Getty Images)
Many bargain hunters are counting down the minutes to the start of Amazon's first-ever Prime Big Deal Days, slated for October 10 and 11. The members-only mega-sale promises deep discounts on thousands of products. But are Amazon's blink-and-you-miss-them lightning deals worth the hype? Based on past complaints about checkout glitches and inventory shortages, plus the availability of bigger sales at other times of the year, savvy shoppers might be better offer taking a pass on Prime Big Deal Days altogether.
1. You must be an Amazon Prime member to access deals
Not a Prime member? Unless you have yet to take advantage of Amazon's 30-day free trial (longer for students), you'll have to fork over $139 to cover the annual membership fee before gaining access to the exclusive deals on October 10.
But if you're considering joining Prime just to shop on Prime Big Deal Days, think twice before committing. If you don't plan to frequent Amazon often enough to reap the savings of Prime's free two-day shipping or to utilize the other member benefits (streaming music and videos are among the most popular), it could be a waste of your money.
Subscribe to Kiplinger's Personal Finance
Be a smarter, better informed investor.
Save up to 74%
Sign up for Kiplinger's Free E-Newsletters
Profit and prosper with the best of expert advice on investing, taxes, retirement, personal finance and more - straight to your e-mail.
Profit and prosper with the best of expert advice - straight to your e-mail.
2. Popular items sells out fast
In years past, one of the top complaints from shoppers on Amazon Prime Day has been that highly coveted items such as TVs and laptops were only available in limited quantities and sold out too quickly. As a result, you might be tempted to buy something else. But don't be tempted to grab an item simply because it's cheap.
Amazon is upfront about the limited quantities on Prime Day, but it's still a letdown if you wait hours for your item to go on sale only to find it's unavailable when you try to add it to your shopping cart. Once a product is sold out at the sale price, Amazon won't always restock right away and when it does restock, the sale price likely won't be offered.
3. You're an indecisive shopper
Keep in mind that if you're an indecisive shopper — say, you're someone who lets a desired item sit in their online shopping cart for a day or two before deciding if you really want to buy it — you should probably skip Prime Big Deal Days. Since the best deals don't last long, and new deals come online as often as every five minutes, you'll need to be ready to act fast if something catches your eye.
4. You're an impulse shopper
If you like to window shop and get easily lured into buying something you don't need simply because it's on sale (let's be honest, does anyone really need a toilet bowl light?), then you'll want to steer clear of Amazon Prime Big Deal Days. It could be too tempting.
Remember, this is a sale where shoppers who are keeping a close eye on deal updates will be inundated for 48 hours straight. Before you buy something, calculate how much an amount you spend today could be worth in the future if you invested the money or paid down debt.
You don't have to buy things just because they are on sale. Spending today means less to spend tomorrow. Don't buy something just to get the thrill of a bargain or because you get caught-up in the hype of a sale. The letdown will be worse than the fear of missing out.
5. There are better sales from other retailers and at other times of the year
Amazon had a great idea and, fortunately for shoppers, the idea has caught on and there are sales everywhere. Other retailers have wised up and used the frenzy that surrounds Amazon's sales days to their own advantage. So don't limit yourself to just Amazon. There are deals everywhere.
Walmart's Deals Holiday Kickoff begins at 7 p.m. ET on Oct. 9 and runs through Oct. 12. This sale isn't exclusive to Walmart Plus members, so all shoppers can access the deals. Expect discounts on giftable items like electronics and apparel.
Best Buy has a 48-Hour Flash Sale on Oct. 10-11. They plan to offer hundreds of deals on TVs and laptops, headphones and smartwatches. Electric transportation items, such as scooters and e-bikes, will also be part of the sale.
Black Friday and Cyber Monday are the deal day of all deal days. And they are only seven weeks away. Retailers that don't normally have sales, such as beauty brands and sometimes even Apple, have offers that won't be available at any other time of year.
Related Content

Browne Taylor joined Kiplinger in 2011 and was a channel editor for Kiplinger.com covering living and family finance topics. She previously worked at the Washington Post as a Web producer in the Style section and prior to that covered the Jobs, Cars and Real Estate sections. She earned a BA in journalism from Howard University in Washington, D.C. She is Director of Member Services, at the National Association of Home Builders.