Best Times to Buy Big-Ticket Items
Smart shoppers know that to every thing there is a season.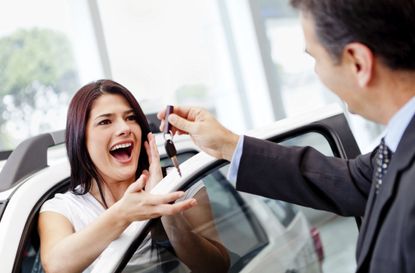 (Image credit: Thinkstock)
Smart shoppers know that to every thing there is a season. Buy certain goods at the right time of year and you can enjoy substantial savings – especially when it comes to pricey investments, ranging from bedroom sets and big-screen TVs to new cars and computers. As long as you're not pressed to replace something critical that's broken, you should always plan to make major purchases when prices are likeliest to be at their lowest levels of the year.
We asked deal experts to pinpoint the best times to buy 15 big-ticket items. With many of the items, the savings could amount to hundreds – or even thousands – of dollars.
1/15
Airline Tickets
The optimal time to get the lowest price on a ticket for a domestic flight is 47 days in advance, according to a study by CheapAir.com. But don't panic if you need to lock in your itinerary earlier or if you just missed the 47-day mark. The pricing study found that there's a prime booking window between 114 days and 27 days before departure when fares for U.S. flights are the best.
Book before that period, however, and you could pay up to $50 more, on average, for a ticket. You'll be penalized more severely if you wait until the last minute. Fares shoot up an average of $111 if you wait to buy a ticket 14 days in advance of a flight, and they jump an average of $174 if you buy a ticket within seven days of departure. For more information, see our story on the Best Times to Buy Airline Tickets.
2/15
Bicycles
You can easily pick up kids' bikes for under $100, but high-end bikes can start at $1,000 and run into five figures. The best deals on bicycles appear during the off-season – in other words, the cold months, says Kristin Cook, managing editor of Ben's Bargains, a Web site that specializes in finding online deals. Look for markdowns of 30% to 50% in January or February on the previous year's models to make way for the new models being released in the spring, she says. Although the discounts aren't as deep, you can find some deals on newer models in September.
3/15
Cars
No matter when you're shopping for a new car, the key to getting a good deal is doing your research before you set foot inside the dealership. The more prepared you are, the better-positioned you will be to negotiate. Car-buying Web sites, such as Kelley Blue Book and Edmunds, can help you come up with a target price on a new vehicle based on where you live and what features you're interested in.
But to increase your chances of getting the best price on a new car, shop in the early fall, when new models hit lots. That's when dealers offer discounts and incentives, such as cash rebates and low- or no-interest financing, on older models, says Philip Reed, senior consumer advice editor for Edmunds. It can also help to wait until the end of the month – preferably on a weekday, not a busy weekend – when dealers are eager to meet their sales quotas and are more willing to reduce prices, Reed says.
4/15
Computers
There are three times of year when you can get a great deal on a laptop computer. In late March and early April, previous-generation laptop models usually are marked down 30% to 40% as the annual Japanese manufacturing cycle comes to an end, Cook says. Both new and older laptops are discounted 30% or more during back-to-school sales in August and September. And prices fall again around Thanksgiving during Black Friday and Cyber Monday sales. Cook says you can expect discounts of up to 25% then, with even deeper discounts on low-end models.
Sales on Apple computers tend to coincide with the announcement of new models, says Phong Vu, CEO of DealScience.com, a Web site that predicts the best times to make purchases based on historical sales data. Opting for a refurbished Apple computer that's no more than a year old is also a good way to save at least $200, he says.
5/15
Cruises
In most cases, you need to book a cruise nine months to a year in advance to get the best price on a desirable cabin. For example, if you wait until January to make your spring or summer cruise plans, the prices could be 40% higher than if you booked in the late summer or fall of the year before, says Stewart Chiron, of CruiseGuy.com, a site that tracks cruise deals and offers booking services. You might be able to get a bargain on a last-minute booking, but you'll usually be stuck with an undesirable cabin, he says.
Chiron recommends researching cruises online but reserving through an agent who knows the ins and outs of the cruise industry to get the best deal. Also, being flexible with the dates you're willing to sail will help maximize savings, he says. For more, see 5 Steps to Get the Best Deal on a Cruise.
6/15
Furniture
New models are released in February and August each year, so retailers tend to have furniture sales in January and July. However, the January sales often extend through Presidents' Day weekend in mid February, when price cuts are particularly steep, says Sean Graw, of Brad's Deals, a Web site that tracks deals and coupons. Furniture sellers including IKEA and Overstock.com slash prices as much as 70% on select items during Presidents' Day sales, he says.
7/15
Grills
Summer is prime grilling season, but prime grill-buying season doesn't come around until summer ends. Retailers typically slash prices of gas grills by up to 50% after Labor Day, says online shopping expert Brent Shelton, of FatWallet.com, a coupon and deal site. That's significant, considering that top-of-the-line Weber grills can start at $1,500. In September, you still should be able to find a great selection of the bigger three- to four-burner gas grills. The selection gets smaller in October, but the discounts are not. The longer you hold off, the more prices will drop, Shelton says.
However, he cautions against buying a grill just because it's cheap. Read online reviews first because many of the highly discounted grills tend to have issues with being outside in the elements. If you store your grill inside, though, the half-off grill deals in the fall are a steal, he says.
8/15
Household Appliances
The best time to buy most major household appliances is September and October, when new models hit stores and older models need to be cleared out to make room, says Regina Novickis, consumer expert with Slickdeals.net, a Web site that rates deals and coupons. In general, you can expect discounts of 20% on dishwashers, stoves and washer/dryer sets, but some retailers slash prices on clearance models by as much as 90%, she says.
You also can find deep discounts during sales over three-day holiday weekends – especially Presidents' Day, Memorial Day and Labor Day – as well as during Black Friday sales, but only on select appliances, Shelton says. He notes that most stores will throw in free delivery and setup of new appliances and haul away old appliances, so make sure you ask.
9/15
Jewelry
Although jewelry is a popular Valentine's Day gift, it's better to wait until after February 14 to make a purchase if you want to get a good deal. Retailers do advertise Valentine's Day sales, but they typically mark up prices first, according to Novickis, so the sale prices don't represent much of a true discount.
For savings of at least 25%, look for jewelry sales in May (except the week leading up to Mother's Day). That's when merchants anticipate that taxpayers will be looking to spend their refunds, which average about $3,000, on some bling, Novickis says. July and August also are good months to look for deals because it's a slow season for jewelry shopping, so retailers are willing to mark down prices to attract business. You can also save money by shopping online for diamonds.
10/15
Lawnmowers
As the weather starts to warm up in the spring, retailers cut prices on the widest selection of lawn mowers and higher-end lawn equipment. Deals tend to peak in April, with savings of at least 30%, Novickis says. Also look for steep discounts during Black Friday sales after Thanksgiving, she says.
The savings won't be as substantial, but FatWallet's Shelton says lawnmower prices also drop by as much as 20% during Father's Day sales in June. That's a good tidbit to file away in case your mower dies midseason. Otherwise look for clearance sales after Labor Day. The savings could add up to 30% or more, says Shelton, but the selection will be limited. Retail prices on self-propelled gas mowers can range from about $300 to more than $1,000.
11/15
Mattresses
Although Presidents' Day and Labor Day sales are good times to buy mattresses, Memorial Day sales offer the biggest discounts and the best selection "hands down," Shelton says. Offers.com CEO Howard Schaffer says mattresses can be discounted 50% to 80% during holiday-weekend sales, though Shelton says you can usually count on getting an extra 10% off during Memorial Day sales versus other holiday weekends.
The best strategy to get a deal on a mattress, according to Shelton, is to visit stores before Memorial Day to test several brands and models. While doing your research, get to know store clerks. Then come back during the actual sale to negotiate an additional discount or upgrade.
12/15
Patio Furniture
Rock-bottom prices on patio furniture can be found in October and November, says Schaffer, when retailers try to clear out the remaining inventory of summer merchandise. Shoppers can expect discounts of up to 85% then, he says.
However, the selection will probably be pretty limited by fall. So if you're more concerned with style than savings, try shopping in late summer, when retailers begin marking down patio furniture, says Cook, of Ben's Bargains. Discounts will be smaller, but choices will be greater.
13/15
Refrigerators
There are several reasons why May is the best month to buy a new refrigerator, Shelton says. Manufacturers introduce new models in the spring, so retailers tend to cut prices in May on the previous year's models by as much as 50% to make room. And to drum up interest in the latest appliance releases, new models often are marked down by up to 25% during Memorial Day sales or even Mother's Day sales, he says.
If you're thinking about renovating the entire kitchen, May is a good time to haggle to get discounts on other appliances as well. Because refrigerators can be the priciest kitchen appliance – a high-end French door refrigerator can cost more than $9,000 – many stores will negotiate a deal to sell you a matching stove or dishwasher, Shelton says.
14/15
Televisions
If price is more important than quality, the week of Thanksgiving is the best time to get a great price on a basic high-definition TV, says Graw, of Brad's Deals. Most off-brand sets are discounted about 30%, but TVs that are advertised as doorbuster deals – deeply discounted items that are limited in quantity and available for a short period of time – can be marked down as much as 50%, he says.
For big-screen TVs from name-brand manufacturers, look for sales that coincide with the Super Bowl, says Schaffer, of Offers.com. (The 2016 Super Bowl is scheduled for February 7.) Around that time, the previous year's models will be discounted to make room for new models, which are released in February. DealScience.com data shows that sets are 30% to 40% off during sales in mid January through February.
15/15
Wedding Dresses
A 2013 survey of 13,000 brides and grooms by wedding-planning Web site TheKnot found that the average wedding dress costs $1,281. Of course, dresses can cost many times that amount, depending on your tastes. Bridal gowns in Vera Wang's Luxe Collection start at $6,900.
For a better deal on a wedding dress, it helps to beat the rush of would-be brides who start shopping for gowns after Christmas. Because many couples get engaged over the holidays, dress sellers receive big shipments in late December. To make room for the new inventory, bridal shops cut prices on older dress styles in early December, Cook says. If you can't shop in early December, another way to save money is to rent a dress from a site such as Rent the Runway or Borrowing Magnolia.

Former Online Editor, Kiplinger.com
Award-winning journalist, speaker, family finance expert, and author of Mom and Dad, We Need to Talk.
Cameron Huddleston wrote the daily "Kip Tips" column for Kiplinger.com. She joined Kiplinger in 2001 after graduating from American University with an MA in economic journalism.