15 Dividend-Paying Stocks to Sell or Avoid
Dividend stocks often act as a store of safety, but these 15 picks look like risky plays regardless of their payout programs.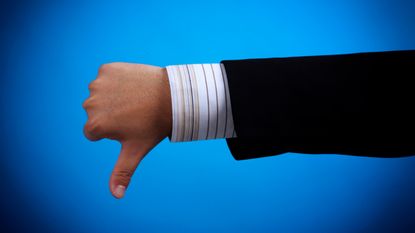 (Image credit: Getty Images)
In this volatile market, many investors are looking to dividend-paying stocks to hedge their bets in equity markets. That's partially because the regular income delivered from dividends can help provide a measure of stability. That's also because the sectors that tend to be the most dividend-rich also tend to be relatively less volatile thanks to more reliable revenue trends.
However, that is not always the case. Particularly in the wake of the coronavirus pandemic that has upended what we once thought was "normal" economic activity, it's important to take a discerning view of any dividend-paying stocks rather than just chase high yields.
After all, the quickest way for a stock to double its dividend yield isn't to come up with a ton of profits to increase payouts by 100%. Rather, it's for its share price to be slashed in half – something that normally only happens after Wall Street sours on the business, usually for good reason.
Here are 15 dividend-paying stocks to sell or at least avoid right now. This isn't to say they won't someday become buys again. But at the moment, they all face their own unique challenges. They also all feature comparatively negative coverage from analysts, troubling scores from the DIVCON dividend-health rating system (opens in new tab), and/or discouraging share-price momentum.
In addition, a few of these stocks pay dividends that have been reduced recently, while a few others sport payouts that might not be sustainable if current profit trends persist.
The Pros' Picks: 9 Stocks to Sell Now
Data is as of Oct. 27. Dividend yields are calculated by annualizing the most recent payout and dividing by the share price.
0
Contributing Writer, Kiplinger.com
Jeff Reeves has covered finance and capital markets since 2008, contributing to outlets including CNBC, the Fox Business Network, the Wall Street Journal digital network, USA Today, US News & World Report and CNN Money.