17 Free or Cheap Things to Do With Your Kids During the COVID-19 Pandemic
We've got lots of kid-friendly activities to do at home that will keep your family safe and your finances sound.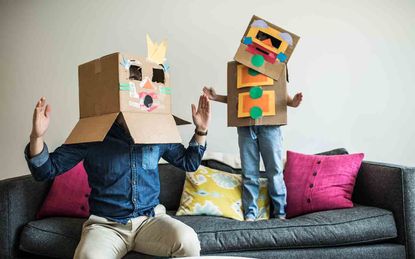 (Image credit: Getty Images)
Thanks to the global pandemic and the delta variant that's extending it, parents have been spending what may seem like an eternity with their kids. Even as schools reopen, disruptions from COVID-19 outbreaks continue to send children home. Consequently, that go-to list of activities that's been in heavy rotation for more than a year is probably not so much fun anymore for your children.
We've looked far and wide to find kid-friendly things you can do while staying safe and at home. All of the items listed are either free or low cost, so they won't put a serious dent in Mom's or Dad's bank account. The activities range from a virtual video game coding course to participating in a family fitness session via YouTube. Take a look.
1/17
Storytime and Other Activities on Your Library Website
Public libraries have all kinds of activities you can do for free — and you don't necessarily have to have a card or even be a resident. Recently, for example, the Orange County, Florida library website offered an online virtual storytime called "Little Ninja" among a variety of activities to do for free.
In addition, there were early learning activities in its learning and research section, as well as language classes that would be a great way for you and your older kids to learn a new language. In Prince George's County, Maryland, the public library system hosts live bi-weekly book readings that are followed by an interactive sing-a-long session for kids ages 2 to 5.
The Los Angeles Public Library System offers virtual story time sessions using a felt board for babies, toddlers and big kids through Zoom, as well as on Instagram Live. The Monmouth County, New Jersey library offered a selection of kids' events and read alouds for different children's books. It also has online tutoring and an online magazine for kids with educational learning games and songs for children, as well as activities and science experiments.
Keep in mind that you may be required to register in advance in order to participate in these virtual library activities.
2/17
Take a Family Fitness Class
.
Participating in a fitness class with your family is a fun way to combine quality time and exercise. You can go online to find a variety of free fitness courses you can stream from the comfort of your home.
A good example is the Walk at Home channel on YouTube, which offers a variety of low-impact workouts centered on walking in place. They range from 10- to 30-minutes videos and are themed. For example, there's a 1-Mile Happy Walk workout, as well as a Wake Up and Walk! session that's ideal to do first thing in the morning. There's also the Smile and Learn channel on YouTube, which has a Yoga for Kids video playlist. Each workout lasts about 10 minutes and incorporates music and cartoon characters like Zen the Cat to help kids to stay engaged.
3/17
Take a Zumbini Class
When there's not enough time for a family walk to help them burn off that pent-up energy, try participating in a virtual Zumbini class.
What exactly is Zumbini? It's like Zumba, but for kids. They get to participate in a 30-minute early childhood development class that uses singing, dancing and interactive play to help your son or daughter (up to age 4) improve their motor skills. The classes, which are normally held in-person at designated locations by licensed instructors, are also available online.
Registration is required. To find out if there are virtual Zumbini classes being offered by instructors near you, you must go to www.zumbini.com/en/virtual-classes.
4/17
Build a Blanket Fort in Your Living Room
Blanket forts probably predate money—that's one reason they're free. So help your kids get in touch with their inner caveman while Mom and Dad get some work done.
Today, there's a video for everything: Watch Sesame Studio's How to Build A Blanket Fort video on YouTube with your child for some techniques. Two school-age girls show you step-by-step how to set one up in a matter of minutes.
Think your kids might want a fancier set up? RedTricycle.com has a photo round-up of extravagant indoor fort ideas — from a cardboard box castle to a teepee tent.
5/17
Bugs and Plants
Give your kids a camera and have them go in the yard to take pictures of different plants and bugs. If they're old enough, they can search the internet or use a phone app to identify the critters and flowers. Let them see how many different kinds they can find in your yard.
Vegetable seeds for planting are another for-pennies option to teach you kids the wonders of the natural world. They can check on the daily progress of their flowers and vegetables. They can try everything from green beans, which take up to 65 days to grow, to tomatoes, which take about 60 days to grow.
If you live in an apartment, condo or townhome without a yard, you can still grow certain types of veggies using containers or pots on your balcony — or even indoors. The Natural Ways channel on YouTube highlights several types that are best to grow this way including beets, short-rooted carrots and radishes. Starting with containers is a great way to keep a project manageable, both for your sake and your childrens'.
Check out the site KidsGardening.org for tips and tricks on how to maintain a vegetable garden with your little one's help. And after you eat, tack on this personal-finance lesson for dessert: Calculate what veggies from the garden cost versus buying them from the store.
6/17
Teach Your Kids About Money
Since financial education isn't generally part of the traditional school curriculum, now is the perfect time to squeeze in some age-appropriate money lessons into your son or daughter's day. It's important to keep an open dialogue with your kids and allow them to ask questions.
In our story What Kids Need to Know About Finances, we recommend how to kickstart such conversations with your children, whether they're little (piggy banks, still) or older (do they actually understand cryptocurrency?) Tangible money — cold hard cash — still counts here, so put that penny jar to use in your lessons (and then consider turning it into something electronic).
You can even print out money worksheets from Education.com that have lessons you can teach at home such as identifying the different types of coins or how to count dollars and coins.
7/17
Have a Movie Marathon at Home
Pop some popcorn, make a batch of cookies and get ready for a family movie marathon. Even better, make it the ultimate binge session by watching a movie series such as The Secret Life of Pets (if you're watching with little kids) or Harry Potter (for pre-teens).
Chances are your kiddos won't make it past the first film before they start dozing off, so you'll get the chance to kick back (or switch to your film of choice) and relax once they're tucked in.
8/17
Cook a Meal Together
Preparing a meal with your kids is a smart way to teach them about nutrition and how to follow step-by-step instructions. There are a variety of kid-friendly recipes available online that are simple and don't take much time to make. FoodNetwork.com has an entire section on its site dedicated to recipes the entire family can make together.
Also, you'll find plenty of YouTube food and lifestyle vloggers with tutorials on preparing meals with children. You'll discover tips on precautions to take, such as turning the handles inward on all pans being used on the stove, to prevent kids from injuring themselves as they try to help. (Check out this clip from TV personality Tamera Mowry-Houseley where she makes tacos with her husband, son and daughter.)
There's even a money lesson to be learned here. By planning your meals for the week in advance with your children, you can teach them to stick to a budget for food.
9/17
Create an Obstacle Course in Your Backyard
Try building a backyard obstacle course where your little and big kids can safely play. And we're not talking about a set-up that requires buying a bunch of stuff or hours of set-up time.
We searched for video tutorials on YouTube and Pinterest using the term "DIY backyard obstacle course." What we found were a variety of ideas that parents can quickly assemble using items you likely already have at home. This includes folding chairs, pool noodle floats, laundry baskets and hula hoops.
An activity we spotted that's sure to give your child a workout was a "tunnel scramble" station. It requires pool noodles and wooden skewers to construct a tunnel that kids can army-crawl through.
10/17
Go on a Virtual Museum or Aquarium Tour
A number of museums — stateside and abroad — are offering free virtual tours. So if your travel plans were trashed due to the coronavirus outbreak, there's still an opportunity to expose your kids to new cultural experiences.
At the Louvre in Paris, virtual visitors can experience their Egyptian Antiquities exhibit, which has sculptures of the Great Sphinx of Tanis and Horus on display. The Smithsonian's National Museum of Natural History, which is based in Washington, D.C., is offering virtual tours of past exhibits no longer on display, as well as current ones. This includes Fossil Hall, the Butterfly Pavilion and Mammal Hall. At the Monterey Bay Aquarium in Monterey Bay, Calif., visitors to their website can watch a live webcam of a variety of their aquatic displays — from sharks to penguins to moon jellies — daily up until 7 p.m. PST.
Keep in mind that some museum exhibits are better suited for older children (you know, the whole circle of life thing). So parents may want to check them out first before watching with little ones.
11/17
Register for a Kid-Friendly Workshop with Microsoft
The tech giant offers free virtual workshops for students and families. This includes a Smithsonian Air and Space Museum virtual experience and a workshop teaching kids ages 8 and over how to start their own businesses.
There are workshops teaching kids to code for Minecraft and how to design a space explorer. The sessions are aimed at helping younger students improve their reading comprehension skills using Microsoft's Immersive Reader program.
They even offer a two-day course for children ages 8 and up that focuses on how to code your own video game using Microsoft's MakeCode Arcade program.
To participate, you'll need to register in advance using Microsoft's event calendar.
12/17
Create a Water Park in Your Backyard
You can create your own backyard oasis that will help keep your kids stay cool all season long. BobVila.com offers up some DIY ideas using materials you might already have around the house. Here are two of our favorites:
Build your own slip-and-slide using plastic sheeting covered with baby shampoo. Check out this step-by-step guide.
Construct a water-balloon pinata by filling several balloons with water and stringing them up between two trees or poles. Give your child a stick, and get out of the way as they burst the balloons (watch this YouTube clip to see exactly how it's done).
And don't underestimate the fun your kids will have running back and forth through an old-school oscillating water sprinkler. They're available at HomeDepot.com for as little as $8.
13/17
Take an Arts-and-Crafts Class
Like other kid-friendly courses that would normally be conducted in person, arts and crafts classes are easy to find online. Many are no cost, while others are available for a small fee. So if your son or daughter enjoys participating in creative activities at school, they can keep it up at home, too. Here are a couple courses we like:
Every Friday at 3 p.m. EST, GoodHousekeeping.com hosts an arts and crafts course on Facebook Live. It lasts about 30 minutes and appeals to a variety of age groups — so even Mom and Dad can get in on the fun. One of their recent classes included clay ornaments using acrylic paint and kitchen-pantry staples for the clay.
Also, if your children have an affinity for nature, consider signing them up for Nature's Art Club. There's a $10 monthly subscription fee that gets the entire family access to an archive of art projects with a plant or animal theme, video tutorials, coloring pages for younger kids that you can download and print out, and a private Facebook group where you can interact with other families.
14/17
Have a Backyard Scavenger Hunt
If you have a home with a backyard that's big enough to accommodate children running around having the time of their lives, add this activity to your to-do list. A backyard scavenger hunt is easy to do and doesn't require spending any money. You can dig through your kids' closet full of toys to find items to use, such as a small bucket, toy shovel or a beach ball. Then hide the objects in places such as a tree house, garden watering canister or patio chair.
Pinterest is a goldmine for inspiration here. You can print out sample scavenger hunt lists for the kids to use and tweak to your liking.
15/17
Take Games to a New Level
The prospect of another round of Chutes and Ladders might make some parents (or kids) want to scream. If you've tired out your stock of board games and want to add some new challenge, make your own. This could be as simple as changing some of the rules to an existing game, modifying a game board, doing a mashup of multiple games, or even creating your own from scratch. Since counting and odds are the core of many games, you can have your kids put their math skills to use. Or, go with knowledge for a trivia-style game.
This how-to on Instructables from Frank Camparo ("a guy who likes board games") walks you through one way of approaching it, with helpful images of how he turns idea sketches into a finished product.
16/17
Get Them Selling (or Giving)
The time-tested lemonade stand may face pandemic challenges, but children still want to make money. One way to adapt the endless chore of cleanup is to turn it into an opportunity to have them ready items for sale, help create listings online, and share in the proceeds. Clothes, baby items and toys they have outgrown or no longer need are among the options. Along the way, they can learn how to clean, do laundry, take good pictures – and value items, whether for sale or charitable donation.
17/17
Origami
Making incredible creatures and flowers with paper folding is a time-consuming art that can be learned at origami-instructions.com. Your children can develop this as a talent and use it to entertain their friends, liven up their rooms and decorate gifts. And the only cost is the paper.
Senior Retirement Editor, Kiplinger.com
Elaine Silvestrini has had an extensive career as a newspaper and online journalist, primarily covering legal issues at the Tampa Tribune and the Asbury Park Press in New Jersey. In more recent years, she's written for several marketing, legal and financial websites, including Annuity.org and LegalExaminer.com, and the newsletters Auto Insurance Report and Property Insurance Report.