15 Home Features Today's Buyers Want Most
Thinking about selling your house? Here are 15 home features potential buyers are coveting right now.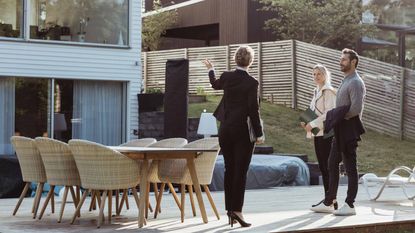 (Image credit: Getty Images)
It's a great time to sell your home. Demand is strong and sales are running above the pre-pandemic pace. Inventory is still historically low, but in June it began to rise as more owners listed their homes for sale. As they join the fray and builders bring more new homes to market, buyers will enjoy greater choice, and sellers will have to step up their game in a more competitive environment.
We've featured the top 15 features buyers surveyed by the National Association of Home Builders said they wanted in 2021. Some are small projects that you could do yourself fairly quickly and cheaply. Others require more time, money and planning to find and hire contractors and get materials, which can be a tough ask amid a remodeling boom and shortages of labor and materials.
As the housing market continues to rebound, would-be sellers should think twice before skipping out on updating areas of their home in need of serious upgrades. Home buyers are willing to spend big on homes with higher quality finishes in sought-after neighborhoods. "After sheltering in place . . . people [are] ready for change in their homes -- or looking for a new one," says Brian K. Lewis, a real estate broker with New York City-based realty firm Compass. Make sure your home is in top condition to get the most attention and the highest possible price.
However, you're unlikely to recoup all of your cost to remodel when you sell. According to Remodeling magazine's 2021 Cost vs. Value report, sellers were estimated to recoup 48% to 94% of the cost of the 22 projects considered. For example, the average cost of a mid-range bathroom remodel is $24,424 (up from $21,377 in October 2020). You'd recoup about $14,671 (60.1%) of that amount during a resale within a year.
However, the cost of inaction can be far greater than the small loss you'll incur on any home-improvement projects. "Getting stuck in time with your home isn't a smart move and is rarely rewarded financially at sale time," Lewis adds. In fact, it may cause your house to linger on the market longer. As a result, you'll likely have to pay ongoing mortgage, maintenance and staging costs.
If you want to get the most bang for your buck, focus on features that most home buyers really want to see and that you'll enjoy for as long as you live in the home. Consumer tastes can vary by region, so consult with your real estate agent to find out which home features are in high demand in your area, advises Dr. Jessica Lautz, vice president of demographics and behavioral insights for the National Association of Realtors.
Disclaimer
We looked at the most recent What Home Buyers Really Want report from the National Association of Home Builders (NAHB) to assess the preferences of recent and prospective home buyers. We also used their Features Home Buyers Consider Essential survey, which identifies the most desirable home features among prospective first- and second-time home buyers. Estimated project costs come from HomeWyse.com and reflect the cost of materials and contractor labor, unless noted otherwise.
1/15
Laundry room
Percentage of buyers who want this feature: 87%
Cost to install: $1,300 to $14,825, depending on location and finishes
More than anything else, homeowners want a dedicated laundry room where they can hide the dirty clothes and stack the clean ones until they get put away. A separate laundry room tops the National Association of Home Builders' (NAHB) list of most-wanted home features by buyers. "Having a separate room [to use for things such as folding or ironing clothes] helps to keep the mess out of your living space . . . Potential buyers will see it as a huge benefit," says Paul Sullivan, founder and president of the The Sullivan Company, a Newton, Mass., remodeling and custom-building firm.
If you don't have an existing laundry room and want to add one, the basement is usually the easiest (and cheapest) place to put it, Sullivan advises. The utility lines are already there, and in many cases the basement is unfinished, so you won't have to demolish anything first.
If you're investing in a new washer and dryer, look for Energy Star-certified models that will save you energy and money. Add good lighting and a utility sink, where you can wash out or presoak heavily stained or dirty items. Depending on your budget and space, you can add stock or custom cabinetry, a folding table or countertops.
2/15
Exterior lighting
Percentage of buyers who want this feature: 87%
Cost to install: $260 to $530
Illuminating a well-manicured lawn with exterior lighting can help grab potential buyers' attention before they even set foot in the front door. In fact, exterior lighting is the most-wanted outdoor feature (patio was second), according to the NAHB report. Options include spotlights, walkway lights and pendant lights.
Aesthetics aside, exterior lighting also serves as an added safety feature for your home, says Daniel Hurst, owner and general manager of Hurst Design-Build-Remodel, a Middleburg Heights, Ohio-based home remodeling company. Motion-sensor lights, for example, turn on automatically whenever there is movement outside your house.
3/15
Ceiling fan
Percentage of buyers who want this feature: 83%
Cost to install: $520 to $860 per fixture with light kit and remote control
In addition to improving a home's aesthetic, energy-efficient ceiling fans (ranging in price from $60 to $1,890 at Lowe's) can also help lower cooling costs when used in conjunction with or instead of an air conditioner during the warmer months.
Ceiling fans create a wind-chill effect that helps cool the people sitting in the room. Homeowners should be able to raise the thermostat level by four degrees without a reduction in comfort while the fan is in use with air conditioning, according to Energy.gov.
Energy.gov also recommends that ceiling fans only be used in rooms with a ceiling height of at least eight feet. The fans work best at that height and when they're hanging 10 to 12 inches below the ceiling.
If you use air conditioning, a ceiling fan will allow you to raise the thermostat setting about 4°F with no reduction in comfort. In temperate climates, or during moderately hot weather, ceiling fans may allow you to avoid using your air conditioner altogether.
4/15
Energy efficiencies (appliances and windows)
Percentage of buyers who want this feature: 81%-83%
Cost to install: $660 to $1,020
Would-be buyers looking to limit utility bills will be drawn to properties with Energy Star-qualified windows and appliances. "Gone are the days when these types of features were an anomaly. Today's home buyers expect energy efficiencies," Compass's Lewis notes. If you don't already have these features, examine your remodeling budget and decide where you can afford to spend.
Energy-efficient windows can trim heating and cooling costs by 12% while individual appliances will reduce your energy and water bills. For example, an Energy Star-certified washing machine ($700 to $2,000 at Home Depot) uses about 25% less energy and 33% less water than regular washers.
Replacing an existing clothes dryer with an energy-efficient version could save as much as $200 over the appliance's lifetime.
Energy Star-qualified windows have two or three panes of glass with an invisible glass coating, vacuum-sealed spaces filled with air or inert gas between panes, sturdier weather stripping than regular windows and improved framing materials -- all of which reduce undesirable heat gain and loss in the home. An Energy Star-certified dishwasher (ranging in price from $400 to $1,900 at Home Depot) uses soil sensors to assess how dirty your dishes are to minimize water use.
Once installed, sellers should be sure to play up these money-saving features in their home listings.
5/15
Patio
Percentage of buyers who want this feature: 82%
Cost to install: $1,660 to $4,320 for a concrete patio
It's important for homeowners not to neglect the backyard area when prepping for resale, says Mike McGrew, chairman and CEO of McGrew Real Estate, a Lawrence, Kansas-based realty firm.
In today's housing market, outdoor living spaces have become the most coveted outdoor home feature.
"When most buyers see a house with a really nice backyard, they start to envision themselves sitting outdoors with friends having drinks," McGrew adds. Also, outdoor areas offer more living space without the cost of a large-scale home addition.
With the popularity of home renovation reality shows, many buyers have come to expect the eye-catching features they see on TV in real life, the NAR's Lautz says. Some of these shows, including DIY Network's America's Most Desperate Landscape and HGTV'S Going Yard, focus on outdoor living spaces. The more expensive the home, the more buyers desire such exterior features as an outdoor kitchen, fireplace or built-in grill, says the NAHB.
Because patios are generally made of concrete or pavers, they tend to cost less than a wood deck or porch to construct and are generally easier to maintain, say, with powerwashing versus periodic staining and resealing or painting. However, their resale value will likely be less than a deck or porch, according to BobVila.com.
6/15
Double kitchen sink (side-by-side)
Percentage of buyers who want this feature: 81%
Cost to install: $450 to $540 to remove old sink and install new, excluding cost of sink
Throughout the pandemic, the kitchen sink has been getting a workout as homeowners have cooked more and done more dishes. A double, side-by-side sink—divided 50/50 or 60/40--gives you more options for organizing the work with, say, one side to hide dirty dishes until they make it to the dishwasher and another side for preparing food, using the garbage disposal or drying items you've handwashed.
When choosing a sink, look for one that's deep enough to accommodate large pots and pans or cookie sheets. Builder-grade sinks are often too shallow to be most practical.
A porcelain finish is lovely, but is prone to staining, scuffing and chipping. Stainless steel is durable and easy-care. Most of today's models are made of 16- or 18-gauge stainless steel that is thicker and less noisy than older models. To make installation easier and cheaper, match the size, shape, type of installation (drop-in or undermount) and number of holes (for faucet, sprayer and soap dispenser) of the new sink to the old one.
At Home Depot, drop-in sinks with two basins in 18-gauge stainless steel run $89 to $2,005 and undermount versions run $120 to $1,027.
When you're replacing a sink, it's a good time to replace the faucet. At Lowes.com, pull-down kitchen faucets in stainless steel run $47 to $1,158. Also, verify that the water shut-off valves work correctly—an item that will be checked in a buyer's home inspection.
7/15
Walk-in kitchen pantry
Percentage of buyers who want this feature: 81%
Cost to install: Varies based on design
A walk-in pantry is the second-most-coveted kitchen feature among buyers polled in the NAHB's report. Why? Home buyers with families know that the kitchen can quickly become overcrowded when there's not enough space to store the essentials (think: canned goods, condiments and food storage containers). And those who shop in bulk at warehouse clubs or big box retailers or online to avoid making frequent trips and face in-store crowds will need extra space in the kitchen area to store their goods.
Unlike reach-in closet pantries with sliding doors that offer limited space, walk-in versions allow homeowners to store larger quantities of non-perishable food items and other kitchen essentials just steps away from the food prep area, suggests Neil Parsons, a project designer for Move or Improve, a Matawan, N.J.-based home design firm.
Walk-in pantries are typically 5x5 feet and have U-shaped open shelves or cabinets with a countertop, according to ThisOldHouse.com. Make sure the pantry is situated somewhere that is cool and dry.
8/15
Front porch
Percentage of buyers who want this feature: 81% (75% of buyers would like a rear porch or deck)
Cost to install: $4,600 to $22,000 for 200 square feet
A front porch provides a place between curb and front door where homeowners can relax, watch the world go by, and interact with friends and neighbors, socially distanced if need be. Because it's covered, it's an extension of your living space. It protects you from the rain, and if it's screened in, you can avoid bugs, too. However, the overhanging roof will reduce the natural light your home receives through front windows (skylights in the porch roof will help).
According to ThisOldHouse.com, a porch should be at least 6 feet deep to allow for comfortable seating or 10 feet deep for outdoor dining. (Many newer homes are built with a shallow porch of say, 4 feet deep, more for looks than real-world use.) Make sure the style of the porch matches your home.
If you already have a porch, provide comfortable seating without overcrowding the space. Add pops of color with cushions, pillows and a rug meant for exterior use and containers of flowers. Add a ceiling fan rated for outdoor use to provide a cooling breeze when nature doesn't.
If you want more privacy and less street noise or don't want to reduce natural light in your home, a deck out back may be a better alternative than a porch. Because a deck doesn't have a roof, it's lighter than a porch and will need less structural support, so for the same square footage, it will probably cost less than a porch, according to BobVila.com. (The typical range of cost is $4,080 to $11,260, according to HomeAdvisor.com.
As with any addition, make sure your project is permitted, conforms to building codes and doesn't cause you to exceed lot coverage requirements in your area.
9/15
Hardwood floors in the main living area
Percentage of buyers who want this feature: 81%
Cost to install:1,290 to $1,850 per 120 square feet to lay and finish hardwood floors
Hardwood flooring offers a natural look, is less allergenic, is easier to maintain and is more durable than carpet, which needs to be replaced every 10 years or so. It can be refinished periodically and lasts a lifetime.
Sellers on a budget may want to buy engineered wood flooring (which is a hardwood veneer on top of several layers of other types of wood that form a plywood core. You can expect to pay about $990 to $1,450 to install 120 square feet of engineered wood flooring.
10/15
A full bath on the main level
Percentage of buyers who want this feature: 80%
Cost to install: Varies with the project
A full bath incorporates sink, toilet, and tub and shower. Families like one on the main floor it because parents can supervise bath time of older children while cleaning up the kitchen after dinner.
Mature people like it because of the potential to live on one floor, especially if an adjacent room could be converted to a bedroom. An existing powder room could be converted to a full bath by incorporating space from an adjacent closet, room or hallway.
The typical space required for a small bathroom, with a tub-and-shower combination, is 40 square feet (typically 5 feet by 8 feet), according to Improvenet.com. Mature folks may want a separate, walk-in shower, which requires a bit more space (45 square feet, or 5 feet by 9 feet). Consider swapping a swing door for a pocket door and adding features to enhance accessibility, such as a wider doorway, nonslip flooring and grab bars.
11/15
Energy-efficient lighting
Percentage of buyers who want this feature: 80%
Cost to install: Varies with the project, but more if you hire a handyman for hard-to-reach locations
LED light bulbs that are EnergyStar-certified use at least 75% less energy and last 25 times longer than old-fashioned, incandescent lighting. Because they cast light in one direction, LED bulbs are great for recessed down lighting or task lighting, and because they emit very little heat, they work well in the kitchen, which may already be hot enough. They'll save you money for as long as you live in your home and you won't have to worry about changing a burned-out bulb while your house is for sale.
To start, switch to LED bulbs in the most-used or least accessible fixtures in your home.
LED bulbs come in a variety of models. Although their brightness is measured in lumens, packaging is generally marked with familiar watt equivalents, such as 60 or 100 watts. You can select from a range of color temperatures, too, warm to cool, including, for example, soft white or bright daylight, depending on where the bulb will be installed and your preference. For example, you might not want a cool bulb that emits a bluish cast in the kitchen. Many models are dimmable.
Percentage of buyers who want this feature: 80%
Cost to install: Varies with the project, but more if you hire a handyman for hard-to-reach locations
Cost to install: $260 to $530. For example, you can get a Philip Smart Wi-Fi Wiz 60-watt equivalent bulb for $9 apiece or a four-pack for $40 at Home Depot. Install them in key locations, so that you can turn lights on as needed when your home will be shown.
12/15
Eat-in kitchen
Percentage of buyers who want this feature: 78%
Cost to install: Varies by design and structural needs
Eat-in kitchens—that is, table space for eating in a kitchen—are a must-have for second-time home buyers who were polled by the NAHB. They're especially attractive to families with children. It's a space not just for eating, but also for doing homework, crafting and more. Such flexible spaces proved more important then ever during the pandemic.
Removing a non-load-bearing wall to create space for a small table and chairs in your kitchen is relatively inexpensive (as little as $1,000, according to HomeAdvisor.com), but that price can quickly escalate if your demolition reveals plumbing, duct work and electrical wiring that needs to be removed, Move or Improve's Parsons says. (If the wall is load bearing, you'll pay up to $3,000 in a single-story home or up to $10,000 in a multiple-story home.)
If you're on a tight budget and can't afford to knock out a wall to create more space for a table and chairs, consider adding a center island with room for bar stools, Parsons suggests. You can purchase prefabricated kitchen islands with space for seating. For example, at Wayfair.com, you can get an island with seating for $152 to $2,850.
13/15
Dining room
Percentage of buyers who want this feature: 70%
Cost to install: $5,890 to $6,870 to remodel a 200-square-foot existing space.
In recent years, formal dining rooms (and closed floor plans) have taken a backseat to open floor concepts in today's home models. While these layouts help maximize space, there are still home buyers who desire the charm and unique features that come with older homes. This includes a separate dining area distinct from the kitchen.
With open floor plans, "many people have seating at their kitchen island and will have a quick bite to eat informally," says Shannon Lynch, a real estate agent with Savvy + Co. Real Estate, a Charlotte, N.C.-based realty firm. "Sitting down in a dining room has a sense of importance to it . . . It makes your guests feel special," she adds. This is especially true during holiday gatherings or sit-down family dinners. If you have an older home with a closed floor plan, it may be time to modernize your dining room area to help attract buyers. The cost listed here for a small-scale remodel includes installing new flooring, doors, switchplates, decorative hardware and recessed lighting. Many of these features come standard in newer home models.
If your home has an open floor plan, there are still ways to create a dining space that feels separate. You can add an over-the-table lighting fixture or incorporate a tray ceiling to help define a particular area of the main living level -- perhaps just off the kitchen. Another option: Install decorative columns instead of a solid wall (with an installed cost of $1,149 to $1,643 for two, according to Homewyse.com.
14/15
Walk-in closet (master bedroom)
Percentage of buyers who want this feature: N/A
Cost to install: Varies by design
While walk-in closets aren't among the top demands of all homebuyers, they're highly sought after among second-time homebuyers, according to the NAHB.
If you live in an older dwelling with a reach-in closet, it may be time for a revamp if you're considering putting the house on the market. Couples generally want a closet with more space, because they'll be sharing it.
Meanwhile, singles might desire the flexibility of being able to store their personal belongings -- from clothes and shoes to jewelry and other accessories -- in one place, while keeping them organized. "Homes without a walk-in-closet in the master bedroom are more of a challenge to sell and generally attract less buyers," says Cande Green, in Dallas, whereas Agnes Seminara-Holzberg, in Scarsdale, N.Y., says it's neither a deal maker nor breaker.
For would-be sellers with older homes that have less space, a full closet renovation in the master bedroom may not be practical. However, you still have options that will help make your property more appealing. Update an existing reach-in closet by installing an organization system complete with shelving units and hanging rods for clothes. You can purchase a prefabricated Elfa system from The Container Store, which range in price from $380 to $1,770 (in white). ). To save some cash, you can go the DIY route and install it yourself or hire someone, say from TaskRabbit, to do it for you. You can also hire a consultant from a custom closet design firm, such as Closet Factory, to assess your space and design an organization system that fits your needs. The cost will vary based on your requirements.
If you're an empty-nester, you could even turn a nearby smaller room into a custom walk-in closet. Depending on the quality of the materials used (for example, solid wood shelving vs. wooden veneer shelving), this type of project could range in price from $1,000 to $6,500, according to HomeAdvisor.com.
15/15
Garage storage space
Percentage of buyers who want this feature: N/A
Cost to install : $2,025 to $2,363
Buyers with growing families need lots of storage space. Would-be sellers should keep in mind that "streamlined living equates to more dollars in your pocket at sale time," Compass's Lewis says. Carving out some space in your garage to help keep clutter out of the main level could help your bottom line. "Make sure the bonus space is easily accessible and wonderfully organized," Lewis advises.
The installation cost listed here includes adding storage, electric circuits and lighting, plus peg wallboard for tool storage.

Browne Taylor joined Kiplinger in 2011 and was a channel editor for Kiplinger.com covering living and family finance topics. She previously worked at the Washington Post as a Web producer in the Style section and prior to that covered the Jobs, Cars and Real Estate sections. She earned a BA in journalism from Howard University in Washington, D.C. She is Director of Member Services, at the National Association of Home Builders.