Selling Your Home? Set the Right Price
When selling your home, don't overprice, or you'll scare away prospective buyers.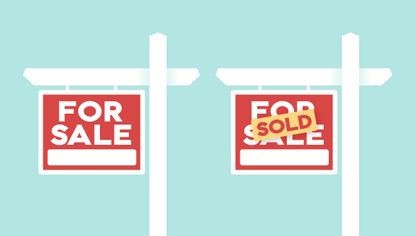 (Image credit: Getty Images)
To set the right price on a home, you should combine an objective evaluation of your property with a realistic assessment of market conditions. In good markets and bad, you are more likely to benefit by determining the fair market value (FMV) and sticking close to it than if you set an unrealistic price and wait for negative buyer response to reevaluate.
Don't overprice
The temptation to overprice can be strong. But buyers today are savvy. Chances are anyone who looks at your house — with or without an agent — has spent time both online and offline checking out properties. Most buyers and real estate agents will know right away if a property is overpriced. This is the main reason homes sit on the market for months, with the price usually coming down to where it should have been from day one.
At an inflated price, your house will be competing against homes that are in a better location and have more bedrooms, bathrooms and square footage. Buyers that would have otherwise bought your home won't even see it because they are shopping at a lower price point. By the time a seller wises up, many of their best prospects will have gone elsewhere and bought other houses. This decreases demand by reducing the number of available buyers for the now properly priced property.
Subscribe to Kiplinger's Personal Finance
Be a smarter, better informed investor.
Save up to 74%
Sign up for Kiplinger's Free E-Newsletters
Profit and prosper with the best of expert advice on investing, taxes, retirement, personal finance and more - straight to your e-mail.
Profit and prosper with the best of expert advice - straight to your e-mail.
Try RedFin's home value estimator How much is my house worth? To get an outsider's opinion of your home's value and see how it compares to what you think it's worth.
Study the comparables
Whether you are using an agent or not, you should learn the listing and selling prices of similar properties. Find out how long each took to sell. The local Multiple Listing Services (MLS) is usually the best source of comparable home sales, because the information tends to be the most accurate.
Unless you live in a subdivision where a home builder used similar finishes, layouts and materials in all of the homes, no two housing comps in your neighborhood will be exactly alike — and even when homes are very similar, no comp is perfect. So how do you identify the best comps? Try to stay as unbiased as possible and set aside your emotional connection to your home and focus on the facts.
A comparable home. To be comparable or comp, the house that sold has to be close to yours in age, style, size, condition and location. When looking at closed sales, try to find at least three comparables no more than six months old or three months old if market values have been rising or falling more rapidly than usual.
When lookin for real estate comps, aim to find homes that meet the following criteria:
Location. Limit your search to a quarter- to half-mile from your home
Look back period. Only include homes that have sold within the past three-to-six months — or less if your market is changing quickly
Size Try to stay within about 300 square feet of your home's size
Bedrooms/bathrooms. Include homes with the same number of bedrooms and bathrooms as your house
Condition of home. Factor in things like recent renovations, updated interiors, outdated features or necessary repairs
Age of home. Homes built around the same time as yours will be the most accurate comps, because major systems like roofs, HVAC and plumbing should be in similar condition
Price per square foot. Real estate agents use price per square foot to identify comparables. Divide the sale price of a home by its square footage, then compare that number to your own desired price per square foot
What is the MLS? MLSs are private databases that are created, maintained and paid for by real estate professionals to help their clients buy and sell property. It's important to be aware that the MLS isn't available to the general public. Instead, if you want to access the MLS in your area, you'll need to have a real estate license. Access to the MLS is one of the main benefits for sellers who use an agent. Not being able to list a home on the MLS can be a significant disadvantage for for-sale-by-owner (FSBO) sellers .
Only use sold homes. Ignore homes that are currently for sale or pending. Why? Sellers can overprice the home and then end up settling for much lower. Or, sellers can price below market value in hopes of drumming up multiple offers with a bidding war. Until a home sale closes, you'll never get an accurate read on its value in your local market — it's only worth what someone ends up paying for it
Adjust for seasonality. Whether prices vary dramatically by season depends on your local real estate market, but in general, homes sell more quickly in spring and early summer, and they take longer to sell in the winter. Sellers often try to motivate buyers in slower seasons with a lower sale price, so keep seasonality in mind as you price your home.
Get an appraisal
If you haven't done so already, give serious consideration to hiring a local appraiser. They'll be able to give you a professional estimate of your home's value. The appraisal gives you useful information about the property. It describes what makes it valuable and may show how it compares to other properties in the neighborhood. This helps to ensure that the price you are asking is not way out in left field and unrealistic
It's best that you have an accurate picture of what your home could sell for by finding a qualified appraiser in your area before you list a home. A useful site is the Appraisal Institute where you can search for qualified appraisers in your area. The median price for a typical, single-family home appraisal is $500.
An appraiser determines value by looking at important aspects of the home, such as the square footage and the overall condition of the house. The number of bathrooms or bedrooms can also greatly influence an appraisal, as well as comps in the area.
Bottom line
Pricing your home can be tricky. You have to be careful to not let emotions get in the way of being honest about the fair market value of your home. Your memories are priceless, but they don't add value to a home.
Deliberately over or under- pricing a home is risky. This strategy could make you look either unrealistic or desperate. Underpricing can backfire and result in losing thousands of dollars if your strategy is not timed right, or buyers don't respond with competing bids.
If you're overpriced, the house might sit on the market and the listing could go stale. If a buyer is willing to overpay, overpriced houses typically appraise for less, and you'll be forced to either lower the price anyway, or put your house back up for sale after the buyer goes to find another home.
Related Content
Donna joined Kiplinger as a personal finance writer in 2023. Previously, she spent more than a decade as the contributing editor of J.K.Lasser's Your Income Tax Guide and edited state specific legal treatises at ALM Media. She has shared her expertise as a guest on Bloomberg, CNN, Fox, NPR, CNBC and many other media outlets around the nation. Donna graduated from Brooklyn Law School and University at Buffalo.