How to Invest Your Stimulus Check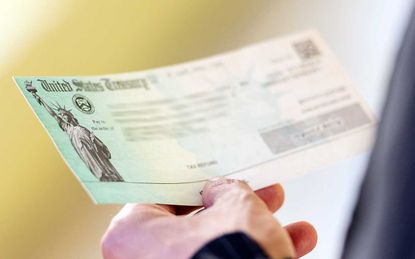 (Image credit: Getty Images)
If you find yourself in the enviable position of being able to ponder how to invest your stimulus check, thank your lucky stars … for plenty of reasons.
As you're well aware by now, the $2 trillion CARES Act rescue package included stimulus checks of up to $1,200 for most individuals living in the U.S. The sad reality is, many Americans will need every cent of that for day-to-day basics. But more than a few people are fortunate enough to be able to put that money to work. Anecdotally, a few friends have already asked me about how to invest their recently deposited stimulus checks. And more people are sure to wonder the same as the Treasury proceeds with its disbursements.
The good news? Despite how ugly the market looks right now – in many cases, because the market looks so ugly right now – you've got options. And plenty of 'em.
Today, we're going to look at how to invest your stimulus check. Because everyone's risk tolerance is a little different, we'll be exploring a variety of options – conservative, aggressive and a little in between.
Senior Investing Editor, Kiplinger.com
Kyle is senior investing editor for Kiplinger.com. As a writer and columnist, he also specializes in exchange-traded funds. He joined Kiplinger in September 2017 after spending six years at InvestorPlace.com, where he managed the editorial staff. His work has appeared in several outlets, including U.S. News & World Report and MSN Money, he has appeared as a guest on Fox Business Network and Money Radio, and he has been quoted in MarketWatch, Vice and Univision, among other outlets. He is a proud graduate of The Ohio State University, where he earned a BA in journalism.