20 Best Stocks to Invest In During This Recession
Recessions necessarily change the spending habits of tens of millions of Americans. These are the best stocks to invest in as long as the U.S. economy remains on the ropes.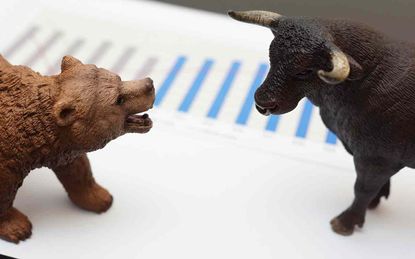 (Image credit: Getty Images)
They have to be. In a recession, there's typically not a lot of money for much else.
While it usually takes six months to determine a recession has actually occurred, the Business Cycle Dating Committee of the National Bureau of Economic Research took far less time before recently confirming that the U.S. indeed entered a recession in February.
Kiplinger's economic forecast is for a second-quarter drop in GDP of about 30% to 40%, and while we expect "a pretty good rebound in the second half of the year … full recovery is likely to take until the end of 2021." Meanwhile, the International Monetary Fund (IMF) believes the world economy will remain in a weakened state all year, with GDP contracting 3% – well below its January projection of 3.3% growth – before rebounding with 5.8% growth in 2021.
The companies best suited to survive, if not thrive, in this kind of environment, are defensive stocks that provide products and services people simply can't live without.
Here, then, are 20 best stocks to invest in during a recession. Some of these might not be the greatest stocks to hold once the U.S. and global economies have returned to normal. But all of them have loads of worth – to investors and consumers alike – as long as times are tight.
Data as of June 8. Analysts' opinion data from WSJ.com. Dividend yields are calculated by annualizing the most recent payout and dividing by the share price.
Contributing Writer, Kiplinger.com
Will has written professionally for investment and finance publications in both the U.S. and Canada since 2004. A native of Toronto, Canada, his sole objective is to help people become better and more informed investors. Fascinated by how companies make money, he's a keen student of business history. Married and now living in Halifax, Nova Scotia, he's also got an interest in equity and debt crowdfunding.