What Kids Need to Know About Finances
In a digital world, it's even more critical to teach children how to handle cold, hard cash.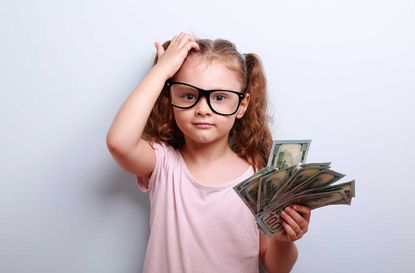 (Image credit: Getty Images)
Recently, I tuned in to a webinar for women on "Your Top Wealth Management Questions," sponsored by The Private Bank at Union Bank in California. The event featured topics most requested by the bank's female clients, including estate planning and retirement challenges."
One concern that caught my eye was "raising financially savvy kids." As author of the book Raising Money Smart Kids, I've always had a particular interest in that subject.
"That topic has been percolating for the past few years among the high-net-worth women we advise," says Margaret Reid, senior portfolio manager for the bank. "COVID triggered a focus on estate planning, especially for families that have wealth and want to make sure their children know how to handle it."
Subscribe to Kiplinger's Personal Finance
Be a smarter, better informed investor.
Save up to 74%
Sign up for Kiplinger's Free E-Newsletters
Profit and prosper with the best of expert advice on investing, taxes, retirement, personal finance and more - straight to your e-mail.
Profit and prosper with the best of expert advice - straight to your e-mail.
Charitable giving figures prominently in that planning. But when webinar participants were asked to name the most important thing to talk about with their kids, "saving" topped the list. That's a theme they have in common with families across the board, regardless of income. In the latest Parents, Kids & Money Survey from T. Rowe Price, the vast majority of parents agreed that it's important to have discussions with their children about saving and spending. And, prompted by the pandemic, a record number of parents—47%—said they are having money conversations with their kids at least once a week.
That's a bigger challenge for parents today than it was when my three children were young and I started writing about kids and money in the 1990s. Social media "influencers," the internet and the proliferation of apps give kids almost endless opportunities to spend money at younger and younger ages. "I have 10- and 12-year-old daughters, so I am in the middle of this," says Reid. "My 10-year-old is already a teenager."
Even websites that promise to teach kids money-management skills often have debit cards attached to make spending easier. And with the advent of bitcoin and other cryptocurrencies, money is becoming less and less real.
Hard money. In a digital world, it's even more critical to teach kids how to handle cold, hard cash. For preschoolers, that means playing with piggy banks or using their own money to buy something at the dollar store. When kids enter elementary school, they should learn how to manage a cash allowance, paying for things they want, saving a portion and giving a portion to charity. By middle school, they should have a bank savings account. Reid opened accounts for both of her daughters when they turned 10, and her 12-year-old is saving for a new phone.
Got teenagers? Encourage them to get a summer job and deposit their earnings in a checking account they can access with an ATM card or (when they're old enough) a debit card. I still don't think young people should have a credit card until they're old enough to get one in their own name and pay the bills with their own money (not yours). Financial privacy is also a growing concern, especially with social media. "Kids are tempted to flash things to garner attention, like how much the family is spending on a vacation or the new car they just bought," says Reid. "They don't understand that sharing things may be construed as boastful."
And you don't want them to share details of your family finances, so match your disclosures to their maturity. Young children don't need to know your income, but teenagers need to know how much you can afford to pay for college and how much they'll be responsible for.
As for online behavior, it's important to control what you can as a parent, says Reid. "I control screen time, and anything online runs through me. You have to put up the guardrails."

Janet Bodnar is editor-at-large of Kiplinger's Personal Finance, a position she assumed after retiring as editor of the magazine after eight years at the helm. She is a nationally recognized expert on the subjects of women and money, children's and family finances, and financial literacy. She is the author of two books, Money Smart Women and Raising Money Smart Kids. As editor-at-large, she writes two popular columns for Kiplinger, "Money Smart Women" and "Living in Retirement." Bodnar is a graduate of St. Bonaventure University and is a member of its Board of Trustees. She received her master's degree from Columbia University, where she was also a Knight-Bagehot Fellow in Business and Economics Journalism.