A Talk With Carrie Schwab-Pomerantz
Investing is the key to building a nest egg that will last a long lifetime, says Schwab-Pomerantz.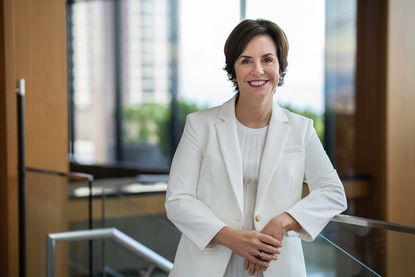 (Image credit: Photo courtesy of Charles Schwab)
Carrie Schwab-Pomerantz, the daughter of Charles Schwab, is board chair and president of the Charles Schwab Foundation; senior vice president of Charles Schwab & Co.; and board chair of Schwab Charitable, a donor-advised fund. She is also author of The Charles Schwab Guide to Finances After Fifty. She and I recently spoke about retirement-planning advice for women.
Do women face special circumstances when it comes to retirement planning? As you know, women tend to live longer than men, and they move in and out of the workforce to care for children and parents. So they tend to have less money saved for a longer retirement.
How can they overcome their disadvantages? The key is to have an investment strategy. It's important for we women in particular to educate ourselves about investing and be engaged starting at a young age.
Subscribe to Kiplinger's Personal Finance
Be a smarter, better informed investor.
Save up to 74%
Sign up for Kiplinger's Free E-Newsletters
Profit and prosper with the best of expert advice on investing, taxes, retirement, personal finance and more - straight to your e-mail.
Profit and prosper with the best of expert advice - straight to your e-mail.
Do you think that's happening? In 2018, Schwab surveyed young people between the ages of 16 and 25. We found that young women were doing all the right things. They were more driven than young men to achieve financial independence, and they see more value than men in creating a plan to achieve their goals. But on average, they had saved 40% less than young men. Also, twice as many young men versus young women had investment accounts, and twice as many men as women say they would invest spare cash.
What's the solution? As parents, we have to step up and make sure our children—especially girls—are exposed to the financial world and investing. Our studies show that when it comes to money, parents talk differently to their sons and daughters. To their daughters, they emphasize saving and budgeting. With their sons, they are more likely to talk about investing and estate planning.
You are the mother of three young adults, two sons and a daughter. How did you educate them about investing? When they were about 13 years old, I had them come to Schwab and open a custodial investment account with money from their savings. When they were 16 and had earnings from a job, they opened Roth IRAs. It took me longer to get my daughter interested than my sons. She asked me if I would open the account for her, but I said no. It's important to expose young people to the experience and demystify it.
Were you successful? Now they are all savers and investors, and they feel very comfortable with it. My daughter is 24, and her friends are asking me for help. They're saving 10% and think they're saving for retirement, but they forget the investing part. That's where wealth is created, not just by putting money into a savings account.
Any other advice for women? Use all the retirement-savings vehicles that are available to you. That means 401(k)-type plans if you have one at work, IRAs, or spousal IRAs if you're not in the workforce but your spouse is. If you decide to drop out of the workforce or cut back, you don't want it to hurt you in the long run.
How has COVID impacted women's retirement prospects? Women have been affected more than men because they often have service jobs or dropped out to take on child care responsibilities. For many people, this has been a wake-up call to make a plan (see Financial Planning and Investing: Women Closing the Confidence Gap (opens in new tab)). It doesn't have to be super comprehensive, just taking steps to understand what you own, what you owe, your budget and cash flow. If you're married or in a relationship, you should be involved in all financial decisions. That's a matter of self-respect. And don't be afraid to get help from an expert. There's no such thing as a dumb question.
Janet Bodnar is editor-at-large of Kiplinger's Personal Finance, a position she assumed after retiring as editor of the magazine after eight years at the helm. She is a nationally recognized expert on the subjects of women and money, children's and family finances, and financial literacy. She is the author of two books, Money Smart Women and Raising Money Smart Kids. As editor-at-large, she writes two popular columns for Kiplinger, "Money Smart Women" and "Living in Retirement." Bodnar is a graduate of St. Bonaventure University and is a member of its Board of Trustees. She received her master's degree from Columbia University, where she was also a Knight-Bagehot Fellow in Business and Economics Journalism.