Best Dividend ETFs to Buy Now
Are you a set-it-and-forget-it income investor? These dividend ETFs provide a variety of long-term cash-generating strategies.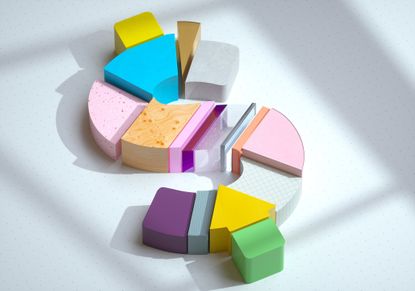 (Image credit: Getty Images)
When you're investing for the long run, there's nothing like a sizable allocation to dividend-paying stocks to help you get some sleep at night. And if cold, hard cash is like a warm, fuzzy blanket, dividend ETFs are like a closet full of quilts.
Admittedly, it's hard to care about gradually building wealth with dividend payments when there are so many flashier things going on. Be real: How many CNBC and Bloomberg TV spots have you watched about the explosive gains of AI stocks? OK, now how many spots have you watched about slow trickles of cash?
That's fine. Because what dividend stocks lack in curb appeal, they make up for in substance. From Hartford Funds:
"Dividends have played a significant role in the returns investors have received during the past 50 years. Going back to 1960, 69% of the total return of the S&P 500 Index can be attributed to reinvested dividends and the power of compounding."
Clearly, you don't want to sleep on dividends … but what's the best way to stash them in your portfolio? You could try to pick and choose individual stocks that pay shareholders, but like with any single-stock investments, you're taking on a bit of risk – not just of the company faltering and shares heading lower, but that, sometime in the future, it cuts or even eliminates its dividend.
Or, you could spread out that risk across dozens, hundreds, even thousands of stocks via dividend ETFs.
So read on as we discuss seven of the best dividend ETFs for a diversified portfolio. To find the best ETFs, we've narrowed our search down to seven funds with low costs and varying strategies. We've also selected ETFs that enjoy Morningstar Gold or Silver Medalist ratings – Morningstar's forward-looking ratings system that analyzes a fund's ability to outperform its category in the future.
Disclaimer
Data is as of July 28. Dividend yields represent the trailing 12-month yield, which is a standard measure for equity funds.
Kyle Woodley is the Editor-in-Chief of Young and The Invested, a site dedicated to improving the personal finances and financial literacy of parents and children. He also writes the weekly The Weekend Tea newsletter, which covers both news and analysis about spending, saving, investing, the economy and more.
Kyle was previously the Senior Investing Editor for Kiplinger.com, and the Managing Editor for InvestorPlace.com before that. His work has appeared in several outlets, including Yahoo! Finance, MSN Money, Barchart, The Globe & Mail and the Nasdaq. He also has appeared as a guest on Fox Business Network and Money Radio, among other shows and podcasts, and he has been quoted in several outlets, including MarketWatch, Vice and Univision. He is a proud graduate of The Ohio State University, where he earned a BA in journalism.
You can check out his thoughts on the markets (and more) at @KyleWoodley.