The Pros' Investment Strategies for the Rest of 2021
Stimulus. Economic revival. Inflation. Here are the investment strategies that Wall Street's top money minds are putting to work to navigate 2021's major themes.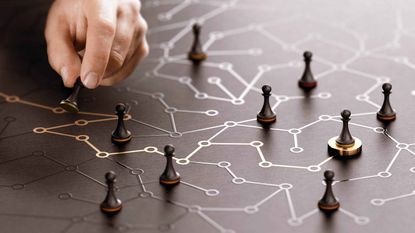 (Image credit: Getty Images)
Wall Street's most prevalent investment strategies looking out toward the rest of 2021 look much, much different than they did this time a year ago.
Around this time last year, the stock market was in the throes of its quickest bear market in history. The Dow Jones Industrial Average – which recorded its third-worst session in history, a 12.9% decline, on March 16, 2020 – plunged more than 37% in just six weeks before bottoming out. Investing playbooks were thrown out the window as everyone adjusted to the new COVID norm.
Everything has looked better since then, however. The Dow recovered its old highs by November, and it has spent the past few months routinely setting new highs as the economy heals from the coronavirus.
We're not there yet. The U.S. unemployment rate remains far above pre-pandemic levels, with predictions for a full recovery falling anywhere between 2022 and 2024. might not recover until 2024 or beyond. Weekly unemployment claims remain persistently high.
But Americans are being vaccinated, and at a rapid clip. Warmer months are coming. And a $1.9 trillion stimulus plan, including direct checks, is nigh. So optimism about the economy still exists – so much so that inflation concerns have even started to bubble to the surface.
How, then, should investors go about their business in this evolving environment?
We've asked several fund managers and other industry experts just that – and in turn, they've shared some of the investment strategies they like for the rest of 2021. Read on to see what they have to say.
1/8
A 'Barbell' Approach
Provided by: Tony DeSpirito
Position(s): Lead Portfolio Manager, BlackRock Equity Dividend portfolios; CIO, U.S. Fundamental Active Equity, BlackRock
"In the BlackRock Equity Dividend Fund (MADVX), our investment theme for 2021 is positioning for an economic recovery while seeking to protect capital from potential bouts of volatility," DeSpirito says.
To this end, the team's investment strategy involves a "barbell" approach, which entails investing in both extremes of the risk spectrum by pairing a high-risk investment with a no- or low-risk asset.
On the low-risk side of MADVX's barbell are sectors such as information technology (IT) and healthcare, which DeSpirito says offer growth and stability characteristics.
"IT stocks have emerged as the 'new consumer staples,'" he says. "Businesses in software and IT services (are) so integral to the corporate fabric of companies that it's difficult for them to cut these spending budgets even during recessions."
Meanwhile, healthcare offers exposure to businesses with good prospects for innovation that are poised to benefit from long-term demand tailwinds thanks to aging demographics, he says. "All else equal, older populations spend more on healthcare than younger populations."
On the other side of the MADVX barbell are more opportunistic investments in sectors temporarily hurt by the COVID-19 pandemic, such as financials and energy.
"We are finding companies in these sectors that offer attractive risk-reward potential, and, in our view, have the most room for a recovery as we look forward to a normalization in economic activity," DeSpirito says.
2/8
A Different Way of Thinking About ESG
Provided by: Yolanda Courtines, Mark Mandel
Position(s): Senior Managing Directors, Equity Portfolio Managers, Wellington Management
The Wellington Management investment framework is grounded in the idea that enduring financial strength and stakeholder-oriented leadership are a powerful combination, often overlooked as a source of competitive advantage and a driver of outperformance.
Rather than focusing exclusively on environmental, social and corporate governance (ESG) factors, Courtines and Mandel, who manage the Vanguard Global ESG Select Stock Fund (VEIGX (opens in new tab)), take a more holistic view of corporate responsibility that they call stewardship.
"Specifically as it relates to the current pandemic, it is increasingly likely that there will be lasting impacts in terms of how companies think about the diversification and sustainability of both their global supply chain and manufacturing base," they say. "We believe our keen emphasis on stewardship is well suited to respond to potential shifts or an evolution in these dynamics."
Compared to the market, Courtines and Mandel place a higher premium on skilled management teams and engaged boards of directors.
"While we will monitor developments closely, we have made the conscious decision to place capital with companies that we expect will be flexible and adaptable and with leadership that can be trusted to make the right adjustments to the business on behalf of stakeholders," they say.
This investment strategy can also turn into something of a virtuous cycle. Courtines and Mandel believe highly profitable companies that out-earn their cost of capital have more latitude to embrace world-class ESG practices, and in turn, these practices reinforce the sustainability of profits over the long term.
3/8
Protect Against Inflation
Provided by: Ashok Bhatia
Position(s): Deputy CIO of Fixed Income, Neuberger Berman
"To start the year, market expectations of U.S. rates shifted higher on the back of the surprising results of the Georgia Senate runoff elections, which raised the likelihood of additional fiscal spending," Bhatia says. "Once the lingering effects of the worrisome public health crisis have passed, this spending is expected to drive growth and inflation higher, which could lead markets to reprice for a faster monetary policy adjustment by the Federal Reserve."
He expects the Fed to respond to the new inflation dynamic more aggressively than the market anticipates, but says the market is correct not to expect this for another couple of years.
"This anchor on short-dated rates, combined with a lengthening of the weighted average maturity of Treasury debt during 2021, makes for a substantially steeper U.S. yield curve," he says.
Within this steeper yield curve, non-U.S. investors can find "meaningfully higher term premium than they're likely to get from their own bond markets with a relatively low cost for hedging out the U.S. dollar exposure."
While this non-U.S. demand could compress U.S. term premium, he says it doesn't fundamentally change the direction of the economy or his expectation for higher rates to come. To this end, "We favor inflation-protected securities and underweight duration exposures in our portfolios as we head deeper into 2021," he says.
4/8
Industrials, Cleantech, Financials
Provided by: Jon Maier
Position(s): CIO, Global X
"Thematic" disruption took center stage in 2020, thanks to technological adoption and the lifestyle changes caused by the COVID-19 pandemic, Maier says.
While broad markets had a weak start to 2021, thematic investment strategies – which can span several industries and even sectors involved in an investing theme – continued to shine.
"The demand for disruptive technologies and the risk of a more protracted recovery have brought momentum to stay-at-home themes, including cloud computing, cyber security (and) telemedicine," he says.
He believes the vaccine will help to more fully reopen the economy into the second half of 2021, but that "the behavioral changes the world is undergoing will likely persist long after the virus threat subsides."
From an investment standpoint, if an infrastructure bill is passed, he says industrials should reap most of the reward, especially those that use automation. Investors might want to look for stocks or ETFs that cover companies in the infrastructure sector and the industrial automation space, he says.
Likewise, he adds that "the Biden Administration's top-down focus on sustainability combined with massive levels of fiscal stimulus may favor sectors of the economy that have lagged during the recovery thus far." To play the administration's focus on sustainability, consider cleantech stocks and funds.
A stock price recovery is also already underway in financials, he says. A strong economic recovery combined with rising rates creates an attractive setup for the sector.
"Within financials, increased consumer spending and economic activity looks to benefit consumer-focused banks," Maier says. "In addition, most banks are currently well-capitalized and have strong balance sheets due to mandated stress tests."
5/8
Don't Abandon Secular Growth
Provided by: Scott Helfstein
Position(s): Executive Director of Thematic Investing, ProShares
Helfstein says investors might want to keep secular growth in the portfolio for 2021.
"There has been a lot of chatter about a cyclical or small-cap rotation in light of economic reopenings as the pandemic recedes in 2021, but people should think twice about abandoning secular growth," he says. "Future-proofing a portfolio against transformational change is critical, and people should not bet against innovation."
He points to examples from 2020 of the power of technological innovation like fast-tracked mRNA technology in vaccines or the doubling of e-commerce sales.
Another approach to consider across 2021 is investment strategies that pair secular growth with reopening themes.
"Online retail is an example of a secular growth theme that could also get a cyclical tailwind in reopening if unemployment goes down and consumers do well in an improving economy," he says.
Another approach would be to pair "secular growth themes like cybersecurity, pet care or remote work with reopening themes like infrastructure, industrial automation, or small-cap dividend strategies."
6/8
Renewable Energy, Marijuana, Video Games
Provided by: Benjamin Dunbar, Brett Sifling
Position(s): Managing Partner, Investment Advisor Representative (respectively), Gerber Kawsaki
The team at Gerber Kawasaki is looking at several themes for 2021, and renewable energy is among them.
"There's a new energy game in town, and that is in solar and batteries, and that trend is not changing," Dunbar says.
The Tesla (TSLA (opens in new tab)) island was a lonely one for a long time, he says, but new players are entering the field. Not all of these companies are U.S.-based, and some might be trading at higher valuations from a traditional view. But "sometimes we need to pay up for growth and look further than the next six to 12 months," he says.
The team is also looking at cannabis, with the anticipation that legalization will continue to spread across the nation.
"When legalization happens, liquidity will flood into the markets and support domestic suppliers," Sifling says. "Some players will become the Coca Cola of the cannabis world." He points to companies such as Las Vegas marijuana dispensary Planet 13 (PLNHF (opens in new tab)) and Curaleaf (CURLF (opens in new tab)), as well as broader plays such as the U.S.-focused AdvisorShares Pure US Cannabis ETF (MSOS (opens in new tab)).
The duo also favor video games.
"Gaming is a staple in most kids' lives," Sifling says. "These companies are growing at rapid rates, and it's global."
Time spent online only increased during the COVID pandemic and fully digital gaming is helping profits, he says. Likewise, there are investment opportunities in the hardware needed to support video gaming, with companies such as Logitech (LOGI (opens in new tab)) that will benefit from supplying keyboards, gaming mice and other gear.
7/8
Municipal Bonds
Provided by: John Miller
Position(s): Head of Municipals, Nuveen
While early-onset market volatility from the pandemic created challenges for municipal bonds in 2020, municipal bonds bounced back in both performance and outflows to close out the year, proving their resiliency as an asset class.
As U.S. growth recovers, "2021 should bring opportunities for municipals, especially within the high yield market," Miller says.
"We see value in high-yield municipals, especially those that could benefit from a more risk-on stance that favors leverage and credit exposure," he says. "The recent widening of spreads has also created pockets of undervalued areas in high yield and could potentially provide extra income for investors in the current low-rate environment."
Miller says another investment strategy that might play well in the muni market this year is incorporating ESG into your portfolio.
"Viewing municipal investing through a responsible investing lens is relatively new and could be a place to uncover value as investors' objectives evolve," he says.
With more focus at the federal government level on climate change initiatives, Miller spies opportunity in projects focused on clean water, recycling and clean energy.
8/8
Focus on High Quality
Provided by: Sammy Simnegar
Position(s): Portfolio Manager, Fidelity
Simnegar – who manages several Fidelity funds but most recently joined Magellan (FMAGX (opens in new tab)) in 2019 – uses fundamental, quantitative and technical analysis to identify high-quality growth stocks that are benefiting from the long-term mega-trends shaping the future of the world. This includes "everything-as-a-service," health and wellness, and digitization.
He's also focusing on the three B's: brands, barriers to entry and best-in-class management.
"As I look through 2021, I believe the fund's long term, growth-oriented approach, in conjunction with the focus on downside protection, is as important as ever now that we are dealing with the uncertainty of a pandemic," he says.
Contributing Writer, Kiplinger.com
Coryanne Hicks is an investing and personal finance journalist specializing in women and millennial investors. Previously, she was a fully licensed financial professional at Fidelity Investments where she helped clients make more informed financial decisions every day. She has ghostwritten financial guidebooks for industry professionals and even a personal memoir. She is passionate about improving financial literacy and believes a little education can go a long way. You can connect with her on Twitter (opens in new tab), Instagram (opens in new tab) or her website, CoryanneHicks.com (opens in new tab).