Kiplinger Energy Outlook: Watch Out for Rising Gas Prices
After a long decline last year, the price at the pump is perking up again.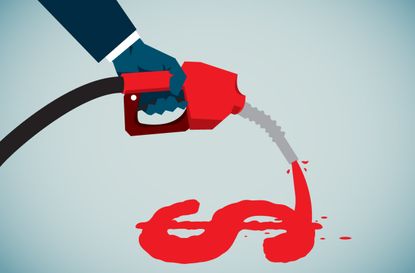 (Image credit: Getty Images)
Kiplinger's Economic Outlooks are written by the staff of our weekly Kiplinger Letter and are unavailable elsewhere. Click here for a free issue of The Kiplinger Letter or for more information.
Bad news for drivers who were enjoying lower gasoline prices late last year: It appears that gas prices have bottomed out and are headed higher again. After dipping close to $3 per gallon shortly before the end of last year, the national average price of regular unleaded gas has bounced back to $3.29. Unfortunately, we think that trend will continue, with the national average price flirting with $4 per gallon sometime this spring. Why? For starters, crude oil prices have risen, likely on expectations of higher oil demand in China, now that the country's COVID-19 lockdowns have largely been lifted. Also, refinery capacity in the U.S. remains strained. Even with plenty of crude oil available, there aren't enough refineries to turn that crude into useful fuels like gasoline. And in general, retail gas prices tend to rise in late winter or early spring in advance of the busy summer travel season. The situation is even worse for truckers, with diesel prices now averaging $4.62 per gallon. Diesel has actually been declining a bit recently, but it remains unusually expensive. That affects virtually every good on store shelves since most freight travels by trucks or trains that run on diesel.
Oil prices are slowly rebounding from their drop late last year, with benchmark West Texas Intermediate crude trading at almost $80 per barrel. We think it'll stay around that level in the near term, but it could break out higher later this winter. OPEC (opens in new tab) has shown a determination to reduce its oil exports to keep oil prices from dropping too much. Demand from China should increase this year. And U.S. energy companies are struggling to increase oil production. Their investors are pushing for less drilling and more cash going to dividends and stock buybacks. Meanwhile, energy policy in the U.S. continues to discourage long-term investment in oil and gas, as the White House talks up renewable energy.
Subscribe to Kiplinger's Personal Finance
Be a smarter, better informed investor.
Save up to 74%
Sign up for Kiplinger's Free E-Newsletters
Profit and prosper with the best of expert advice on investing, taxes, retirement, personal finance and more - straight to your e-mail.
Profit and prosper with the best of expert advice - straight to your e-mail.
Natural gas prices are in the midst of an epic slump, but don't bet on that to last too long. After peaking near $10 per million British thermal units in the middle of last year, the benchmark gas futures contract has tumbled to about $3.60 per MMBtu in recent trading. Warm weather in both the U.S. and Europe have depressed gas demand, at a time when it was expected to be strong. However, the recent price weakness could reverse quickly if colder weather returns. Europe continues to struggle to buy enough gas from alternate suppliers after Russia cut off most of its gas exports to the Continent. In the U.S., the world's leading gas producer, stockpiles of gas in storage are still a bit low for this time of year. Any prolonged cold weather, either in Europe or here, will fire up demand for U.S. gas and likely cause prices to rise significantly.
Related content
Managing Editor, The Kiplinger Letter
Jim joined Kiplinger in December 2010, covering energy and commodities markets, autos, environment and sports business for The Kiplinger Letter. He is now the managing editor of The Kiplinger Letter and The Kiplinger Tax Letter. He also frequently appears on radio and podcasts to discuss the outlook for gasoline prices and new car technologies. Prior to joining Kiplinger, he covered federal grant funding and congressional appropriations for Thompson Publishing Group, writing for a range of print and online publications. He holds a BA in history from the University of Rochester.