Save a Little on Gas Prices This Thanksgiving
It's not much, but slightly lower gasoline prices are one thing to be thankful for this year.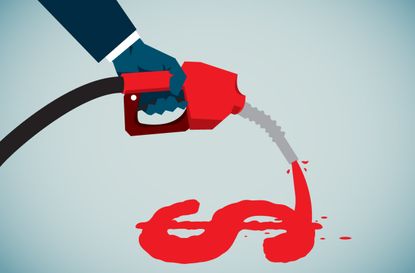 (Image credit: Getty Images)
Kiplinger's Economic Outlooks are written by the staff of our weekly Kiplinger Letter and are unavailable elsewhere. Click here for a free issue of The Kiplinger Letter or for more information.
Gasoline prices should keep easing, slowly, which is good news for the many Americans who plan to hit the road this Thanksgiving weekend. Gas is far from cheap — the national average price of regular unleaded is $3.66 per gallon today. But the national average has dropped 11 cents from a week ago and 16 cents from a month ago. With crude oil prices slipping, it's likely that these decreases at the gas station will continue. Before year-end, the national average could fall close to $3.50. Again, that isn't exactly a bargain. But it's a lot better than $5.02, where the average price peaked this spring. Unfortunately for truckers, diesel prices remain painfully high, at a national average of $5.30 per gallon. Diesel should slip a bit, too, but with supplies tight, it won't fall much. That will continue to add to the cost of items on store shelves, since practically every product travels by a diesel-fueled train or truck at some point in its journey to the store or a customer's doorstep.
Oil prices are weakening on continued worries about China in particular and the global economy in general. Beijing's continuing effort to stamp out COVID-19 outbreaks by locking down large parts of the country means less demand for crude in the world's second-biggest oil market. Meanwhile, Europe appears destined for recession as high energy prices keep inflation extremely elevated. In the United States, inflation may be starting to ease, but the Federal Reserve's campaign of interest rate hikes may lead to a recession next year, due to rising borrowing costs. Benchmark West Texas Intermediate crude slipped below $80 per barrel for the first time in months, reflecting traders' concerns about global oil demand. We think WTI will stay below $90 this winter, and may struggle to return to $80 if the economic outlook darkens. However, OPEC and its partners are likely to further reduce oil exports to prop up crude prices. And new sanctions on Russian oil exports could further limit global supply. So it seems unlikely that oil prices are about to plummet.
Subscribe to Kiplinger's Personal Finance
Be a smarter, better informed investor.
Save up to 74%
Sign up for Kiplinger's Free E-Newsletters
Profit and prosper with the best of Kiplinger's expert advice on investing, taxes, retirement, personal finance and more - straight to your e-mail.
Profit and prosper with the best of Kiplinger's expert advice - straight to your e-mail.
Natural gas prices are gradually staging a comeback, though they remain well below their peak from earlier this year. Benchmark gas futures contracts recently traded near $6.50 per million British thermal units. They had reached about $9.50 earlier in the year on heavy demand from Europe for U.S. gas. While down from those levels, gas remains expensive versus its trading range of recent years. And any burst of severe cold, either in the United States or Europe, could quickly push prices higher. Even without such a spike, consumers in the United States will definitely pay much more for gas to heat their homes than they did last winter. Since about half of households heat with gas, that will have a significant impact on consumer sentiment.
Managing Editor, The Kiplinger Letter
Jim joined Kiplinger in December 2010, covering energy and commodities markets, autos, environment and sports business for The Kiplinger Letter. He is now the managing editor of The Kiplinger Letter and The Kiplinger Tax Letter. He also frequently appears on radio and podcasts to discuss the outlook for gasoline prices and new car technologies. Prior to joining Kiplinger, he covered federal grant funding and congressional appropriations for Thompson Publishing Group, writing for a range of print and online publications. He holds a BA in history from the University of Rochester.