Kiplinger Energy Outlook: Gas Prices to Stay Uncomfortably High
Crude oil is in short supply, so motorists are paying more at the pump these days.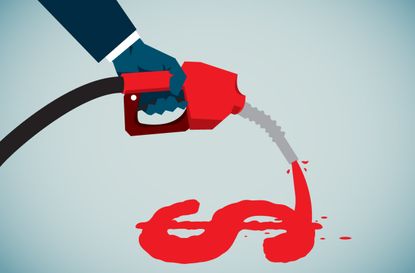 (Image credit: Getty Images)
Kiplinger's Economic Outlooks are written by the staff of our weekly Kiplinger Letter and are unavailable elsewhere. Click here for a free issue of The Kiplinger Letter or for more information.
Gasoline prices have stopped rising after their summer run-up. But they remain uncomfortably high, with the national average for regular unleaded at $3.80 per gallon. And while the price at the pump often recedes after Labor Day and the unofficial end of the summer travel season, it looks like gas is going to remain costly as autumn begins.
Crude oil prices have been trending higher this summer, due in part to Russia and Saudi Arabia reducing their oil exports. The two recently announced that they will keep their current production cuts in place longer than previously planned, which should keep the global oil market tight. Meanwhile, the U.S. economy remains surprisingly resilient, pointing to continued strong fuel demand. So, we look for gas prices to stay elevated, perhaps declining by a few cents as cooler weather arrives. Diesel prices look to continue their recent steep increase. The national average for diesel, $4.46 per gallon, is up 27 cents over the past month. Less Russian and Saudi crude oil on the market is especially bad for diesel supplies since many refineries in Europe are designed to process Russian and Saudi crude into diesel.
Subscribe to Kiplinger's Personal Finance
Be a smarter, better informed investor.
Save up to 74%
Sign up for Kiplinger's Free E-Newsletters
Profit and prosper with the best of expert advice on investing, taxes, retirement, personal finance and more - straight to your e-mail.
Profit and prosper with the best of expert advice - straight to your e-mail.
As for crude oil prices, we look for benchmark West Texas Intermediate Crude (WTI) to trade in a range from $80 to $85 per barrel this fall, down only slightly from its current price of about $87. Again, with Russia and Saudi Arabia restricting supply, prices figure to stay relatively high. But look for a lot of price volatility within that $80-$85 range, as traders react to incoming economic data.
While oil and the fuels refined from it remain expensive, natural gas prices are stuck in a low trading range, with the benchmark gas futures contract recently trading at $2.59 per million British thermal units. That's a bit surprising, considering the extreme heat across the United States, which is fueling strong demand for electricity. Gas is the top fuel for generating power in the U.S. But even amid strong demand, gas stockpiles in underground storage are above normal for this time of year. That is keeping prices down. And traders are likely looking ahead to cooler weather this fall when gas demand is likely to die down. So, we expect natural gas prices to stay low, unless unusually cold weather arrives this fall and leads to an early start to the winter heating season.
Related content

Managing Editor, The Kiplinger Letter
Jim joined Kiplinger in December 2010, covering energy and commodities markets, autos, environment and sports business for The Kiplinger Letter. He is now the managing editor of The Kiplinger Letter and The Kiplinger Tax Letter. He also frequently appears on radio and podcasts to discuss the outlook for gasoline prices and new car technologies. Prior to joining Kiplinger, he covered federal grant funding and congressional appropriations for Thompson Publishing Group, writing for a range of print and online publications. He holds a BA in history from the University of Rochester.