Who controls gas prices in the U.S.?
Who controls gas prices in the U.S.? There's no puppeteer, just several factors that combine to pull and push on what you pay at the pump.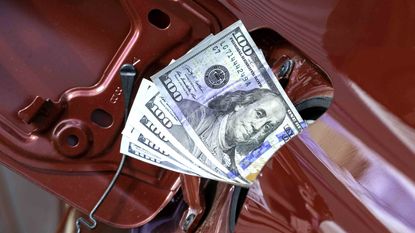 (Image credit: Getty Images)
Gasoline prices have been dropping for months, reversing the equally dramatic rise they embarked on in spring 2022. From a peak of $5.02 per gallon of regular, the national average is now down to $3.27. Drivers suffering from price whiplash might be asking "Who controls gas prices?" The short answer is... No single person, company or government can really be said to set gas prices.
But it is possible to break down some of the major factors that go into determining what a gallon of gas sells for. Let's take a look.
1. Crude Oil
The Department of Energy has a handy chart that breaks down the major expenses involved in turning crude oil in the ground into the refined gas you can put in your car.
Subscribe to Kiplinger's Personal Finance
Be a smarter, better informed investor.
Save up to 74%
Sign up for Kiplinger's Free E-Newsletters
Profit and prosper with the best of expert advice on investing, taxes, retirement, personal finance and more - straight to your e-mail.
Profit and prosper with the best of expert advice - straight to your e-mail.
The biggest, accounting for a bit more than half the price you pay, is the price of crude oil – the raw material from which gas is refined.
The price of that raw material has been on a wild ride in recent years. In 2020, some oil prices briefly fell below $0 per barrel, because worldwide demand for fuel was so low during the worst of the pandemic that unwanted oil was filling up storage facilities to the point where some barrels had nowhere to go. Then, as the pandemic eased, fuel demand came roaring back, faster than oil producers could reopen the taps. Oil prices quickly recovered to their pre-COVID level, and then shot higher. In early 2022, when Russia invaded Ukraine, the price of the benchmark West Texas Intermediate soared above $130 per barrel.
2. Taxes
The next biggest factor determining gas prices, according to the Department of Energy, is gas taxes – specifically, the state, local and federal taxes levied on fuel.
No one loves paying taxes, but they can't be blamed for the run-up in gas prices. The 18.4-cent-per-gallon federal tax on gas hasn't been increased in about three decades. Some states have actually given a "gas tax holiday" — cutting or suspending their own gas taxes in an attempt to give motorists some relief from the high prices. Sadly, those reductions didn't do much to keep the average price of gas from hitting new records earlier in 2022.
3. Other Factors Determining the Price of Gas
The remaining factors controlling gas prices are a mix of related costs:
refining crude into gasoline and other fuels
transporting it to stations by pipeline and truck
marketing gas
This bucket of costs includes refiners' profits on turning barrels of oil into barrels of gasoline, and these days, those profits are soaring. Some refineries closed due to the slump in fuel demand during the pandemic, which means bigger profit margins for those that remain, now that demand is healthier.
If you want to share in some of those profits as an investor, instead of just funding them as a driver, check out these three refiner stocks to consider buying. Maybe they will provide some comfort during your next expensive fill-up.

Managing Editor, The Kiplinger Letter
Jim joined Kiplinger in December 2010, covering energy and commodities markets, autos, environment and sports business for The Kiplinger Letter. He is now the managing editor of The Kiplinger Letter and The Kiplinger Tax Letter. He also frequently appears on radio and podcasts to discuss the outlook for gasoline prices and new car technologies. Prior to joining Kiplinger, he covered federal grant funding and congressional appropriations for Thompson Publishing Group, writing for a range of print and online publications. He holds a BA in history from the University of Rochester.