Today's Pump Pain: Worse Than 2008 Gas Prices?
Americans haven't felt this much pain at the pump in well more than a decade, but by one measure, gas prices still haven't topped 2008's highs.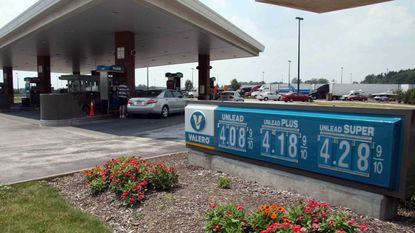 (Image credit: Getty Images)
The current surge in gas prices probably has many motorists wondering: Are today's prices higher than gas prices in 2008, the last time we saw a huge run-up in fuel costs?
The answer: Yes … and no.
In nominal terms, today's gas prices are far higher. According to travel website AAA, the current national average price of regular unleaded is $4.72 per gallon. Back in the summer of 2008, right before the financial crisis sent the economy into a deep recession, prices peaked at $4.11. So, we've already blown past that old record.
Subscribe to Kiplinger's Personal Finance
Be a smarter, better informed investor.
Save up to 74%
Sign up for Kiplinger's Free E-Newsletters
Profit and prosper with the best of expert advice on investing, taxes, retirement, personal finance and more - straight to your e-mail.
Profit and prosper with the best of expert advice - straight to your e-mail.
But if you adjust for inflation since 2008, we don't have the highest gas prices ever – yet. According to this inflation calculator from the Bureau of Labor Statistics, $4.11 in July 2008 is equal to $5.40 in today's dollars.
So, if you feel any relief knowing that you're not paying as much in inflation-adjusted terms for gas now as you did in 2008, remember those figures. (But somehow, we doubt that knowledge is very comforting to most drivers.)
We Could Still Make a Run at 2008's Gas Prices – Inflation Included
Unfortunately, there is a chance that gas prices will take a run at the inflation-adjusted high of $5.40 sometime this year.
Keep in mind, the summer travel season is just getting underway, which means months of high gasoline demand lie ahead. Oil prices are high, and refineries are struggling to keep up with global fuel demand.
Many refineries shut down when the COVID-19 pandemic crushed global fuel demand in 2020, and few new ones are slated to open anytime soon. Here in the U.S., most existing refineries are running flat out to meet both domestic consumption and demand from Europe, which is seeking alternatives to Russian gasoline and diesel fuel in response to Moscow's invasion of Ukraine.
How high gas prices will go is an open question, but $5 for the national average seems like a good bet, considering we're already at $4.72.
From there, it wouldn't take much more to push us to that $5.40 inflation-adjusted mark for gas prices set in 2008. For instance, if a hurricane shuts down refineries on the Gulf Coast this summer – a real concern, given forecasts for an above-normal hurricane season – gas prices could jump well over $5 on average.
So, when it comes to gas price predictions, our pessimistic one is: Budget for even worse pain at the pump this summer. If you're looking for real-world ways to mitigate that pain a bit, check out this handy list of fuel-saving tips that really work.

Managing Editor, The Kiplinger Letter
Jim joined Kiplinger in December 2010, covering energy and commodities markets, autos, environment and sports business for The Kiplinger Letter. He is now the managing editor of The Kiplinger Letter and The Kiplinger Tax Letter. He also frequently appears on radio and podcasts to discuss the outlook for gasoline prices and new car technologies. Prior to joining Kiplinger, he covered federal grant funding and congressional appropriations for Thompson Publishing Group, writing for a range of print and online publications. He holds a BA in history from the University of Rochester.