Will Gas Prices Ever Go Down?
A few catalysts could theoretically relieve current pressures at the fuel pump, but don't expect gas prices to go meaningfully lower soon.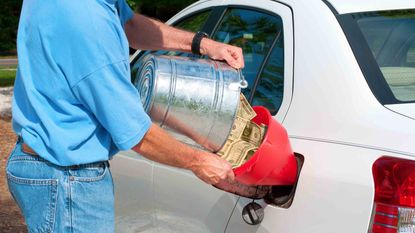 (Image credit: Getty Images)
As it becomes increasingly painful to fill up your gas tank, you might well be wondering: Will gas prices go down at some point?
Energy prices feel like they've been on a never-ending ride higher of late. A year ago, the national average price of regular unleaded was $3.07 per gallon, according to travel website AAA. A month ago, it was $4.59. Today, it's $4.96.
We recently looked at the reasons why gas prices are so high. Global oil demand rebounding from the pandemic faster than production. The war in Ukraine. Efforts in the U.S. to transition the economy away from reliance on fossil fuels. Energy companies' reluctance to invest in more oil production.
Subscribe to Kiplinger's Personal Finance
Be a smarter, better informed investor.
Save up to 74%
Sign up for Kiplinger's Free E-Newsletters
Profit and prosper with the best of expert advice on investing, taxes, retirement, personal finance and more - straight to your e-mail.
Profit and prosper with the best of expert advice - straight to your e-mail.
Now, we'll try to answer the question undoubtedly on many drivers' minds: Will gas prices go down soon – and if so, what will do the pushing?
Fuel Tax Relief?
Taxes are one of several things that help determine the cost of gas. So a few states have tried to ease the financial burden on their residents by suspending their state fuel taxes for a short period. But are gas prices doing down because of those moves?
Not really.
For instance, Connecticut suspended its 25-cent-per gallon state levy on fuel for April, May and June. But according to AAA, the average price of regular unleaded in the Nutmeg State today is $4.92, up from $4.69 a month ago. Increases in crude oil prices can swamp the effect of suspending a state's gas tax. And when those state taxes are paused, the savings don't all go in the driver's pocket. Fuel sellers keep some portion of them.
Could the federal government give drivers nationwide a tax cut by suspending the 18.4-cent-per-gallon federal tax on gas, as President Joe Biden just proposed? Unlikely, report my colleagues at The Kiplinger Letter, who regularly speak with lawmakers on Capitol Hill to assess which bills have a chance of passing.
In the case of a proposed suspension of the federal gas tax, Democrats, the majority party, can't agree among themselves to do it.
More Oil on the Way
Here's a little good news: More crude oil should be reaching the global market later this year, which means more gasoline and other refined fuels. Eventually, that should help push gas prices down, or at least keep them from rising so fast.
In the U.S., energy companies are slowly putting more rigs to work drilling new wells, even as they prioritize returning cash to investors via share buybacks and dividends. Oilfield services company Baker Hughes reports on the number of working rigs in the U.S. each week, and most weeks lately, the tally has risen a bit. Meanwhile, OPEC announced recently that it will export a bit more oil than it had previously planned.
The bad news: Neither domestic oil output nor OPEC's sales are rising fast enough to push oil prices down much now. And that means gas prices are unlikely to take a big breather soon, either.
So, when can we expect gas prices to go down?
A Short Respite Soon, But Look Toward Autumn
A tiny bit of relief at the pump is likely in the next few weeks. In fact, the national average price of gas has already pulled back a few pennies, though it remains near $5 per gallon.
More declines are likely, because crude oil futures traded on commodity markets have recently given up some of their spring gains on concerns that the economy is weakening. That slack should filter through to gas stations in coming weeks, with the national average price of gas slipping to $4.75 or even a bit less.
That's still painfully high, but it's better than $5.
A good bet for when gas prices will go down more significantly is the fall, if seasonal patterns hold up this year.
Before COVID-19 scrambled those patterns, gas prices would typically rise in spring, peak sometime around Memorial Day, ease a bit but stay high during the summer, then pull back sometime after Labor Day.
As post-pandemic life gets back to normal, that pattern could return this year. Heavy summer travel and the resulting heavy demand for gas are likely to ebb by late summer or early fall as kids go back to school. By then, the Federal Reserve's interest rate hikes will have had some time to slow the overall economy, which should weigh on oil demand, too. OPEC should be pumping more oil then, as will the U.S., continuing the slow rebound in production from the pandemic-induced slump.
That might not be much comfort to motorists as they pay for expensive fill-ups this summer. But unless an economic recession comes along soon and crimps demand for fuel in painful fashion, high gas prices probably won't go down anytime soon.

Managing Editor, The Kiplinger Letter
Jim joined Kiplinger in December 2010, covering energy and commodities markets, autos, environment and sports business for The Kiplinger Letter. He is now the managing editor of The Kiplinger Letter and The Kiplinger Tax Letter. He also frequently appears on radio and podcasts to discuss the outlook for gasoline prices and new car technologies. Prior to joining Kiplinger, he covered federal grant funding and congressional appropriations for Thompson Publishing Group, writing for a range of print and online publications. He holds a BA in history from the University of Rochester.