Will a Gas Tax Holiday or Suspension Lower Gas Prices Near You?
One way to bring down the price of gasoline is to establish a gas tax holiday. But will Uncle Sam, or your state government, suspend the gas taxes that you pay?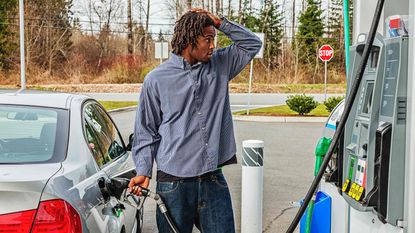 (Image credit: Getty Images)
Even though prices have dropped from the all-time highs we saw a few months ago, we're all still feeling a lot of pain at the pump as we enter the fall. The average price for a gallon of regular unleaded gas in the U.S. is below $4 per gallon ($3.80 per gallon on October 1), but that's still about 60¢ per gallon higher than the price at this time last year. And prices are much higher in some parts of the country (they're averaging over $6 per gallon in California). Plus, gas prices are expected to stay relatively high for at least a while longer. President Biden has been looking for ways to bring prices down – but the options are limited. He's tried encouraging greater oil production, tapping the nation's Strategic Petroleum Reserve, and allowing more ethanol in gasoline will lower prices some…but what about a gas tax holiday?
Over the summer, President Biden called for a three-month federal fuel tax holiday. Temporarily suspending the 18.4¢ per gallon federal gasoline tax (24.4¢ per gallon for diesel) is a popular idea, according to a Politico-Morning Consult poll (opens in new tab) from June. It would certainly put a dent in higher gas prices, even though it wouldn't wipe out the entire price increase we've experienced this year. However, the problem for Biden is that he'll have to get Congress to approve a suspension of the federal gas tax, and the votes just aren't there so far.
President Biden also urged states to suspend their gas tax or provide other forms of gas tax relief. State gas tax holidays could actually help reduce gas prices more than a federal holiday because state gas taxes are higher than the federal tax in all but one state (Alaska). A few states have already suspended their gas tax temporarily or delayed gas tax increases, and a number of governors and state lawmakers in other states around the country are publicly supporting their own fuel tax holidays (see details below). So, even though gas prices have come down a bit, don't be too surprised if a few more states jump on the bandwagon and enact some form of gas tax relief.
Subscribe to Kiplinger's Personal Finance
Be a smarter, better informed investor.
Save up to 74%
Sign up for Kiplinger's Free E-Newsletters
Profit and prosper with the best of Kiplinger's expert advice on investing, taxes, retirement, personal finance and more - straight to your e-mail.
Profit and prosper with the best of Kiplinger's expert advice - straight to your e-mail.
Will the Federal Gas Tax be Suspended?
Even though President Biden supports it, passage of a federal gas tax holiday is not very likely. First, the cost-benefit analysis doesn't favor a gas tax holiday in many people's minds. On the cost side of the equation, the overall loss of tax revenue going to the federal Highway Trust Fund would be high – estimated by the White House to be about $10 billion for a three-month holiday. That's money that wouldn't be available for road repairs and other needed infrastructure projects. Although the president wants to shift revenue from other sources to replace lost funds in the Highway Trust Fund, that's still a $10 billion deficit in the government coffers. On the benefit side, a federal gas tax holiday wouldn't save people all that much money. For example, a person who drives 12,000 miles a year in a car that averages 25 miles per gallon would save only $7.36 per month if the federal gas tax was suspended ($22.08 for a three-month holiday). Yes, that's a savings. But many experts question whether it justifies the overall loss of tax revenue.
There's also some concern that the oil companies wouldn't pass along all the savings to consumers if the federal gas tax was suspended. Although President Biden called on oil companies and gas retailers to pass along "every penny" of a gas tax reduction to people at the pump, there's no guarantee that would happen. A bill introduced in Congress earlier this year addresses this issue by stating that the "policy of Congress" is that "consumers immediately receive the benefit of the reduction in taxes" and that "transportation motor fuels producers and other dealers take such actions as necessary to reduce transportation motor fuels prices to reflect such reduction." However, the policy has no teeth. There's only a weak enforcement clause that permits the U.S. Treasury Department to "use all applicable authorities to ensure that the benefit of the reduction in taxes…is received by consumers." There are no specific fines or other penalties in the bill for failing to abide by the law. Without an effective enforcement measure, the actual reduction of gas prices could be less than 18.4¢ per gallon.
Finally, as noted above, there's just not enough support on Capitol Hill right now to suspend the federal gas tax. Some Congressional Democrats have certainly expressed interested in the idea. Sen. Chris Murphy (D-Conn.) previously said he hopes there's "interest on measures like a gas tax holiday." But there are other Democratic lawmakers who don't support the plan. For instance, Sen. Tom Carper (D-Del.) once tweeted that "suspending the primary way that we pay for infrastructure projects on our roads is a shortsighted and inefficient way to provide relief." There also isn't much support among Democratic leaders in Congress, including House Majority Leader Steny Hoyer (D-Md.), who expressed reservations about suspending the federal gas tax, and House Speaker Nancy Pelosi (D-Calif.), who once called a federal gas tax holiday "showbiz."
It's not popular among Republicans on the Hill, either. For example, when asked if he supports a gas tax holiday, Sen. John Kennedy (R-La.) once called it a "gimmick" that's "not going to make any difference." In a letter sent to President Biden in March, Sen. Mark Lankford (R-Okla.) said a gasoline tax holiday "would do precious little in the short run and nothing in the long run."
State Gas Tax Holidays are More Likely
You're much more likely to see your state gas tax suspended. One reason being that many states can afford a tax cut right now because they have budget surpluses, due to recent economic growth and/or federal pandemic-relief funds.
Five states have already temporarily suspended their gas tax or a gas tax increase – but one of the gas tax holidays is already over. Maryland was the first state in the country to suspend its gas tax this year. Gov. Larry Hogan (R) signed a bill on March 18 that authorized a 30-day gas tax holiday, which saved Marylanders about 36¢ per gallon at the pump for gasoline and approximately 37¢ per gallon for diesel. However, the suspension expired at midnight on April 16. Hogan and other Maryland officials tried unsuccessfully to extend the holiday for an additional 60 days (they also were unable to suspend the 6.6¢ per gallon gas tax increase that took effect July 1). (See our Maryland State Tax Guide (opens in new tab) for more information on Maryland taxes.)
A few hours after the Maryland gas tax holiday bill was signed, Georgia Gov. Brian Kemp (R) put his name on a bill that suspended his state's motor fuel excise tax (the prepaid local sales tax was not suspended). Originally, the gas tax holiday was to expire at the end of May, but the governor has extended it through October 12. The Georgia tax is about 29¢ per gallon for gasoline and just under 33¢ per gallon for diesel. (See our Georgia State Tax Guide (opens in new tab) for more information on Georgia taxes.)
Connecticut became the third state to enact a gas tax holiday on March 24 when Gov. Ned Lamont (D) signed a bill to suspend the state's 25¢ per gallon excise tax on gasoline from April 1 to June 30. The separate 10.75¢ per gallon petroleum products gross earnings tax was not suspended. Then, under a budget adjustment bill signed on May 9, the Connecticut gas tax holiday was extended to November 30. (See our Connecticut State Tax Guide (opens in new tab) for more information on Connecticut taxes.)
New York also enacted a gas tax holiday when Gov. Kathy Hochul (D) signed a state budget bill on April 9 that saves New Yorker drivers 16¢ per gallon (16.75¢ per gallon inside the Metropolitan Commuter Transportation District) by suspending the state's sales and excise taxes on fuel from June through December. Local governments in the state can also cap the price that their separate sales tax rate is imposed on at $4 per gallon. (A bill has also been introduced in the state legislature to suspend the gas tax all the way until September 5, 2023.) (See our New York State Tax Guide (opens in new tab) for more information on New York taxes.)
Florida joined the list of states to enact a gas tax holiday when Gov. Ron DeSantis (R) signed a budget bill on May 6 that will save drivers in the Sunshine State 25.3¢ per gallon at the pump – but the gas tax suspension didn't start until October 1 (it runs for the entire month of October). (See our Florida State Tax Guide (opens in new tab) for more information on Florida taxes.)
California also provided some fuel tax relief – but not in the form of a gas tax holiday (at least not for gasoline). Gov. Gavin Newsom (D) signed budget bills on June 30 that will provide direct "inflation relief" payments of up to $1,050 to Californians to help them cover the rising cost of gasoline, food, and other items. In addition, the General Fund portion (3.9375%) of the sales tax rate on diesel fuel will be suspended for one year starting October 1, 2022. (See our California State Tax Guide (opens in new tab) for more information on California taxes.)
[Although not a state, Puerto Rico also suspended its 16¢ per gallon gas tax for 45 days. Gov. Pedro Pierluisi signed the measure authorizing the gas tax holiday on June 14.]
While Colorado, Illinois and Kentucky haven't suspended their gas tax, they did suspend gas tax increases that were scheduled to take effect on July 1, 2022. In Colorado, a 2¢ per gallon tax boost won't kick in until April 1, 2023. (See our Colorado State Tax Guide (opens in new tab) for more information on Colorado taxes.) In Illinois, a 2.4¢ per gallon increase now won't take effect until 2023. (See our Illinois State Tax Guide (opens in new tab) for more information on Illinois taxes.) The Kentucky increase, which was to be 2¢ per gallon, is frozen until the state legislature reconvenes in 2023. (See our Kentucky State Tax Guide (opens in new tab) more information on Kentucky taxes.)
Indiana capped its use tax on gasoline at 29.5¢ per gallon through June 2023. This piece of the overall state gas tax is adjusted each month. (See our Indiana State Tax Guide (opens in new tab) for more information on Indiana taxes.)
Other governors and lawmakers from around the country have also suggested a gas tax holiday or other fuel tax relief measures for their state. States where gas tax relief of one form or another is currently being pushed by the governor or considered in the legislature include:
It's hard to say exactly which states listed above might ultimately enact a gas tax holiday or other gas tax relief. But the situation is still fluid across the country, so don't be surprised if the fuel tax holiday movement suddenly gains traction in other states as well. This is especially true if gas prices continue to remain high, which is expected.
Sean Lengell, Kiplinger Associate Editor and Congressional Reporter, contributed to this article.
Senior Tax Editor, Kiplinger.com
Rocky is a Senior Tax Editor for Kiplinger with more than 20 years of experience covering federal and state tax developments. Before coming to Kiplinger, he worked for Wolters Kluwer Tax & Accounting and Kleinrock Publishing, where he provided breaking news and guidance for CPAs, tax attorneys, and other tax professionals. He has also been quoted as an expert by USA Today, Forbes, U.S. News & World Report, Reuters, Accounting Today, and other media outlets. Rocky has a law degree from the University of Connecticut and a B.A. in History from Salisbury University.