5 Oil and Gas Stocks With More Fuel in the Tank
The energy sector has torched the market in 2022, but the pros say that even after breathtaking gains, these oil and gas stock picks have at least 20% more upside.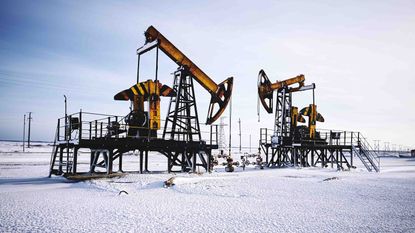 (Image credit: Getty Images)
Investors who missed out on the massive move in oil and gas stocks this year are probably kicking themselves right about now. But we have good news for them.
Even after beating the market by more than 50 percentage points for the year-to-date, analysts say the energy sector still sports a few oil and gas stocks with plenty of upside left to give.
Rapidly rising energy prices have made oil and gas stocks runaway winners in an otherwise downbeat 2022. Remember: Only three of the S&P 500's sectors are positive for the year-to-date – utilities, consumer staples and energy – and only the latter has really wowed anyone with its performance.
Oil and gas stocks' hot run raises the obvious argument that much of the easiest money may already have been made. The energy sector was up nearly 44% for the year-to-date through April 15 – a period in which the S&P 500 logged a decline of almost 8%. (For the record, utilities added 6.3%, while consumer staples tacked on 2.5%.)
Ordinarily, any time stocks move that far that fast, further upside becomes (at least theoretically) more limited. As future earnings get priced in and valuations become stretched, analysts grow increasingly cautious for good reasons. But Wall Street says at least a handful of oil and gas stocks still have plenty of room to run.
To find them, we screened the energy sector of the Russell 3000 for stocks with implied upside of at least 20% in the next 12 months or so, based on analysts' average price targets. We limited ourselves to Buy-rated names with minimum market values of $3 billion. Additionally, the stocks had to have a minimum of 10 Buy recommendations from industry analysts, of which at least five had to be Strong Buy ratings.
Our screen left us with the following five most promising names. Have a look at these five oil and gas stocks, all of which are poised to deliver even more market-beating returns in the year ahead.
Prices, price targets, analysts' consensus recommendations and other data are as of April 15, courtesy of S&P Global Market Intelligence and YCharts, unless otherwise noted. Stocks listed in reverse order of one-year implied upside.