Best (And Worst) Things to Buy at Dollar Stores for Summer
Ah, summer.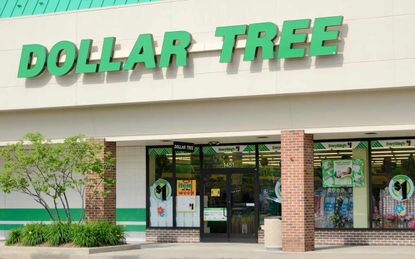 (Image credit: Getty Images)
Ah, summer. It's the time of year when living is supposed to be easy. The laid-back sentiment extends to shopping for summer essentials. The goal: Spend as little as possible in as few trips as possible on items that won't hang around past Labor Day including beach toys, picnic supplies, Memorial Day and Fourth of July décor and the ilk.
When it comes to picking up expendable seasonal merchandise on the cheap, start at a true "dollar store" such as Dollar Tree, where everything sells for a buck or less. No Dollar Tree nearby? Dollar General is a good alternative, though you may pay more than $1 for many items. And we've also seen Walmart slash prices on some items to less than a dollar in a bid to beat back the dollar stores.
To help you put together your summertime shopping list, we scoped out the uber-affordable offerings at Dollar Tree. We also tossed in a little Walmart for comparison's sake, since sometimes it comes in even cheaper than the dollar store. Take a look.
1/16
Best: Discount Apparel Galore
With summer apparel, the less you spend the better. You won't be wearing the item long and you don't really care if you leave it at the beach or next to Aunt Maxine's backyard in-ground.
Enter flip-flops, the flotsam and jetsam of summertime. You can choose from a wide variety of cheapo flip-flops at dollar stores. Just don't expect Fancy Dan arch support or footwear longevity. At the Dollar Tree we shopped in Northern Virginia, there were a a dozen or so pairs to choose from, all for $1.
"Grab an extra pair to have for walking into the backyard, to the pool and even for your emergency kit," said Tracie Fobes, a money-saving expert at the website PennyPinchinMom.com (opens in new tab).
Also in our shopping basket: Straw hats, sunglasses, fake-flower leis, fashion scarves and bandanas. Want 'em? Get 'em, each for a buck.
By comparison, we went to a nearby Walmart. Flip-flops were inexpensive, but not $1. They started at $3.44 a pair. Sunglasses built upward from $7.94, a patriotic head band was $2.98, but Walmart outdid Dollar Tree by selling a patriotic star necklace for 98 cents.
2/16
Best: Beach and Pool Gear
While beach items usually are culled from kitschy beach shops down by the seashore, you can inexpensively gear up ahead of time by piling it on at the dollar store.
At Dollar Tree, they stay true to the season, loading up on front-of-the-store (and outside the store) beach-y Memorial Day and Fourth of July gear. We scored a plastic sand pail with shovel, a pool noodle, novelty bikini tops ("one size fits most"), an H20 Blasters water-squirter, a flying disc (not the Frisbee brand), "Toy Story" and "Star Wars" kites, a foam glider with a 22-inch wing span, and a 32-fluid-ounce bottle of bubbles, each for only a buck.
Was it all a bargain? Walmart undercut Dollar Tree on a sand pail and shovel duo, selling it for 92 cents. A genuine Wham-O Frisbee was 97 cents, as was a Splash water gun. A Funnoodle checked out at 94 cents.
3/16
Best: Good Stuff for Grillin'
It's one thing to buy your everyday "Life's a Beach" sign at Dollar Tree, but some shoppers draw the line at food from the dollar store.
"With perishable and packaged foods (including candy and drinks), freshness and quality can be questionable, so I would proceed with caution," says Trae Bodge, smart shopping expert at True Trae (opens in new tab).
Still, a bargain is a bargain.
A 12-ounce package of Bar S franks was a buck at Dollar Tree. Ditto an 8-pack of Gourmet hot dog rolls. Add to the mix a 24-ounce bottle of Hunts tomato ketchup and a 20-ounce container of Deli Market yellow mustard, each $1.
Meanwhile at Walmart, a 12-ounce package of Gwaltney Great Dogs franks sold for a mere 82 cents. Walmart also undercut Dollar General selling an 8-pack of Great Value whole wheat hot dog buns for 87 cents. A similar 24-ounce bottle of Hunts tomato ketchup was $1.19, and Walmart uncercut the $1 mark with its 12-ounce container of Great Value yellow mustard, pricing it at 92 cents. (Great Value is the Walmart store brand.)
4/16
Best: Good Stuff for Chillin'
Cool treats are a rite of summer, and Dollar Tree rolls out some bargains. A 16-pack of tropical Kool Pops you stick in the freezer was selling for a buck, or about 6 cents each. Ditto a 34-ounce Arizona Iced Tea (various flavors, thought this is down from its previous 42 ounces), and a 67.6-ounce bottle of strawberry lemonade.
Over at Walmart, an 18-pack of Firecracker Popsicle-brand Popsicles was $3.97. A gallon container of Arizona Sweet Tea could be had for $2.58, and a 2-liter bottle of Minute Maid lemonade was $4.21.
5/16
Best: Let's Get This Party Supplied
Dollar stores are the place to pick up disposable supplies for backyard barbecues and other summer gatherings. "For any summer celebrations, packing tape, masking tape and scotch tape are a great deal, as are decorative bags, tissue paper, greeting cards and mylar balloons," says Bodge. "I also like the dollar store for construction paper, coloring books and glue sticks for kids' activities. I would skip crayons and markers. They tend to be poor quality."
You want to get your friends and relatives in the house for the event. Score an 8-pack of party invitations for a buck. Decorating much? There's plenty on hand for the summer holidays (and to carry you through the summer), all for a buck apiece. Count among them flags, banners, ribbons, lanterns and garland. And who wants to do dishes when you can get 48-piece cutlery sets (including spoons, forks and knives) for $1?
6/16
Mixed: Gardening Supplies
You're probably already tooling around in your garden and thinking of picking up some inexpensive items at the dollar store. Be cautious, says Bodge.
"Definitely buy gardening and planting items, like clay pots and decorative stones and marbles and even dishes (check for damages before you buy)," says Bodge. "Don't buy gardening tools, like trowels, small spades or weeders. The quality probably isn't up to snuff and you'll end up breaking it as you work.
7/16
Mixed: Toiletries for Travel
The summer travel season is beginning to soar, but first make a trip to the dollar store.
"Personal care items, like coated elastics and hair combs, are worth a look at the dollar store, but inspect them for quality," says Bodge. "If you can find brand-name toothpaste or toothbrushes, grab those, but skip generic tooth care products. Also look for 100% cotton balls and pads and branded Q-Tips. Skip any generics, as the quality might be low, and skip anything you might ingest, like vitamins."
8/16
Worst: Batteries and Electronics
Deals sites and dollar-store experts have long been warning people off of buying batteries at dollar stores, especially carbon-zinc batteries. They don't last as long as name-brand alkaline batteries, and they can damage devices if they leak. The $1 packets of "heavy duty" batteries I found at Dollar Tree came under the Sunbeam and Panasonic brands and both were stamped with a warning: "Use for low-drain devices," such as remotes and clock radios.
Bodge says to stay away from electronics, too, including chargers, radios and watches. "You'll find plenty of power cords, ear buds and other tech accessories and the price will be appealing, but there's no knowing if the manufacturing of these items is up to snuff," says Bodge. "Given that you'd be plugging them into your beloved smartphone or tablet, why chance it?"
9/16
Worst: Canned Goods
The $1 price tag is the lure. But is it really a value? Not during our price checks. For instance, a 15.5 ounce can of Goya red kidney beans was $1 at Dollar Tree. But over in Walmart's grocery section, a 15.5-ounce can of Hanover red kidney beans was 66 cents. Supermarkets frequently mark down prices on canned goods, and supermarket store brands are especially cheap even when they aren't on sale.
10/16
Worst: Chewing Gum
It's summer and you want to chew like a major league ballplayer. It happens to all of us. But cheap gum is no bargain at the dollar store, where, at Dollar Tree, a four-pack of Wrigley's Doublemint gum is $1. At five sticks per pack, that works out to 5 cents per stick. (The manufacturer's suggested retail price is 35 cents per pack, or 7 cents per stick.) But at Costco, a bulk package of 20 15-piece packets of Orbit spearmint gum costs $11.49, or about 4 cents per stick of gum.
11/16
Worst: Haircare, Skincare and Sunscreen Products
As a rule, retail experts steers shoppers away from off-brand makeup, lotion, shampoo and the like. They warn about possible harsh chemicals on your skin or ingredients that could dry out your hair. And these products may not be allergy-tested.
"With sunscreens, you have to be careful and make sure you get a trusted brand," says Fobes. "You don't want to use one you've not heard of as you aren't sure it will work and if it is safe for your family. The name brands are often the same price, if not more expensive than big box stores."
Adds Bodge, "Sunscreen ingredients degrade over time, so unless there's a 'sell by' date, sunscreen is to be avoided."
12/16
Worst: Steak
While $1 for a 3.5-ounce frozen ribeye is easy on the wallet, really, should you? The dollar-store steak is sliced razor thin and, according to the packaging, is beefed up by as much as 30% solution. One YouTube food reviewer (opens in new tab) likened the taste and texture to Steak-umm, the frozen, thin-sliced molded beef product that adorned many a childhood sandwich. We'll pass.
13/16
Worst: Tools
Here's where a lot of us get testy, and the experts agree. The quality of the tools sold at Dollar Tree is low and the products probably won't last long. Some Craftsman tools are guaranteed for life. Sears replaced at no charge an old Craftsman hammer I had that lost its head (no injuries were reported) during use. If you can wait, the best time to shop for tools is around Father's Day in June, when retailers offer deep discounts.
14/16
Worst: Soda
Sure, you can pick up 1.25-liter bottles of Coke or Pepsi for $1 at Dollar Tree, but why bother? The supermarket chains move soda faster (which means fresher product) and typically deeply discount soda throughout the summer.
15/16
Worst: Plastic Cookware
While we generally steer you toward dollar stores for disposable utensils and such because they're super cheap and aid in your cleanup, you should move with caution here, deals experts say. Some disposable plastics can't stand up to the heat of grills, microwaves and ovens.
"This is tricky category because we use heat with so many of these items, and heating is when toxins are released," says Bodge. "I would say that if items are intended to be used for serving and eating only, like for a backyard party or a picnic in the park, you should be OK."
16/16
Worst: Beach Towels
If you want a beach towel built to last, you won't find one at the dollar store.
"They are usually thin and do not hold up well," says Fobes.
There may be rare instances where a dollar store beach towel will suffice. Vacationing at a beach resort this summer and you didn't bring beach towels? It will be less expensive, by far, to pick up a throwaway beach towel at the dollar store versus one of those seashore souvenir shops. But you'll be cluttering up the landfill and you'll get what you pay for. Bring your own instead.
Online Editor, Kiplinger.com
Bob is a Senior Online Editor at Kiplinger.com. He has more than 40 years of experience in online, print and visual journalism. Bob has worked as an award-winning writer and editor in the Washington, D.C., market as well as at news organizations in New York, Michigan and California. Bob joined Kiplinger in 2016, bringing a wealth of expertise covering retail, entertainment, and money-saving trends and topics. He was one of the first journalists at a daily news organization to aggressively cover retail as a specialty, and has been lauded in the retail industry for his expertise. Bob has also been an adjunct and associate professor of print, online and visual journalism at Syracuse University and Ithaca College. He has a master's degree from Syracuse University's S.I. Newhouse School of Public Communications and a bachelor's degree in communications and theater from Hope College.