The 19 Best ETFs to Buy for a Prosperous 2019
Wall Street pros, the analyst community and individual investors alike were thrown for a loop in 2018.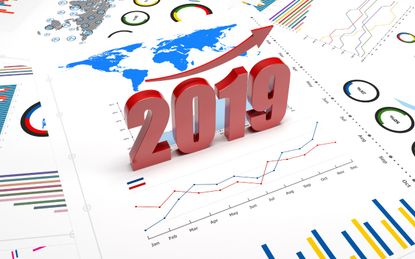 (Image credit: Getty Images)
Wall Street pros, the analyst community and individual investors alike were thrown for a loop in 2018. American tariff disputes with the rest of the world, wild energy-price swings and global growth concerns not only ravaged the market at various points, but also has the experts preaching caution as we enter the new year. The best ETFs for 2019, then, are going to need to accomplish a couple specific goals.
For one, you'll want some ETFs that position you defensively while still allowing you to enjoy at least some upside should the market head higher despite all the headwinds it faces. Numerous expert market outlooks have the Standard & Poor's 500-stock index climbing in 2019, but none of them are exuberant and all of them warn of numerous potential pitfalls. Anchoring your portfolio with funds that emphasize, say, low volatility or income can put you in a strong position no matter what the market brings.
You also need to take your shots – stocks may end up being sluggish as a whole, but that doesn't mean certain areas of the market can't explode all the same. So some of the top ETFs for the year ahead will focus on specific sectors, industries and even other areas of the world to try to generate outperformance.
Here are the best ETFs to buy for 2019. These 19 funds run the gamut, from highly diversified baskets invested in thousands of companies, to concentrated portfolios that use just a couple dozen stocks to benefit from a specific theme. There are ETFs for conservative investors and risk takers alike. And while most of these picks are passive index funds, there are even a few ETFs that tap the brainpower of skilled active management. Take a look:
Disclaimer
Data is as of Jan. 14, 2019. Yields represent the trailing 12-month yield, which is a standard measure for equity funds.
Kyle Woodley is the Editor-in-Chief of Young and The Invested, a site dedicated to improving the personal finances and financial literacy of parents and children. He also writes the weekly The Weekend Tea newsletter, which covers both news and analysis about spending, saving, investing, the economy and more.
Kyle was previously the Senior Investing Editor for Kiplinger.com, and the Managing Editor for InvestorPlace.com before that. His work has appeared in several outlets, including Yahoo! Finance, MSN Money, Barchart, The Globe & Mail and the Nasdaq. He also has appeared as a guest on Fox Business Network and Money Radio, among other shows and podcasts, and he has been quoted in several outlets, including MarketWatch, Vice and Univision. He is a proud graduate of The Ohio State University, where he earned a BA in journalism.
You can check out his thoughts on the markets (and more) at @KyleWoodley.