European Dividend Aristocrats: 40 Top International Dividend Stocks
Similar to their American counterparts, the S&P Europe 350 Dividend Aristocrats offer investors dividend hikes and blue-chip stability.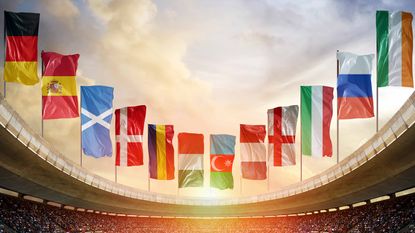 (Image credit: Getty Images)
U.S. equity markets aren't the only place where you can find income-producing royalty. Indeed, a quick look across the pond yields dozens, in the form of the European Dividend Aristocrats.
Admittedly, Europe's dividend stocks have posted subpar returns compared to their U.S. counterparts over the past decade. However, that could change this year, says Goldman Sachs strategist Guillaume Jaisson, who points to an unusually large yield gap between European stocks and bonds. At present, yields on eurozone bonds are miniscule; the choice between dividend-paying stocks and bonds seems an easy one.
In addition, Jaisson notes that higher-yielding dividend stocks are less sensitive to interest-rate hikes, and that their stable income payments look more attractive in both high-inflation and high-volatility environments, in which capital gains look less like a lock.
Subscribe to Kiplinger's Personal Finance
Be a smarter, better informed investor.
Save up to 74%
Sign up for Kiplinger's Free E-Newsletters
Profit and prosper with the best of expert advice on investing, taxes, retirement, personal finance and more - straight to your e-mail.
Profit and prosper with the best of expert advice - straight to your e-mail.
The European Dividend Aristocrats in specific look enticing given the difference between dividend growth here and abroad. Jaisson says the Stoxx Europe 600 Index is expected to deliver 10% dividend growth this year, well beyond the 7% forecast for the S&P 500. (And beyond 2022, says CME Group, S&P 500 dividend growth is predicted at 1% excluding inflation.)
Another financial strategist recommending European dividend stocks is Morningstar senior equity analyst Michael Field. At present, the selection of high-yielding European dividend stocks is much larger than previous years, Field says. As a result, investors can build a high-yielding portfolio of European stocks without overly relying on traditional income sectors like financial and utilities.
"The European Central Bank is unlikely to be as aggressive in raising interest rates as the Federal Reserve, giving companies on the continent some headroom," Field adds.
Field warns that rising interest rates will likely penalize high-debt companies, however. So he recommends investors stick with high-quality European names that offer defensible moats and sustainable cash flow.
You can find many of these traits among the European Dividend Aristocrats – a small subset of the S&P Europe 350 Index.
The European Dividend Aristocrats
Like their U.S. counterparts, European Dividend Aristocrats are recognized for steady and growing dividends. Consistently rising dividends are not the norm in Europe so these stocks are a rare breed indeed.
Unlike the S&P 500 Dividend Aristocrats, which must deliver a minimum of 25 consecutive years of dividend growth, European Dividend Aristocrats need only show 10 years of stable or increasing dividends.
Sign up for Kiplinger's FREE Closing Bell e-letter: Our daily look at the stock market's most important headlines, and what moves investors should make.
Another important difference is the frequency of payout. U.S. dividend stocks tend to pay dividends quarterly, whereas European payers tend to distribute income semiannually.
In other respects, the two groups of Aristocrats are similar. Companies that earn this elite status tend to be market leaders with multibillion-dollar valuations, consistent profits and mature business models.
The current crop of European Dividend Aristocrats offers several names that stand out for their rich yields and modest valuations. We'll look at a few highlights, then produce the full list.
There are a total of 40 names on the 2022 list of European Dividend Aristocrats. Member stocks and their recent dividend yield are provided in the table below:
Contributing Writer, Kiplinger.com
Lisa currently serves as an equity research analyst for Singular Research covering small-cap healthcare, medical device and broadcast media stocks.