10 Best Value ETFs to Buy for Bundled Bargains
Value stocks are finally having their day, and many expect the run to continue. These are the best value ETFs to leverage this long-awaited revival.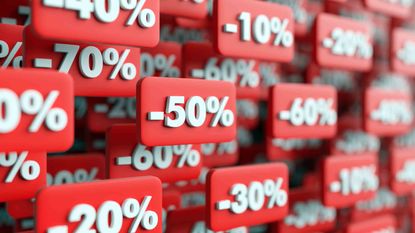 (Image credit: Getty Images)
Value stocks are finally having their day, and that has meant great things for a host of long-maligned value exchange-traded funds (ETFs).
Up until last year, growth had spent more than a decade running up the score against value stocks. However, once 2020 got into its late innings, Wall Street became optimistic about COVID-19 vaccine progress and stimulus measures re-energizing the economy. That began a sizable investor rotation out of growth and into value – one that has powered flows into a number of the market's best value ETFs, and that many investors expect to continue as Americans become increasingly immunized.
ETFs have broadly continued to gain in popularity, with global assets recently surpassing the $6 trillion mark for the first time, according to research and consultancy firm ETFGI. Helping fuel much of those gains here at home have been U.S. value ETFs, which at one point enjoyed an 11-week streak of inflows.
And numerous analysts continue to be bullish on value.
"We believe the next leg of the equity rally will be driven by value stocks, and small and mid-cap segments of the market," says Andrea Bevis, senior vice president, UBS Private Wealth Management. "Despite recent tech strength, investors should diversify beyond mega-cap tech companies and rotate into cyclical and value-oriented areas of the market that should continue to benefit from higher yields and a broadening economic recovery."
While some investors might prefer to pick out individual value stocks, others looking to reduce their risk might want to consider value ETFs instead. Exchange-traded funds allow investors to tap into dozens, even hundreds of value-priced equities, typically at just a few dollars in management fees annually.
Read on as we examine 10 of the best value ETFs you can buy. This list should include value flavors for just about any appetite, whether you're looking for large caps, smaller firms, international companies or even a personal values-based approach.
Disclaimer
Data is as of May 13. Yields represent the trailing 12-month yield, which is a standard measure for equity funds.
Kyle Woodley is the Editor-in-Chief of Young and The Invested, a site dedicated to improving the personal finances and financial literacy of parents and children. He also writes the weekly The Weekend Tea newsletter, which covers both news and analysis about spending, saving, investing, the economy and more.
Kyle was previously the Senior Investing Editor for Kiplinger.com, and the Managing Editor for InvestorPlace.com before that. His work has appeared in several outlets, including Yahoo! Finance, MSN Money, Barchart, The Globe & Mail and the Nasdaq. He also has appeared as a guest on Fox Business Network and Money Radio, among other shows and podcasts, and he has been quoted in several outlets, including MarketWatch, Vice and Univision. He is a proud graduate of The Ohio State University, where he earned a BA in journalism.
You can check out his thoughts on the markets (and more) at @KyleWoodley.