11 Best E-Commerce Stocks for Electrifying Returns
Most of the world's best e-commerce stocks were already enjoying a tailwind from broader digital trends. The COVID-19 outbreak is simply speeding up adoption.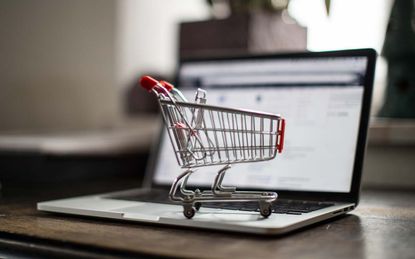 (Image credit: Getty Images)
2020 is destined to be known as the year of the coronavirus, when "social distancing" and "WFH" became common parlance.
But for investors, we'll also look back at 2020 as a game-changing year for e-commerce stocks. For many of us, the COVID-19 pandemic quickly turned e-commerce from a convenience into a necessity, and changed how we do business, who we shop with and how companies operate.
"Whenever we have a recessionary period, disruption increases substantially. Individuals are losing their jobs and they have to make budget decisions," says David Yepez, lead equity analyst and portfolio manager at Exencial Wealth Advisors in Oklahoma. "What makes this unique is that we're in a recessionary period, but we can't leave the house, a lot of us. So it's even faster."
Online sales accounted for 16% of spending in the U.S. in 2019, with the total dollar number rising from $461 billion in 2017 to $602 billion last year. That upward trend should continue. While people won't always have to shop online out of sheer necessity, the longer people stay indoors for their safety, the greater the chance that new habits will form, bolstering the fortunes of rising e-commerce stocks.
"E-commerce giants have risen to the challenge and largely met consumer expectations," says Jeremie Capron, director of research at New York-based index, advisory, and research company Robo Global. "As a result, we expect an increase in adoption, not only during this crisis but also on the other side of it."
Here, then, are the 11 best e-commerce stocks to buy if you want to capitalize on this unprecedented disruption – not just in the U.S., but across the world.
Disclaimer
Data is as of May 4.
Contributing Writer, Kiplinger.com
Patrick Sanders is a freelance writer, editor and stock market expert. He is founding editor of Invested, a daily stock market newsletter published by U.S. News & World Report, and he managed U.S. News' investing advice section from 2015 to 2019. He previously was deputy managing editor of InvestorPlace.com. He operated news websites in southeast Europe and Turkey, was the founding managing editor of the New York Times editing center and was Connecticut news editor for The Associated Press. Patrick has made numerous media appearances as a stock market analyst and appeared on panels to discuss personal finance and investing. He served on the board of governors of the Society for Advancing Business Editing and Writing, and was co-chairman of the training committee to promote and develop training opportunities for business journalists throughout North America. Patrick is a graduate of Marshall University and now resides in Maryland. Follow him on
Twitter
or connect on
LinkedIn
.