Kiplinger's Economic Outlook for All 50 States, 2020
Low jobless rates and rising incomes are helping to fatten state coffers across the U.S.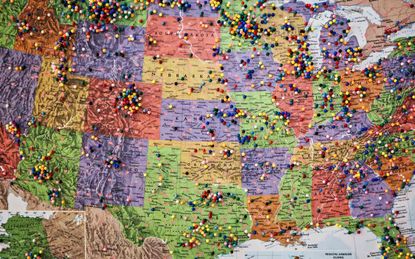 (Image credit: Getty Images)
Low jobless rates and rising incomes are helping to fatten state coffers across the U.S. Revenue from sales, personal and corporate taxes is on the rise --the best growth since before the Great Recession.
States can expect healthy tax revenues for at least the next several quarters as low unemployment continues, incomes slowly rise, inflation increases modestly and higher energy prices generate more income for states with severance taxes.
But the outlook for individual states is varied, with several regions facing big challenges. The trade war with China is battering the agriculture industry in the Midwest and the prairie states and crimping activity at Southern ports. Manufacturing is slowing down because slowing global growth is hurting exports. New England's economy is slowing as employers struggle to find the workers they need.
Although construction spending is up markedly this year, most states won't boost spending much. As they prepare for 2020, governors and legislatures are eyeing modest spending increases --perhaps reversing cuts made after the Great Recession. They also intend to sock away some of the newfound revenues in rainy-day funds. (See our list of States Most Unprepared for the Next Recession.)
Read on for Kiplinger's exclusive economic outlook --including projected job-growth rates-- for every state, listed alphabetically.
1/51
Alabama
Population: 4,888,000
Unemployment rate: 3.1%
2019 job growth: 1.8% (37,000 new jobs)
2020 job growth: 1.2% (25,000 new jobs)
Alabama's job growth has begun to pick up this year. 2019 job growth of 1.8% would be its fastest growth since 2005. Tuscaloosa, Decatur, and the east side of Mobile Bay are showing the strongest job growth at the moment, all around 3%. Its August unemployment rate of 3.1% is a record for the state.
Construction is an especially strong growth area. Alabama has a growing automotive industry, with three vehicle manufacturing plants, an engine plant, and Toyota/Mazda building a new vehicle plant in Huntsville by 2021 that should amount to 4,000 jobs. Alabama's reliance on the auto industry could hurt it a bit if the industry slows down later this year.
Amazon will create 1,500 jobs at a fulfillment center in Birmingham next year. Blue Origin will create 300 jobs in Huntsville at a rocket engine plant, also next year. Airbus is adding 430 employees to a new assembly line in Mobile.
2/51
Alaska
Population: 737,000
Unemployment rate: 6.2%
2019 job growth: 1.1% (3,600)
2020 job growth: 0.3% (1,000)
Growth in Alaska has picked up along with oil prices. Expect job growth of 1.1% in 2019 after three straight years of declines. However, this growth is narrow, being limited for the moment to the energy industry, construction, and food services. The metro areas have yet to see much benefit, and the state's population is still declining as 11,000 residents moved south last year. Alaska's initial unemployment claims are low, and its August unemployment rate of 6.2% is the lowest it's been since 2007, but the rate remains the highest by far of any of the states.
Oil development continues on Alaska's North Slope. ConocoPhillips has three significant projects that are ongoing. Greater Mooses Tooth 1 (GMT1) started operating in October 2018, but is only at 25% capacity so far. Greater Mooses Tooth 2 (GMT2) is larger, and under construction with 700 workers, and is predicted to start producing in 2021. Willow is the largest of them all and will employ thousands in its construction. It will start producing in 2024. All three projects together have the capacity for 165,000 barrels of oil per day.
3/51
Arizona
Population: 7,172,000
Unemployment rate: 5.0%
2019 job growth: 2.5% (72,300)
2020 job growth: 1.7% (50,400)
Arizona is noted for its growing labor force as well as its relative affordability and business-friendly regulatory environment. Hiring will increase by 2.5% this year, just a tad below 2018's 2.7% rise, and well distributed across sectors from good-paying blue-collar work in construction, manufacturing and trucking businesses to sophisticated R&D expansions. The strongest growth will be in the Phoenix area.
The Mayo Clinic is investing $650 million for a major expansion of its operations in Phoenix, while Caterpillar's Surface Mining & Technology Division is building a new headquarters that will bring about 1,000 engineers, product developers and support staff to Tucson. Rosemont Mine wants to establish a $2 billion copper mine in the Tucson area that will generate about 2,500 construction and support jobs, though the project has been blocked for now by a federal judge.
The service sector is expanding too, partly because of the growing number of retirees choosing the state for its combination of a warm and stable climate, affordability and well-developed healthcare system. It's a longstanding magnet for tourism with attractions from the Grand Canyon to the scenic red rock country around Sedona, Monument Valley and the Hoover Dam. Large financial firms including Voya, Allstate and Freedom Financial are following the growth in population by relocating or expanding in Arizona. That route has been made easier by the state government's initiative in enacting a "fintech sandbox" that encourages companies to try new business methods without being unduly burdened by regulation.
4/51
Arkansas
Population: 3,014,000
Unemployment rate: 3.4%
2019 job growth: 1.1% (14,300)
2020 job growth: 0.6% (7,700)
The economy is still growing and adding population in the northern part of Arkansas and in the central region of the state where the urban population is concentrated. The strongest growth will be in the northwest, as usual. But other more rural parts of the state are losing population, which shows up in declining labor force participation rates and complicates difficulties in attracting industry. Arkansas will add about 1.1% to its workforce overall this year, matching last year's increase, but longer-term prospects are weakening as regional disparities grow.
The state's signature firm, Bentonville-based Walmart, is investing $31 million to upgrade five of its supercenters, and Coca-Cola Bottling Co. is spending $33 million on a 200,000-square-foot expansion in West Memphis that will bring about 60 jobs to it. There is substantial growth in Arkansas' leisure and hospitality industries as well, aided by a planned $250 million expansion by Southland Gaming and Racing in the eastern part of the state. It will include a casino and hotel that will create 400 new jobs, and upwards of 1,500 during the construction phase.
5/51
California
Population: 39,557,000
Unemployment rate: 4.1%
2019 job growth: 1.8% (311,400)
2020 job growth: 0.9% (158,100)
California growth downshifted late last year as the trade war with China heated up. So far this year, trade with Asia through the Port of Long Beach has fallen 5%. Continuing tensions will likely keep job growth subdued at 1.7% in 2019, down from 2.0% in 2018. The slowdown in job growth has been most pronounced in Southern California, especially in the Inland Empire, which is home to a lot of warehousing and logistics. Growth in the east Bay Area appears to be untouched, as the tech economy juggernaut continues on its merry way.
It's not just the trade war that is slowing California growth. The population growth rate has been cut in half over the past three years as the number of Californians moving to other states has picked up. In large part, this is a result of California's high housing prices and the lack of enough affordable construction. Governor Newsom has threatened to withhold funding from localities that fail to meet zoning and construction goals on housing. That would mark a major shift in a state with a reputation for hostility to development. Home prices in the most expensive areas are beginning to edge down, as buyer resistance stiffens. Federal tax deduction limits on state and local taxes has also likely slowed home price increases, as well as reducing disposable income in some high-priced areas.
Besides housing prices, the fire risk in California has gotten publicity in the past two years. California's drought is over for now, and the reservoirs are full, but there is a danger that new green growth in the mountainsides will dry out into a new fire hazard if dry conditions return.
Notable construction in San Francisco includes activity in the South of Market and Potrero Hill neighborhoods, where multifamily projects are rapidly rising. Also, the UCSF Medical Center and the Chase Center. In Los Angeles, construction continues to be robust, with mixed use and residential work most visible in downtown, Culver City, and Hollywood. Current construction statistics are impressive, with over 3 million square feet of office space; more than 2,000 residential units; over 1 million square feet of retail, and more than 1,300 hotel rooms in progress. Along with ongoing work at the Los Angeles International Airport, more than 100 office, retail, residential, and hospitality projects are in the pipeline.
6/51
Colorado
Population: 5,696,000
Unemployment rate: 2.8%
2019 job growth: 2.1% (57,700)
2020 job growth: 1.4% (39,200)
Growth is steady in Colorado's economy, but at a moderately slower pace than last year because the supply of skilled workers is running low. With unemployment at a low 2.8% and a growing over-65 population, Colorado authorities are urging employers to consider hiring more older workers as a solution to labor scarcity. Payrolls will increase by 2.1% overall in the state this year, a notch down from last year's 2.4% pace. Some of the briskest hiring will be in the healthcare sector and among providers of professional and business services.
Among established high-tech businesses, Amazon is expanding its Denver Tech Hub and will more than double its workforce by adding 400 new jobs. Payroll processing startup Gusto is leasing an additional 60,000 square feet of office space in Denver, aims to double its current 500-person workforce in coming years and currently has engineering and other positions open. The state is tightening regulation of its oil and gas industry, which has raised concern in key producing areas like Greeley about the impact on the local economy and on state revenues but hiring is still expanding at this time.
Job growth in Denver has slowed, perhaps because of high housing prices, but is still strong elsewhere in the state. The I-25 corridor between Denver and Colorado Springs is booming, such as the town of Castle Rock.
Colorado is a major force in aerospace, with about 400 companies in the field and is home to the Air Force Academy in Colorado Springs. The state hopes to use that as a selling point to land a headquarters for the U.S. Space Command. Four of six military bases that could become the new home for the Space Command are located in Colorado.
7/51
Connecticut
Population: 3,573,000
Unemployment rate: 3.6%
2019 job growth: 0.4% (6,800)
2020 job growth: 0.2% (3,400)
Connecticut can look forward to a second year of economic growth after two years of economic contraction before 2018, but now is benefiting from healthy production lines at some of its big manufacturers of high-value-added products. Electric Boat, a subsidiary of General Dynamics, is spending $850 million over a period of years at its Groton shipyard to pick up the pace of submarine construction and will add thousands to its existing workforce.
High-tech industries are expanding as well, including Infosys, which has opened a $21 million technology hub in Hartford and has committed to creating at least 1,000 jobs over the next few years. Aerospace company Ensign-Beckford is expanding in Simsbury, creating 140 new jobs. Sema4 (genomics) is adding 300. Healthcare is also poised to grow, partly because Connecticut's relatively large aging population will drive demand for increased services. Housing demand has been soft in the central and western part of the state. It is expected to improve to some degree as more jobs generate higher incomes and buying potential, but the upside is limited because of the state's minimal population growth.
8/51
Delaware
Population: 967,000
Unemployment rate: 3.4%
2019 job growth: 1.0% (4,600)
2020 job growth: 0.7% (3,200)
Continuing strong hiring is due to major investment in the state's finance, logistics and bio-pharmaceutical sectors. Delaware markets itself as an attractive, lower-tax hub for East Coast business. That is fueling a ramp-up in financial services, including by JPMorgan Chase, which is opening about 50 branches and hiring 300 over the next five years. Wilmington already is Chase's headquarters for its credit card business.
The state has a reputation as a logistics center; UPS has 11,000 employees in Delaware. Delaware Coastal Airport is getting an expansion allowing for larger planes to land. The Port of Wilmington's expansion will make it one of the largest logistics facilities on the Delaware River courtesy of Gulftainer's plan to invest $600 million as part of its 50-year lease with the state to privately run the port.
Its bio-pharmaceutical sector is getting a lift as well, with several expansions in the works including Wilmington Pharmatech's investment in a new science research and manufacturing plant in Newark that will mean jobs for up to 139 people.
Importantly, Delaware is attracting a growing population that helps build a foundation for job growth and rising incomes. It's also a popular tourism destination, known for its sandy beaches that help drive job gains in its leisure and hospitality industry.
9/51
District of Columbia
Population: 702,000
Unemployment rate: 5.5%
2019 job growth: 1.1% (8,700)
2020 job growth: 0.7% (5,600)
The federal government budget deal earlier this year and the lifting of the federal debt ceiling was a boon for the district's economy, but there may be further bumps in the road. The budget deal must be renewed on November 21.
The district's traditional main non-governmental industries of professional and business support services and hospitality remain strong. However, federal employment in the district continues to trend down.
The district's apartment market has been overbuilt somewhat, and vacancy rates are high at about 6%. Rent growth has been strong up to now, but is likely to ease in the future. Office building vacancies are fairly low at 12%, but demand for space is soft, and rent growth is modest.
The news that Amazon is establishing a campus just across the Potomac River in Arlington, VA will bring many well-paying jobs to the region and will increase regional prosperity. More jobs may be coming if Amazon's decision to cancel a proposed New York headquarters ends up transferring some to the Virginia location.
10/51
Florida
Population: 21,299,000
Unemployment rate: 3.3%
2019 job growth: 2.5% (222,300)
2020 job growth: 1.9% (173,300)
Florida will see jobs grow by 2.5% in 2019, the fastest growth of any state outside the West. Business services, health care, and construction will see continued strong gains, though construction will moderate from super-strong to just strong. Growth in tourism will also moderate after very strong growth: 2018 was the eighth year in a row of tourism growth.
Florida's economic growth is underpinned by strong population growth, which in turn is the result of the nation's highest level of in-migration, especially from high-tax Northeastern states, but also internationally. Florida is one of only seven states without an income tax.
The Orlando area will, once again, see the hottest growth, along with the nearby Atlantic coast of Palm Bay to Titusville. Lockheed Martin's new facility brought 1,000 jobs. The area around Cape Canaveral is seeing the development of a space industry, with satellite and rocket manufacturing, and commercial satellite-launching facilities being built by Blue Origin and Firefly. SpaceX won a contract from the Air Force. OneWeb Satellites will begin satellite assembly there. Boeing and United Launch Systems are also there.
Development along the southwest coast from Naples to Fort Myers is also heating up, despite periodic encounters with "red tide" algae blooms off the coast.
A major expansion of Pensacola's airport aviation maintenance facilities will take place over the next several years, resulting in a gain of 1,600 jobs. Panama City, a popular beach spot in the panhandle, is seeing tourism picking up, but is still recovering from Hurricane Michael last year.
11/51
Georgia
Population: 21,299,000
Unemployment rate: 3.6%
2019 job growth: 1.7% (78,000)
2020 job growth: 1.2% (55,700)
Job growth in Georgia will be 1.7% in 2019, better than the 1.4% U.S. average. The Atlanta metro area continues to drive the state, with growth of 1.9%. It is the distribution hub of the Southeast. The Gainesville area, to the northeast, will be one of the biggest hotspots, and has been for a number of years. Fox bikes are relocating to the area, bringing 800 jobs. They are a refugee from high California housing costs. Nearby Jackson County is seeing the construction of a new battery factory by Korea's SK group that will employ 2,000.
Georgia remains committed to expanding its international trade, with a port deepening project in Savannah, along with a trade industrial park that could result in 3,000 new jobs. However, recent trade tensions have resulted in a slowdown in job growth in manufacturing.
Construction is the strongest industry in Georgia, with 6% job gains. Jobs in health care are growing by more than 3%.
12/51
Hawaii
Population: 1,420,000
Unemployment rate: 2.7%
2019 job growth: 0.4% (2,600)
2020 job growth: 0.4% (2,600)
Hawaii lags the rest of the West with modest job growth this year and next, constrained by a lack of population growth. Its job creation rate is not expected to change much over the next several years. Similar to California, Hawaii has a high cost of living that likely led to a net emigration of 12,000 to other states last year. The economy has also slowed a bit, and Hawaii's low unemployment rate has risen to 2.8% from 2.3% a year ago. The tourism sector is still doing well, with expectations for a 2% increase, and hotel, food service, and real estate account for half of the job gains. However, visitor spending has flattened, and tourism growth is expected to flatten. State government accounts for the other half of the job gains this year, but will be unable to continue because of budget constraints. Most other sectors are barely growing.
Housing prices appear to have peaked in Honolulu. Prices have risen even faster than in California, and the high prices and economic slowdown have put a damper on demand.
Construction project completions in Honolulu in the second half of 2018 significantly cut the number of cranes in the city, where residential and mixed-use construction continue to dominate the market. In response to recent changes in the permitting process, hotel owners and developers are pushing their planned projects forward to accommodate the longer processing time, which may lead to an increase in the crane count toward the end of 2019. Hospitality remains a strong sector, with renovations outpacing new builds. Affordable- and market-rate multifamily high-rises continue to sell well, likely leading to more towers in the future.
13/51
Idaho
Population: 1,754,000
Unemployment rate: 2.9%
2019 job growth: 2.5% (18,600)
2020 job growth: 1.8% (13,600)
More tech firms are starting up or expanding in the Gem State. Businesses looking to escape the high costs of West Coast cities are often attracted to Boise, Idaho Falls, and other Idaho cities because of lower costs of living. Tech firms Paylocity and Clearwater Analytics have established operations in the area. Tech startups include Boise-based wireless company Cradlepoint with 500 employees, as well as House of Design, located in Nampa, with more than 50 employees designing, programming and assembling robots that can build products from medical equipment to shoes.
Construction activity is going strong in Idaho, including a $150-$200 million expansion at Boise's busy airport, where passenger traffic is soaring now that it is one of the Mountain region's fastest-growing cities. Large-scale housing projects, including one in Syringa Valley for 2,000 new homes, are in the works to try to ease a shortage of housing. Boise housing prices have risen at a 15% annual rate in each of the past two years. In Boise, investment in public projects also is brisk, including an $80 million riverfront library.
14/51
Illinois
Population: 12,741,000
Unemployment rate: 4.0%
2019 job growth: 1.1% (67,600)
2020 job growth: 0.5% (30,900)
Illinois is posting a solid pickup in job creation this year, despite its longer-term fiscal problems. That partly reflects its continuing diversification toward more service-providing industries from manufacturing.
But there are problems within the Illinois economy that will make it difficult to sustain long-haul job gains. The trade rift between the United States and China hurts agriculture and commodities in general. Agricultural exports to China, especially of soybeans, make up a larger portion of total exports in Illinois than they do in almost any other state. Caterpillar, an important agricultural and mining machinery manufacturer in downstate Peoria, has also faced weaker demand from the reduced trade flows. In addition, Illinois faces a continuing loss of population, falling for a fifth year in a row during 2018 and at an accelerating pace that leaves it with an aging population and a decreased prime-age working force. Finally, the fiscal troubles of the state government and the City of Chicago have created a long-term uncertainty in the local business climate.
Illinois is home to 69 of the nation's top 1,000 companies by revenue, including Boeing and Abbott Laboratories as well as Caterpillar, which is in the process of hiring software developers, data analysts, telecommunications experts and computer engineers to expand its digital team. Most of the job growth is coming in office-using businesses, such as healthcare and professional services like accounting and legal advice.
Chicago will get the bulk of the job gains with slower growth in areas outside the city. For example, Ford Motor Co. has invested $1 billion and added 500 employees at its Chicago-area stamping and assembly plants, and a $1.2 billion expansion is under way at Chicago's busy O'Hare international airport.
15/51
Indiana
Population: 6,692,000
Unemployment rate: 3.3%
2019 job growth: 0.9% (28,400)
2020 job growth: 0.6% (25,600)
Indiana has been a job machine in the Midwest, but is running into headwinds. While construction and healthcare are still growing strongly, a weakening manufacturing sector from the global trade slowdown is proving to be a drag that will likely last for a while. Indiana is one of the nation's most manufacturing-intensive states. The leisure and hospitality sector is also seeing weakness. Employment in the Hoosier State should grow 0.9% this year.
Indianapolis is a hub for state industry, attracting new high-tech businesses while established ones like Rolls-Royce intend to expand engine production at its existing plant and take on 150 more employees if it secures a key U.S. Air Force contract. Rolls-Royce is near completing a $600 million modernization of its Indianapolis operations where it would build engines for B-52 aircraft. Infosys plans to hire 3,000 workers by 2023. Just to the south, Amazon is constructing an $80 million distribution facility that will create up to 1,250 jobs. FedEx is in the middle of a seven-year expansion of cargo capacity at Indianapolis' airport, highlighting the area's central location.
In the Northern part of the state, U.S. Steel is investing $750 million to revitalize its flagship plant at Gary, aiming to grab more market share because of higher costs that steel products from abroad will face as a result of tariffs. The Gary plant, on the southern shore of Lake Michigan, employs about 3,800 now and will undergo a five-year makeover that includes an expansion as well as installation of new production equipment and technology.
16/51
Iowa
Population: 3,156,000
Unemployment rate: 2.5%
2019 job growth: 0.7% (12,000)
2020 job growth: 0.8% (12,800)
Iowa employment should grow 0.7% this year. The largest metro Des Moines should see much of that growth, expanding 2.3% this year. With a state unemployment rate of only 2.5%, labor availability will be a problem in some areas of Iowa, especially Ames and Iowa City, the university towns. These two have unemployment rates of around 2%. Only Portland, Maine has an unemployment rate that is lower (1.7%).
Carleton is adding 150 manufacturing jobs in Davenport. Vertex software is adding 300 jobs in Ames, as it expands its headquarters. The state is big on renewable fuels: it is a center of biofuels research and the country's second-largest producer of wind energy.
It has been a tough weather year for agriculture. Spring flooding destroyed millions of dollars of corn, soybeans and grain, and reduced planting. As a result, shorter supply boosted prices for a while. The trade war with China has hurt demand for U.S. soybeans and pork, and the economic slowdown in Mexico and Brazil's bumper corn crop this year has hurt demand for U.S. corn.
17/51
Kansas
Population: 2,912,000
Unemployment rate: 3.2%
2019 job growth: 1.0% (14,200)
2020 job growth: 0.7% (10,100)
Growth in Kansas will downshift a bit, with job gains of 1.0%. Its unemployment rate, though very low at 3.4%, is up a bit this year. Rural areas are still hurting from agricultural price declines, and Kansas' population and labor force are barely growing. The Wichita metro area will do the best, as Wichita's aviation industry (Cessna, Beech, Bombardier, Spirit) continues its strong growth. Textron Aviation will add 1,000 workers this year. Airbus' increased A320 production will benefit Spirit, a Wichita company that makes wing parts for the A320. Spirit's work on Boeing 737MAX fuselages continues for now, but is likely to be interrupted in the near future as the grounding of the MAX continues with no end in sight.
Wheat is having a good year. Lower U.S. stocks is likely to be beneficial for Kansas wheat farmers. But a more difficult trade environment will still present challenges to exporters. A new beef processing facility in Arkansas City will employ 250.
Kansas' economy needs greater diversity. Its reliance on agriculture and aerospace mean that it is susceptible to the variabilities of weather and global demand.
18/51
Kentucky
Population: 4,468,000
Unemployment rate: 4.4%
2019 job growth: 1.1% (21,300)
2020 job growth: 0.8% (15,700)
Kentucky will almost double its pace of job creation in 2019, to 1.1% from 0.6% in 2018. Lexington, Bowling Green, and the Cincinnati metro area will outpace the state average.
Kentucky is an important automotive state, and that sector is firing on all cylinders currently, including an addition of 550 employees at Ford Motor Co.'s Louisville truck plant to meet demand for big SUVs. More investment by automakers ripples out to suppliers, with components supplier Piston Automotive LLC spending $1.5 million to expand its Louisville operations and add 50 full-time jobs. Foreign automakers are pushing back against the risk of import or other restrictions against them, hedging their bets by boosting investment in southern states particularly. For example, Toyota will spend $238 million to set up production lines at its Georgetown plant to make hybrid vehicles, part of a combined $749 billion investment bonanza it is showering upon Kentucky, Alabama, West Virginia, Tennessee and Missouri.
Braidy Industries is partnering with a Russian company, Rusal, to build an aluminum rolling mill in Ashland, in eastern Kentucky, that will create 650 permanent and 1,000 construction jobs. Braidy is investing $1.6 billion and will be the lead investor in the mill while Rusal will supply low-carbon aluminum for it.
19/51
Louisiana
Population: 4,660,000
Unemployment rate: 4.3%
2019 job growth: 0.1% (2,000)
2020 job growth: 0.2% (4,000)
Job growth is good in New Orleans and Lafayette, but almost non-existent elsewhere in the state. Employment in Louisiana will rise by only about 0.1% this year, down from even last year's lackluster pace, as the pace of hiring moderates in sectors including health services and tourism. The oil sector has been in a slump for years. Construction employment is still falling, though there are a few projects getting under way that will improve prospects later this year. Federal regulators have approved the Calcasieu Pass LNG export facility and TransCameron Pipeline, which will create about 1,500 jobs during peak construction and 130 permanent jobs.
Louisiana also is affected by the Trump administration's tariffs against China and mounting trade tensions with Europe. The ports of New Orleans, South Louisiana and Baton Rouge handle a significant portion of total U.S. trade with the rest of the world, including 60% of grain exports from the Midwest.
Activity is picking up on industrial projects in the Baton Rouge area, including ongoing work by Shintech Inc. on a $1.5 billion project that includes an ethane cracker as well as Shell's planned $717 million alpha olefins plant in Geismar, which will boost job growth later this year and in 2020.
20/51
Maine
Population: 1,338,000
Unemployment rate: 2.9%
2019 job growth: 0.8% (5,000)
2020 job growth: 0.5% (3,200)
Maine's growth is hindered because it is running out of workers. It is one of the few states where deaths outnumber births. Ample job opportunities have attracted more domestic migrants over each of the past two years, which is a help for employers. But in a sign of how acute worker shortages have become, some firms have hosted job fairs for seniors, and state lawmakers have been pushing Washington for increases in the number of visas for foreign workers. Tourism remains strong, but that industry has difficulty attracting and keeping employees in low-paying jobs. Manufacturing is on an upswing, a good thing for the state since it provides higher-paying and permanent jobs. Defense industries are leading the way, with General Dynamics' subsidiary Bath Iron Works landing contracts to maintain and modernize destroyers and other combat ships.
21/51
Maryland
Population: 6,043,000
Unemployment rate: 3.8%
2019 job growth: 0.3% (8,300)
2020 job growth: 0.5% (13,800)
Maryland will barely add to its workforce this year, with employment up by about 0.3%. The strongest job growth in the state has been in the City of Baltimore, while job growth has almost disappeared from the Maryland side of the D.C. suburbs.
Given the low unemployment rate, state officials already report difficulty finding workers to fill some jobs, including in technology and nursing. Maryland is aiming to leverage a special strength arising from its dominant position as a center for cybersecurity interests. It can draw upon highly experienced experts from the National Security Agency, Defense Information Systems Agency, Department of Defense Cyber Crime Center and other classified agencies. As part of a longer-term growth strategy, Maryland is building a cybersecurity hub at Port Covington, an area of Baltimore, that is to act a magnet center for cybersecurity firms when it is completed in 2020. Hiring is brisk in healthcare as business services as well as among construction industries, where various infrastructure improvement projects are under way including a $9 billion expansion of interstates 495 and 270.
22/51
Massachusetts
Population: 6,902,000
Unemployment rate: 2.9%
2019 job growth: 1.0% (36,500)
2020 job growth: 0.7% (25,900)
Massachusetts is a perennial regional leader because it draws more talented young workers than its neighbors, attracted by good-paying jobs in high-tech and financial-services sectors that are clustered in centers like Boston. High tech will remain a key engine for growth, benefiting from top-ranked universities including Harvard and Massachusetts Institute of Technology as well as a thriving start-up scene. New ventures are launching in varied fields from education to healthcare and accounting, backed by readily available venture-capital financing that swelled by an estimated 46% to $10 billion last year.
Biotech and pharma companies are expanding operations in the state. Foundation Medicine is looking for space, and Irish pharmaceutical giant Allergan as well as Danish drug giant Novo Nordisk are opening research operations. Some of the biggest names in tech including Verizon, Google and Apple are expanding and intend to create thousands more jobs. Amazon has added 2,000 employees in Boston and plans to expand its distribution network, bringing in 1,500 to North Andover.
But there also are a few misses: struggling conglomerate General Electric is scaling back its plans for a new 12-story office building in Boston's Seaport district. Housing is a challenge but should get a modest lift from the Federal Reserve's more patient outlook on interest rates and lower mortgage costs, plus there are an estimated 20,000 apartments under construction in the Boston area to relieve some pressure on one of the region's hottest housing markets.
Outside of Boston, job growth in Springfield has jumped up this year as the area becomes a transportation hub and expands in healthcare.
23/51
Michigan
Population: 9,996,000
Unemployment rate: 4.2%
2019 job growth: 0.4% (17,700)
2020 job growth: 0.2% (9,000)
Michigan will be the only Midwestern state to see slower job growth in 2019 than in 2018: 0.4%, down from 0.9%. The motor vehicle sector continues to be the prime driver for Michigan's economy, so the state's outlook closely tracks prospects for new-car sales, which are leveling off after several strong years. The slowdown in exports is also contributing to the modest growth.
Otherwise, the outlook remains positive for Michigan with Fiat Chrysler Automobiles planning to spend $4.5 billion to update several Detroit-area plants and retool an engine plant to make Jeeps, which will create about 6,500 jobs. General Motors, which took a beating from the Trump administration for closing a big plant in Lordstown, Ohio, is pumping $300 million into its Orion assembly plant in the Detroit suburbs to build a new electric car. Self-driving vehicle company Waymo is looking for a location in southeastern Michigan where it will make about a $13.6 million investment in a plant to transform vehicles into autonomous cars for Waymo's ride services business. All of the industrial activity is giving the state's construction and manufacturing sectors a lift, while retailer Amazon pushes forward with its rapid expansion which has included an announced $420 million investment in Michigan and addition of nearly 5,000 jobs over the past year and a half.
24/51
Minnesota
Population: 5,611,000
Unemployment rate: 3.3%
2019 job growth: 0.4% (11,800)
2020 job growth: 0.7% (32,500)
Minnesota boasts the strongest in-migration rate of the entire region, as folks are drawn to the Minneapolis metro area, the largest in the region. As a result, labor-force growth is one of the healthiest. However, job growth downshifted to 0.7% last year after seven years of strong growth, and the unemployment rate has bumped up from a very low 2.9% to 3.3% so far this year. Job growth in 2019 is likely to be a modest 0.4%, but then pick up some in 2020.
The need for housing and other expansion has kept construction strong, but other sectors have weakened, such as the food manufacturing sector (Cargill) and nondurable manufacturing (3M). Transportation and warehousing is no longer a growth sector. Hiring has slowed in health care, a major industry, though the famed Mayo Clinic in Rochester continues mostly unaffected.
In December, Minneapolis became the first U.S. city to ban new single-family houses in an attempt to spur multifamily housing development and bring down housing costs.
25/51
Mississippi
Population: 2,987,000
Unemployment rate: 5.2%
2019 job growth: 1.4% (16,300)
2020 job growth: 0.8% (9,500)
Mississippi should see the fastest growth in four years this year. Growth is especially strong in the south-central part of the state (Jackson, Hattiesburg).
Global automakers continue to increase their footprint in Mississippi, which can be a positive or a negative for the state since the pace of hiring varies with the sales outlook. A generally strong sales outlook is in place for this year, boosting the manufacturing sector so that overall employment is on an upswing. Hiring will grow by about 1.0%, well ahead of 2018's slim 0.3% gain. Toyota Motor Co. has just started turning out a new generation of its Corolla compact car from its Blue Springs plant. Toyota added 400 new employees at the plant and now has a workforce of about 2,000 in the state. Tiremaker Continental AG of Germany is building a $1.4 billion plant in the central part of Mississippi to make truck tires and will have about 250 employees on staff by the end of the year. On the downside, slower sales for trucks and vans was cited by Nissan Motor Co. for its decision to lay off about 700 contract workers in the state. Nissan has been under pressure because of the ouster of its chairman, Carlos Ghosn, after charges were brought against him by the Japanese government.
Other than manufacturing, the sector doing best in terms of job creation is leisure and hospitality, drawing tourists to its scenic Gulf Coast with an array of attractions from beaches to casino tours. Mississippi also has deepwater ocean ports and a substantial shipbuilding industry serving the military that is a source of strength. Huntington Ingalls Industries in Pascagoula recently received a $1.47 billion contract from the U.S. Navy for a new ship that will keep the shipyard busy.
26/51
Missouri
Population: 6,126,000
Unemployment rate: 3.2%
2019 job growth: 1.2% (34,700)
2020 job growth: 0.8% (23,400)
Missouri will do much better than last year, with 1.2% growth versus 2018's 0.2%. Kansas City and St. Louis will carry most of the heavy lifting, and the southwest corner of the state around Springfield and Joplin is seeing strong growth in manufacturing and transportation.
The unemployment rate will stay around 3.3%, a slight uptick from last year. Missouri's labor force is finally growing again after two straight years of decline, though population growth remains a problem.
Scollar, a smart pet collar company, joined the exodus from Silicon Valley in California and relocated to Kansas City, adding to the city's Animal Health corridor. Heartland Dental will create up to 100 jobs at a new office in St. Louis. Pfizer is investing $200 million for a new plant in Chesterfield near St. Louis. In the central part of the state, Aurora Organic Dairy is opening up a new milk bottling plant in Columbia that will employ 100. Quaker Windows is adding 300 manufacturing jobs in Eldon.
27/51
Montana
Population: 1,062,000
Unemployment rate: 3.3%
2019 job growth: 1.2% (5,800)
2020 job growth: 0.7% (3,400)
Most Montana job growth is coming from services including an expanding high technology sector, tourism and health care. This is despite the state being most well-known for its abundant natural resources (oil, coal, copper, logging and agriculture). Overall, high-tech businesses added 1,300 jobs in 2018 and expect to boost payrolls by 1,700 this year. Urban centers including Bozeman, Billings, Missoula, Kalispell and Helena are seeing the greatest hiring pickup, while rural areas feel the pinch from lower prices for key agricultural crops like wheat and worry that a U.S.-China trade war will worsen and affect more crops.
Montana has substantial reserves of coal, but chances for growth from mining it are slim as coal's use for generating electricity declines. Westmoreland Coal Co. has emerged from bankruptcy and is the owner of the Rosebud mine that feeds the Colstrip power plant in Montana. Westmoreland is supplying coal to Colstrip through the end of this year, but it's unclear what will happen after that, and Colstrip is searching for a new coal source. There is one potential positive development in the mining sector: a new limited-life copper mine is proposed in White Sulphur Springs that, if approved, will employ about 200 people over its 15-year life.
28/51
Nebraska
Population: 1,929,000
Unemployment rate: 3.1%
2019 job growth: 0.6% (6,100)
2020 job growth: 0.7% (7,200)
Job growth will mostly be in the Omaha area this year, where there is strong growth in construction, professional and business services, and warehousing. Stalwarts Mutual of Omaha, Warren Buffett's Berkshire Hathaway, and Conagra are also in Omaha. The rest of the state is languishing at the moment because it's been a tough year for Nebraskan agriculture: widespread flooding in March caused $1 billion in damages to infrastructure, crop and livestock losses. The trade war with China has also dampened prospects. Livestock, corn, soybeans and sorghum are the main agricultural products.
Carson Group investment advisors will build a new headquarters in Omaha for 300 workers. Google will build a data center in Sarpy County near Omaha, becoming the fifth company to do so. Merck is also expanding in Omaha. A new manufacturing plant employing 100 will go up in Seward, west of Lincoln.
29/51
Nevada
Population: 3,034,000
Unemployment rate: 4.1%
2019 job growth: 3.0% (42,400)
2020 job growth: 2.0% (29,200)
Full speed ahead for Nevada's thriving economy, gaining momentum in the south from a continuing Las Vegas construction boom. East of Reno, electric-car maker Tesla and partner Panasonic are building out a multi-billion-dollar plant called the Gigafactory that makes batteries and parts for Tesla's Model 3. It currently has 10,000 employees, but plans for further expansion may depend on the success of the Model 3.
Nevada is a standout regionally and nationally with payrolls set to grow 3.0% this year. Hiring for construction is soaring, so much so that employers are having trouble finding skilled workers they need with some $23 billion worth of projects under way in Las Vegas alone. Work is just starting on a $1 billion Circa Resort and Casino in the downtown area while Malaysia-based Genting group is building its $4 billion Resorts World Las Vegas that will add 7,000 hotel rooms. It's emerging as a major sports center with a successful professional hockey team, while a $2 billion football stadium is under construction that will be the future home of the Las Vegas Raiders from the start of the 2020 NFL season onward.
A healthy national economy is a boon for the gaming industry and for tourism in Las Vegas, with free-spending visitors fueling about 30% of the local economy. So far, visitor volume is 2% above last year. Housing markets in Las Vegas and Reno are healthy, partly because the state's desert climate and low taxation rates make it an attractive destination for retirees, including many fleeing nearby high-tax states like California. A surge in home building is beginning to ease the supply crunch a little, and double-digit housing price growth for over a year has slipped back into the single digits again.
30/51
New Hampshire
Population: 1,356,000
Unemployment rate: 2.5%
2019 job growth: 1.6% (10,900)
2020 job growth: 0.7% (4,800)
Job growth in New Hampshire will hit 1.6% this year --the fastest in New England and above the region's 0.8% average rate. However, a few clouds are on the horizon. Brisk hiring by manufacturing and construction industries has helped pull the state unemployment rate down to 2.5%. As a result, workforce shortages are becoming more common in a range of businesses from factories to restaurants. Tariffs on imports and trade tensions between China and the United States are a concern. New Hampshire's goods exports rose by a modest 5% last year, but that paled next to 2017 when they surged by 24%. Business with next-door neighbor Canada has stagnated while Congress mulls whether to approve a renewed United States-Mexico-Canada free trade pact.
The state has a hefty presence in defense production, thanks to contractor BAE Systems, which has facilities in Hudson and Nashua and sustains a workforce topping 6,000 across the state. BAE is adding a new campus in Manchester that will accommodate about 800 employees in support roles for its electronic warfare programs. Like Massachusetts, New Hampshire's economy is leaning toward a growing high-tech presence, and startups are plentiful with relatively ready access to venture capital funding.
31/51
New Jersey
Population: 8,909,000
Unemployment rate: 3.2%
2019 job growth: 1.2% (50,100)
2020 job growth: 0.6% (25,400)
New Jersey is still adding jobs at a relatively strong pace, topping neighbors New York and Pennsylvania. While a few industries including business services and logistics are beginning to moderate their hiring, payrolls are expected to fatten by about 1.2% this year due to a healthy expansion in growth. The leisure and hospitality industry --entertainment, food service and accommodation-- is growing especially strongly.
Pharmaceuticals and biotech companies are an increasingly important contributor, with generic drugmaker Teva relocating to the state from Pennsylvania and bringing 800 jobs. Another drugmaker, Sanofi, is bringing 160 jobs to New Jersey from Tennessee, and Quest Diagnostics has announced it is building a flagship laboratory in Clifton that will employ more than 1,100 people. The Port of New York and New Jersey –-busiest on the East Coast-– is handling a rising volume of cargo despite trade tensions between the United States and China and anticipates a continuing pickup in business during 2019. The American Dream megamall opening in October is predicted to result in 17,000 retail and entertainment jobs.
The strongest metro area growth is in Ocean City, where job gains hit 7%.
32/51
New Mexico
Population: 2,095,000
Unemployment rate: 4.9%
2019 job growth: 1.9% (16,100)
2020 job growth: 0.7% (6,100)
New Mexico is rich in natural resources, one of the country's top oil producers and a leader in potash and copper production. A modest uptick is in store for the pace of hiring, with payrolls set to grow by 1.9% this year after increasing 1.3% in 2018. Most of the hiring gain is in the state's mining sector which includes oil and gas extraction. New Mexico shares the important Permian Basin oil-producing region with Texas and also has the San Juan Basin in Northwest New Mexico that is the single largest proven natural gas reserve in the United States. There are about 109 oil and gas rigs at work; New Mexico is the only one of the energy-producing states not to have seen a reduction in rigs because of the fall in oil prices.
The state also has three U.S. Air Force bases: Kirtland, Cannon and Holloman, as well as the U.S. Army proving ground at Fort Bliss and the White Sands Missile Range, all of which support surrounding businesses and provide stability for the state economy. Employment growth in leisure and hospitality businesses is strong, reflecting New Mexico's popularity with tourists.
State officials are trying to diversify the economy to reduce reliance on energy production, offering incentives to lure new businesses to the state. Netflix is answering the call, setting up a new production hub in Albuquerque that is expected to generate $1 billion in spending over the next decade. NM Solar Group, an employee-owned company currently based in Albuquerque, is expanding in the southeastern part of the state and will add another 20 to 25 people to its 72-person payroll. Chip maker Intel also is hiring again, announcing late last year that it will take on about 100 more people at its big Rio Rancho operations.
33/51
New York
Population: 19,542,000
Unemployment rate: 4.0%
2019 job growth: 1.1% (106,900)
2020 job growth: 0.5% (49,100)
Once again, New York City continues to add jobs at a rapid clip (2.0%), long after growth has subsided in the surrounding areas. New York City has a strong talent pool of young, educated workers and ample access to venture capital that makes it attractive for companies including Facebook, Apple and Google to keep expanding there. Google alone is spending $1 billion on a new campus. It is also a media center, and 5G networks will foster information industries' growth. Growth would have been even stronger if Amazon's proposal to bring 25,000-plus jobs to Queens had gone through. The proposal was withdrawn following harsh criticism from lawmakers, unions and political activists.
Job growth outside of NYC has slowed down greatly, and is almost non-existent, on average, though there are strong pockets in places like Ithaca and Kingston, for example.
Long-term, New York has a problem: the state's population has shrunk every year since 2016. Out-migration to lower-tax, warmer states hurts the state's fiscal situation when it already is facing a $2 billion shortfall. Tax law changes that tightened up on deductions for mortgage interest and state and local taxes has made the out-migration worse, since these hit Northeast urban dwellers more than most. Ultimately, a shrinking population will crimp that state's ability to expand its pool of labor and potentially slow expansion.
34/51
North Carolina
Population: 10,384,000
Unemployment rate: 4.2%
2019 job growth: 1.6% (72,000)
2020 job growth: 1.0% (45,700)
North Carolina is in for a third year of more moderate growth, as the state moves past its 2012-16 growth spurt, and reverts back to the U.S. average. The unemployment rate has ticked up to 4.2% from its low of 3.7% last December. The Charlotte area appears to be humming as usual, but the Raleigh area has slowed suddenly after seven years of better than 3% job growth. However, economic growth is being supported by in-migration from other states. North Carolina has the fourth highest in-migration level in the U.S. Cuts in individual and corporate taxes this year will also help.
Big banks BB&T (now in Winston-Salem) and Suntrust (now in Atlanta) are merging and will establish their new headquarters in Charlotte. Advance Auto will relocate its HQ to Raleigh, bringing 435 jobs. Cancer therapy Cellectis will add 200 jobs to Raleigh. Aetna will bring 300 new jobs to High Point, in the center of the state.
Asheville in the far western part of the state is booming, benefitting from a pickup in tourism.
35/51
North Dakota
Population: 760,000
Unemployment rate: 2.4%
2019 job growth: 0.6% (2,600)
2020 job growth: 0.4% (2,200)
North Dakota is in a good news/bad news period: the good news is that the energy sector slowly revitalized after being down in the dumps for much of the past three years. Prices for North Dakota oil have climbed since the beginning of the year. The oil sector is starting to draw migrants again, so the state's population and labor force are growing again. The bad news is that North Dakota is still highly dependent on the oil industry, and oil prices are falling again on increased global trade tensions. North Dakota's other main industries, agriculture and windfarms, are also subject to volatile economic conditions.
Job growth will be 0.6% this year, about the same as last year. Construction jobs will lead the way at 10%, and healthcare will grow a robust 4%, but the hospitality sector will remain in the doldrums a while longer. Transportation jobs will not reach previous peaks given the opening of the Dakota Access Pipeline in 2017. North Dakota's unemployment rate of 2.4% has dropped quickly this year and is second lowest in the country. Labor shortages, reminiscent of the past, may be in store for North Dakota again.
ONEOK will build a new 75-mile natural gas pipeline to connect its NGL pipeline with a processing plant in Williams County. Sanford Health aims to make a major expansion of its cancer treatment center in Fargo over the next several years.
36/51
Ohio
Population: 11,689,000
Unemployment rate: 4.1%
2019 job growth: 0.6% (33,500)
2020 job growth: 0.4% (22,400)
Ohio's three major metros of Cleveland, Columbus, and Cincinnati are growing above the state average. Cincinnati is growing the fastest, with job growth of 2.2%, and the other two are around 1%. A resurgence in downtown Cleveland has boosted a metro that has suffered a long decline in industrial activity. Columbus continues with strong tech-related growth.
However, Ohio is still at risk from the trade conflict with China, being the largest international destination for Ohio's soybeans, and faces the greatest exposure of any state to China's retaliatory tariffs. In addition, the Trump administration's 25% tariffs on imported steel posed a double whammy for Ohio steel users when they tried to switch to domestic sources, only to find that U.S.-based steelmakers had raised their prices. Two-thirds of manufacturers in northeast Ohio said they were being harmed by the penalties on metals imports.
Ohio will add 0.6% to jobs this year, about the same as 2018's rise. A number of smaller cities are showing signs of growth after being flat: Toledo, Springfield and Lima.
Some firms are expanding operations and adding to payrolls, including central Ohio's Magna Seating of America, which will create 300 jobs in Lancaster to make seats. Software company Nexient is adding 200 jobs and automated manufacturing machinery company ATS is expanding and adding 40 new employees. On the services side, Columbus-based Quantum Health, which coordinates health care for its clients' employees, will hire 350 people to boost its operations.
Ohio has long-standing status as a significant automaking state and parts producer but faces some problems in that sector, especially after General Motors' decision to idle its big plant in Lordstown that made the compact Cruze sedan.
37/51
Oklahoma
Population: 3,943,000
Unemployment rate: 3.2%
2019 job growth: 0.5% (8,500)
2020 job growth: 0.3% (5,100)
Tougher times in the natural gas sector are weighing on Oklahoma. Low prices of natural gas and a recent decline in the price of oil have decreased total oil and gas drilling rigs to 66, down by 60 since last year. Oklahoma has a high energy-sector concentration like Texas, but its economy is influenced more by natural gas development, so it has reaped less benefit from the bounce in oil exploration that is driving growth in West Texas. Abundant supplies of natural gas exert more control over prices than is the case with oil, so the number of rigs drilling in Oklahoma is down more.
The state economy is healthy overall, but it will generate only about 0.5% more jobs this year, a step down from a 1.3% hiring increase in 2018. Most of the state's big employers are located in Oklahoma City, including Continental Resources and Chesapeake Energy. Chesapeake is sounding a cautious note for 2019, cutting back on its rig count in the field and paying down debt. But the state's economy is diversifying, attracting more high-tech companies, including Google which has a planned $600 million expansion under way. Amazon is hiring about 1,700 people for its warehousing operation located near Will Rogers World Airport in Oklahoma City. Amazon's choice of site reflects Oklahoma's ideal location near the center of the country for transportation and distribution. Amazon also intends to add a second warehousing and distribution center at Tulsa. The multiple expansion projects are keeping employment in construction trades on a strong upward trend.
38/51
Oregon
Population: 4,191,000
Unemployment rate: 4.0%
2019 job growth: 1.9% (36,500)
2020 job growth: 1.3% (25,400)
Growth in Oregon has slowed since the boom period of 2013-17. But job growth will still be an envious 1.9% this year, and Oregon will continue to be one of the faster-growing states in 2020. Portland's expansion is steady, but growth has slowed in the Willamette Valley to the south. Red-hot Bend and Redmond on the east slopes of the Cascades may be finally slowing to state-average growth.
In Portland, Intel is planning a major new factory to build the next generation of computer chips. The airport is getting an upgrade. Other notable construction projects include the Oregon Convention Center, a new County Courthouse, and an expansion of the Providence Park soccer stadium. The highest concentration of development can be found in the downtown area and the inner SE Portland neighborhoods. Mixed-use remains the dominant sector, with an uptick in commercial and hospitality projects. In the wake of the recent approval of the $653 million Metro Affordable Housing Bond, the future market can expect to see an increase in residential projects. Portland is attempting to wrestle with the strong rise in housing prices by restricting single-family development, in favor of multi-family.
39/51
Pennsylvania
Population: 12,807,000
Unemployment rate: 3.9%
2019 job growth: 0.7% (42,200)
2020 job growth: 0.5% (30,400)
Pennsylvania has fairly decent prospects, especially in health care, energy and professional services. Professional services has boosted the city of Philadelphia, which has the fastest growth in the state at 2.4%. The city's construction, financial, health care, and transportation and warehousing sectors are all speeding along.
There are promising signs that Pittsburgh is developing as a tech hub, with cell phone giant Apple continuing to add jobs not only in retail positions but also software development, while Lucas Systems, a software maker, is investing $7.3 million in a plant expansion that will add 55 new jobs to its current 65-person workforce. Amazon and WebstaurantStore support some 1,200 new jobs through fulfillment centers.
Pennsylvania's senior population has been growing at a rate of 2% a year since 2012, and that is prompting healthcare networks to invest in more projects. UPMC is investing $2 billion to build three new hospitals in the Pittsburgh area, an immediate boon for the area's construction industries. In addition, it will bolster other value-added medical services, including pharmaceuticals and companies in the biotech sector. For example, Amicus Therapeutics will open a new global research and gene therapy center in Philadelphia by late 2019 that will employ about 200 people, while Spark Therapeutics says it will add up to 500 employees in a Philadelphia expansion. Clearly Clean Products, a packaging tray maker, is investing $10 million in a manufacturing operation at Frackville, Pa., that will bring about 125 new jobs.
40/51
Rhode Island
Population: 1,057,000
Unemployment rate: 3.6%
2019 job growth: 1.3% (6,500)
2020 job growth: 0.8% (4,000)
Rhode Island appears to be on the rebound from a slow patch. Healthcare hiring has jumped this year, and construction remains strong. However, manufacturing continues to weaken.
Eight new hotels are in planning or under construction in Providence, and downtown residential building continues to be strong as city living appeals to more people. There are projects under way in Newport and Cambridge to develop centers for attracting more high-tech businesses, potentially drawing some tenants from relatively nearby Boston along with the younger, well-trained employees who typically staff start-ups and innovative technology companies. That will provide an important lift for Rhode Island because of its relatively small and aging population, which state officials are trying to counter by luring more international immigrants.
41/51
South Carolina
Population: 5,084,000
Unemployment rate: 3.2%
2019 job growth: 1.5% (32,500)
2020 job growth: 0.9% (19,600)
South Carolina's export-driven economy will slow because of trade tensions with both Europe and China. Mainstays such as BMW, Volvo, Mercedes, Michelin, Samsung and Boeing are likely to be affected. However, it will remain a strong economy with employment growth of 1.5%. South Carolina is still banking on the global economy by accommodating the large ships with a deepening project at the Port of Charleston, to be finished next year.
South Carolina is still proving to be adept at attracting new investment: Google will expand its Berkeley County data center, Eclipse its industrial automation systems. New facilities will be built by shipper DHL, software Valantic, and auto glass Fuyao.
The South Carolina coast got hit hard from Hurricane Florence last September, but has bounced back. Tourism, retirement communities, and manufacturing are still supporting its growth. Housing price growth is strong all along the coast. Job growth all along the coast is strong, though Hilton Head remains hot while Charleston and Myrtle Beach have cooled a bit.
The southern suburbs of Charlotte, NC, located in South Carolina, are attracting area residents and companies interested in lower property taxes.
42/51
South Dakota
Population: 882,000
Unemployment rate: 2.9%
2019 job growth: 2.1% (9,400)
2020 job growth: 1.0% (4,500)
South Dakota continues to defy gravity: Job gains will be 2.1% this year, the strongest in the region. As a result, South Dakota has the strongest population gain in the region as well, drawing migrants. Unemployment is 2.9%, one of the lowest in the country. Job growth continues strongly in construction, manufacturing, and business services.
Gains will be strongest in Sioux Falls (the southeast corner of the state) at 3.5%, which has the fastest job growth of any metro in the region. Job growth is causing the housing market in Sioux Falls to tighten. A Tru Shrimp hatchery in Madison will bring 120 jobs. Agropur of Lake Norden will expand its cheese processing operation by 125 jobs. Wind farms are expanding in Clark County.
Growth is much softer in the interior and western part of the state, however, as flooding earlier this year and depressed agriculture prices weigh on farming communities.
43/51
Tennessee
Population: 6,770,000
Unemployment rate: 3.5%
2019 job growth: 1.7% (52,500)
2020 job growth: 0.9% (28,300)
Tennessee job growth will hold steady at 1.7% in 2019. The Nashville metro area remains the center of the state's growth, with an employment gain this year of 2.2% and a very low unemployment rate of 2.7%. However, Nashville's explosive growth period, which saw job gains of 3% or better for eight straight years, may be over.
A growth pickup is starting to ripple out into the rest of the state: Memphis and Kingsport-Bristol at opposite ends of the state are experiencing their best growth in four years. A pickup is apparent in Knoxville. While Chattanooga may finally be slowing down, nearby Cleveland is growing again after two down years. Clarksville and Jackson continue to experience solid job growth above the state average.
Tennessee is an increasingly attractive retirement option; like Florida, it has no income tax. Its cost of living is lower than Florida. It's not as hot, and still has seasons. As a result, it is becoming home to the "half-backers": retirees from up north who don't want to move all the way down to Florida.
Amazon will expand its Nashville hub, adding up to 5,000 new jobs eventually, the biggest new jobs announcement in the state's history. Home orthodontics firm Smile Direct is also expecting to add 2,000 new employees in Nashville in the next five years.
Volkswagen will add 1,000 jobs in Chattanooga by 2022 to build electric cars and SUVs. However, an expected automotive slowdown next year may ding growth at Tennessee's main auto plants: GM in Spring Hill, Nissan in Smyrna, and VW in Chattanooga.
44/51
Texas
Population: 28,702,000
Unemployment rate: 3.4%
2019 job growth: 2.3% (290,600)
2020 job growth: 1.6% (207,200)
Texas entered 2019 with brisk economic momentum within its key industries including energy development and high tech, which will again underpin solid growth though at a slightly slower pace than in 2018. Texas has an outsized presence in both the energy and high-tech sectors. 420 oil and gas rigs are at work in Texas, roughly half the total drilling in the nation, and the United States now is a net exporter of oil. New oil and gas pipelines have been added, and more are under construction to boost exports as more oil reaches Gulf Coast ports. However, a decline in oil prices this year because of the possibility that the trade war will cause slower global growth has taken the edge off the boom times in the oil patch, and Midland and Odessa are seeing only modest growth currently.
Texas already has a well-developed presence in high tech, and that's growing as investment disperses beyond Silicon Valley. Apple is investing $1 billion in a new campus in Austin that will employ up to 5,000 people. Trade uncertainty is a headwind, but the preliminary agreement between the United States, Mexico and Canada on a new free trade pact potentially will unlock more investment in export-related industries if it is ratified by lawmakers in all three countries. As icing on the cake, Texas is home to multiple military installations, which will benefit from increased defense spending as do the contractors who bid for military business.
The Dallas side of the Dallas-Ft. Worth metro area continues to lead the state with 3.8% employment growth. Houston, the second-largest metro area, and Kileen-Temple are above the state average. Previously red-hot Austin, with nine straight years of 3% growth or better, has seen growth downshift to around 2%, which is perhaps a more sustainable level.
45/51
Utah
Population: 3,161,000
Unemployment rate: 2.8%
2019 job growth: 3.0% (46,200)
2020 job growth: 2.0% (31,300)
Utah's economy is humming, consistently one of the best-performing in the country with expansion continuing in every major sector from healthcare to basic manufacturing. Hiring will expand by 3.0% this year, down slightly from last year's sizzling 3.2% growth. Slower workforce growth may be a helpful development with unemployment at a low 2.8% rate that underlines the scarcity of workers to fill jobs.
Utah has a large presence in a number of rapidly growing high-tech sectors including cloud computing and software development as well as in aerospace and life sciences. Its relatively cheaper real estate, growing talent pool and proximity to other higher-cost Western tech centers is fostering growth of a "Silicon Slopes" cloud computing and "Bionic Valley" bioengineering center around Salt Lake City. As many as one in every seven jobs in the state –-300,000 in all-– are generated by high-tech companies that typically pay more than other industries.
A variety of other businesses are drawn to Utah, too, including Amazon which has just put a new warehousing facility employing 1,500 employees and thousands of robots to work around the clock. Hiring is brisk in its tourism sector, while construction trades are booming with projects including a new $3.6 billion international airport at Salt Lake City. The airport is slated for completion in September 2020 and will offer visitors a gateway to Utah's ski resorts and national parks.
Hemmed in by the lake and the mountains, Salt Lake City's growth has slowed to about 2%. But growth is still strong along the valley to the north (Ogden, 3.8%) and to the south (Provo-Orem, 3.5%). And Utah boasts, in St. George along the southern border, the fastest-growing metro (4.5%) in the entire country.
46/51
Vermont
Population: 626,000
Unemployment rate: 2.1%
2019 job growth: 0.7% (2,200)
2020 job growth: 0.5% (1,600)
Vermont saw a growth pickup this year, but the surge is beginning to lose steam. Business services and tourism are doing very well, but manufacturing is starting to show weakness.
Unemployment is at a record low 2.1%, but Vermont's economy is the smallest of any state, and its workforce is shrinking. While it rates high on most measures of well-being such as childhood health, It has a significant manufacturing sector, including an aerospace industry that employs thousands. GE Aviation recently received a $517 million contract to make parts for helicopter engines, some of which will occur at its Rutland plant.
Vermont also is looking for more growth from both older and younger population segments. Its aging population is fueling expansion by health services providers, and tourism continues to be a growing industry, drawn to Vermont's scenic outdoors in summer and to its internationally known ski resorts like Stowe in winter.
47/51
Virginia
Population: 8,518,000
Unemployment rate: 2.8%
2019 job growth: 0.8% (32,100)
2020 job growth: 0.8% (32,100)
Northern Virginia is again the state's strongest economic growth driver. The big news is that Amazon is establishing a campus in the Arlington suburbs that will bring 25,000 well-paying jobs to the region and already is sparking a real estate and construction boom. More jobs may be coming if Amazon's decision to cancel a proposed New York headquarters ends up transferring some to the Virginia location. In addition, Incentive Technology Group is moving its headquarters to nearby Crystal City.
Microsoft is investing nearly $350 billion to expand a cloud data center operation in the southern part of the state, and Google also is upping its presence and boosting its payroll of well-paid tech workers.
The state dodged a federal shutdown bullet; the federal government's budget deal earlier this year boosting spending will benefit Northern Virginia and the Hampton Roads area, which is heavily dependent on defense spending. Government shutdowns have been costly to the state in the past. State finance officials reported during the January shutdown that revenues were down more than $20 million.
The state capitol Richmond and the northern Shenandoah Valley I-81 corridor from Staunton to Winchester are also seeing good growth. Hershey Candy has announced a major expansion there.
The budget deal must be renewed on November 21.
48/51
Washington
Population: 7,536,000
Unemployment rate: 4.6%
2019 job growth: 2.6% (89,500)
2020 job growth: 1.7% (60,000)
2019 will be another strong year for Washington's job markets, the eighth straight year of better than 2% growth. A big boost to the state's economy comes from the information services sector, which is little surprise as Seattle is home to fast-growing Amazon, and Redmond is headquarters for Microsoft. Construction, manufacturing, health care, and hospitality are also growing briskly. Competition for skilled employees among high-tech companies in the region is fierce.
Some potential vulnerabilities exist: a worsening trade war between China and the United States might adversely affect trade. Exports from Washington ports are down 5% so far this year. In addition, aircraft maker Boeing, which employs more than 65,000 people in Washington and anchors its vibrant aerospace sector, has halted deliveries of its 737 MAX airliner following two fatal crashes. It's still working to correct issues identified with the model, has a huge backlog of orders if it can restore fliers' confidence in them, and hasn't laid off workers, but it's unclear how soon the airliner will be able to return to the skies.
Amazon now plans to create an urban campus in nearby Bellevue that will mean work for about 2,500 more employees. Washington's economy is diverse beyond just Big Tech since Seattle also is headquarters for Starbucks, Costco and truck builder PACCAR. The Seattle area has two deep-water ports so shipping time to Asia is short, plus its extensive railroad and warehousing operations add up to a significant presence in trade and logistics.
Besides Seattle, the south and southeast part of the state are also seeing strong growth, benefitting from the overall move of people out of the expensive coastal zones. Kennewick-Richland is growing at 3.2%.
49/51
West Virginia
Population: 1,806,000
Unemployment rate: 4.6%
2019 job growth: 0.9% (6,600)
2020 job growth: 0.5% (3,700)
West Virginia is seeing positive growth again this year, but the state will continue to struggle, especially the southern coal counties. In the years from 2012-2016, an estimated 26,000 jobs were lost in the state. Roughly 8,000 have been regained, but the recovery has not been evenly distributed throughout the state. West Virginia will achieve about a 0.9% increase in its workforce this year, though that will be a smaller job gain than in 2018. The strongest growth is in Wheeling in the northern tip, and in the eastern panhandle counties, where some make the long commute to Washington, D.C.
Bright spots are a labor force that is growing for the first time in a decade and an unemployment rate that is the lowest since 2008. Other bright spots include Toyota investing $11 million to expand its plant at Buffalo, doubling its capacity to produce transaxles for hybrid vehicles and adding 123 employees. Intuit, maker of Turbo Tax and QuickBooks, is bringing 200-plus jobs to Bluefield to provide customer service and provide an innovation lab to assist small businesses. The best-performing sectors will be the state's natural gas, manufacturing and construction industries. A $4.6 billion interstate gas pipeline system is under construction running from northwestern West Virginia to southern Virginia and is expected to be completed late this year. It is one of two major pipeline projects under way in the state, both of which will generate revenues for state coffers when they go into operation.
Coal mining, once a mainstay for the southern part of the state, is in long-term decline, and efforts continue through groups like the Appalachian Regional Commission to try to diversify the economy and reduce the impact on communities. More than 300 employees lost their jobs when the Pinnacle Mine, the largest in West Virginia's southern Wyoming County, closed in 2018.
50/51
Wisconsin
Population: 5,814,000
Unemployment rate: 3.1%
2019 job growth: 0.4% (11,900)
2020 job growth: 0.4% (11,900)
Most parts of Wisconsin are doing better than the aggregate forecast suggests. Weakness in Madison is pulling down the state average. However, with slow population growth and unemployment already below 3%, employers are running out of people who have the skills needed for some jobs or who are willing to take lower-wage employment in some service and tourism-related industries.
Wisconsin traditionally generates much of its economic wealth from manufacturing but is beginning to diversify. It is still getting growth from new and expanded factories, including Taiwanese-owned Foxconn Technology Group's commitment to build a liquid-crystal display manufacturing operation in the southeastern part of the state, though the company has backed off its initial promise of 13,000 jobs.
There is still fairly strong hiring for construction and within the leisure and hospitality sector including hotels and restaurants. While hiring for manufacturing jobs will slow, there is growth in other areas including warehousing and distribution. Amazon is building a 640,000-square-foot warehousing operation in Oak Creek, a $200 million plant that will employ 1,500 when completed.
Trade tensions have taken a toll on Wisconsin's farm sector. Soybeans are a major cash crop, but exports to China have crashed after China switched to sources in countries other than the United States. At the same time, its dairy farmers are being squeezed by falling milk prices and by surpluses of milk on the market.
Madison will likely get back on track, as entrepreneurs continue to be attracted to the presence of the University of Wisconsin, especially in the biotech, chemistry and computer science fields.
51/51
Wyoming
Population: 578,000
Unemployment rate: 3.7%
2019 job growth: 1.5% (4,300)
2020 job growth: 0.4% (1,200)
Hiring is on the upswing right now in Wyoming, but the state's heavy reliance on the ups and downs of the energy industry is creating longer-term uncertainty. Payrolls overall will increase by 1.5%, almost double 2018's modest 0.8% gain. Manufacturing, retail and warehousing have been on an upward path. The unemployment rate is the lowest it's been in 10 years.
The availability of health care is a rising concern, and Wyoming is one of few states where healthcare employment is shrinking. That's a problem for an aging population. Hiring in its leisure and hospitality sector, which includes hotels and tourism, remains on a steadily downward track.
But strength in job growth won't last. While oil prices were up earlier this year, they are dropping again. And the outlook is bleak for Wyoming's important Powder River Basin coal mining operations because of both environmental concerns about the effects of burning coal and reduced demand for it. There are now just three companies mining about 75% of the Basin's coal, and they will likely keep cutting back production or consolidate as customers disappear. That further complicates efforts to replace the approximately 20,000 energy-industry jobs that were lost in 2015 and 2016 following the collapse of oil prices in 2014. To date, only a fraction of those jobs have been recovered or replaced.

Staff Economist, The Kiplinger Letter
David is both staff economist and reporter for The Kiplinger Letter, overseeing Kiplinger forecasts for the U.S. and world economies. Previously, he was senior principal economist in the Center for Forecasting and Modeling at IHS/GlobalInsight, and an economist in the Chief Economist's Office of the U.S. Department of Commerce. David has co-written weekly reports on economic conditions since 1992, and has forecasted GDP and its components since 1995, beating the Blue Chip Indicators forecasts two-thirds of the time. David is a Certified Business Economist as recognized by the National Association for Business Economics. He has two master's degrees and is ABD in economics from the University of North Carolina at Chapel Hill.