9 States with No Income Tax
Your hard-earned money is safe from state income tax if you live in one of these states…but watch out for other state and local taxes.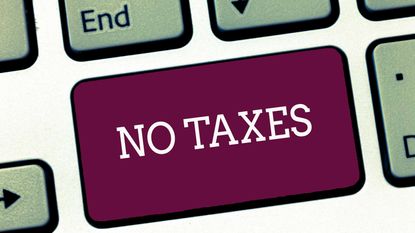 (Image credit: Getty Images)
You hate paying income taxes – right? So why not move to one of the nine states listed below that don't have an income tax? Your paycheck will be bigger, and that's one less tax form you have to worry about each year. If you're retired, that also means no tax on your Social Security benefits, withdrawals from your IRA or 401(k) plan, and payouts from your pension. How's that sound?
But, of course, no state is perfect. States without an income tax still need money to pay for roads and schools, so residents have to pay other taxes to keep the state running (like sales, property and estate taxes). And sometimes those other taxes can be on the high end. For example, two states with no income tax have median property tax rates that are among the ten highest rates in the entire country. Two other states without an income tax are among the states with the highest sales tax rates. So, if you're thinking of moving to a state without an income tax, continue reading to see some of the other taxes you'll have to pay in those states. Maybe the state you're in right now won't look so bad.
Average combined state and local sales tax values are for 2022 and were compiled by the Tax Foundation. Property tax data is from 2020 and is based on information from the U.S. Census Bureau. Overall tax ratings are from the State-by-State Guide to Taxes on Middle-Class Families (opens in new tab).
Senior Tax Editor, Kiplinger.com
Rocky is a Senior Tax Editor for Kiplinger with more than 20 years of experience covering federal and state tax developments. Before coming to Kiplinger, he worked for Wolters Kluwer Tax & Accounting and Kleinrock Publishing, where he provided breaking news and guidance for CPAs, tax attorneys, and other tax professionals. He has also been quoted as an expert by USA Today, Forbes, U.S. News & World Report, Reuters, Accounting Today, and other media outlets. Rocky has a law degree from the University of Connecticut and a B.A. in History from Salisbury University.