The Best Places to Retire in the World
When it comes to the best places to retire in the world, which country is at the top of the list? And where does the U.S. feature on the leaderboard? We investigate.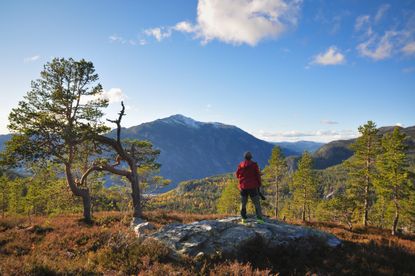 (Image credit: Getty)
If you're nearing or living in retirement, as you look around at how your peers are faring around the world, you may think you should have been born Dutch. Or Norwegian. Or Irish. Granted, you can't choose where you were born, but retirement is the right time to take a look at where you and other Americans stand on the worldwide retirement leaderboard. How do your average home-grown Tom, Dick or Mary stand, compared to Thijs, Didrik or Maeve?
The short answer: The U.S. may be the world's number one superpower, but people living in a multitude of other wealthy countries can expect more financially secure retirements than Americans. When it comes to getting a secure retirement, analysts say other wealthy countries — that provide both financial benefits and better health systems — outrank the U.S.
Best places to retire — key facts
Retirement in 17 countries — from Australia and New Zealand to Norway and Denmark — outranks retirement in the U.S., says Natixis, an asset management and investment banking firm.
The U.S. earns only a C+ for its pension system, according to Mercer, the global consulting and financial services company that grades systems on, among other things, how adequate and sustainable they are. That's on par with France and Spain but behind hemisphere neighbors Canada and Uruguay and just barely outpacing Chile and Colombia.
While the U.S. ranks fifth overall in the annual U.S. News & World Report "Best Countries" list, it barely rates a mention on the "Comfortable Retirement" sub rankings. At No. 30 among the 85 countries surveyed, the U.S. comes in behind most of Europe as well as (in order) Canada, Thailand, Panama, Costa Rica, Mexico, the Dominican Republic, the Philippines, and Singapore.
If these facts or others have you considering spending all or some of your retirement outside the U.S., you are not alone. More than 440,000 retired workers are collecting U.S. Social Security benefits abroad.
Subscribe to Kiplinger's Personal Finance
Be a smarter, better informed investor.
Save up to 74%
Sign up for Kiplinger's Free E-Newsletters
Profit and prosper with the best of expert advice on investing, taxes, retirement, personal finance and more - straight to your e-mail.
Profit and prosper with the best of expert advice - straight to your e-mail.
Consider John Ovink, a 69-year-old, Dutch-born U.S. citizen, who emigrated to America in his mid-thirties and retired after practicing law as an attorney in Florida for more than 20 years. He went back to the Netherlands in January and received permanent resident status.
Ovink lives in Rotterdam, home of the largest seaport in Europe. He travels around using his bicycle and public transit. While it's very difficult for foreigners to drive in the Netherlands (getting a driver's license is an arduous process for Americans, and you can't insure a car without a Dutch license), Ovink says this isn't an issue in a country about the size of West Virginia. "You really don't need a car in the Netherlands," he says "Everything is pretty much near everything else, meaning you can get pretty much anywhere within two to three hours by using public transport."
Ovink finds the "attitudes toward elderly people [and English speakers] are always patient, polite and friendly. People have even gotten up and offered their seats in buses or waiting rooms. There is also visible respect for the elderly and their opinion."
Indeed, Ovink says, "returning to the Netherlands feels like coming home."
It shouldn't be surprising that the Netherlands, with its high-quality, low-cost health care system and strong retirement savings structure for its citizens, as well as its government pension system, known as Algemene Ouderdomswet or AOW, appears near the top of several lists that rank countries as places for retirees — whether it be for their own citizens or for expats seeking to spend their retirement in a country that's healthy, interesting and financially secure. The Netherlands ranks first in the Mercer Global Pension index, with an overall grade of 85.0, compared to 63.0 for the U.S.
Affordable health insurance
Ovink notes that health insurance is affordable in the Netherlands. "Purchasing health insurance is mandatory for all citizens and permanent residents," he says. "I've heard health care is very good, but have no personal experience. I do know my parents were very satisfied."
In 2023, the monthly AOW net payment for eligible Dutch people living on their own is €1,425.08. For married people or people living with another adult, the monthly net amount is €968.86 per person, according to Hanneke Hofmans of Mercer. (A Euro (€) is equivalent to a few cents more than a U.S. dollar.)
Countries Natixis ranked as secure retirement locations are mostly concentrated in Europe but also include New Zealand and Australia. The top three countries in the rankings are Norway, Switzerland and Iceland, all of which have life expectancies of 83 years, compared to 76.1 in the U.S. and the world average of 72. Life expectancy was considered in the rankings' health index, which also considered health expenditures. The rankings also had categories for material well-being, finances in retirement and quality of life.
Norway is also said to have a robust private and public pension system that ranks eighth in the Mercer Global Pension Index. Switzerland has a high standard (and high cost) of living and has created a special Retirement Residency Program to accommodate retirees who want to settle there. Iceland has the top-rated pension system among all countries, according to Mercer.
In contrast, retirement in the U.S. — with its patchwork of financial support and uneven social services — can be less easy and less secure.
"The U.S. system is messy," says Rich Nuzum, executive director and global chief investment strategist at Mercer.
According to the Federal Reserve, just 21% of non-retirees in the U.S. work at employers who will provide traditional pensions, also known as defined benefit plans. And while 75% of Americans have some retirement savings, a quarter have no retirement savings at all. Nuzum notes those without any retirement savings will rely exclusively on Social Security benefits to live on when they can no longer work. Yet Social Security is designed to replace only about 40% of preretirement income.
Retiring in the U.S. may not be so bad
But retirement in the U.S. may be better than the overall rankings suggest. The U.S. "is doing very well, considering the size of the country and the challenge of getting many people to agree on policies," says Dave Goodsell, executive director of the Natixis Center for Investor Insight. Among the 20 largest countries — the smallest of which, the United Kingdom, has a population of 67.5 million — the U.S. comes in second, behind Germany, which ranks 11th overall on the Natixis list. And, according to the Mercer tabulation, none of the world's countries with 100 million or greater populations outranks the U.S.
The countries that do retirement best, says Goodsell, tend to be small, which generally means it's easier for them to reach a consensus on how they approach issues, including those that affect retirement. But even the relative retirement utopias are feeling pinches these days.
"The real story for individuals is around the world, people are facing the same issues," Goodsell says. "Inflation is pretty much universal. They're all facing these same problems."
The threat of changing demographics
There's also a pesky demographic problem that's especially acute in virtually all wealthier nations — the rapid increase in the number of retirees versus the number of workers who support them with government pension and health insurance systems. The standard in many wealthy countries today is about three workers supporting one retiree. By mid-century, it will be down to two workers.
Data compiled by the Organization for Economic Co-operation and Development (OECD) make the trend clear: Across the 38 wealthy OECD member nations, there are, today, 31 retirees 65 and older for every 100 workers aged 20 to 64. By 2050, there will be 53 retirees for every 100 workers.
The U.S. currently has 28 retirees for every 100 workers, and that will rise to 40 in 2050, according to the OECD data. The numbers for some individual countries are much worse than they are in the U.S. Japan already has 52 retirees for every 100 workers, and the number is expected to rise to 81 by 2050. Italy has 40 retirees today, rising to 74 in 30 years.
The 10 best places to retire
Norway: The life expectancy is nearly 83, compared to the world average of 72 and 76.1 for the United States, according to the World Bank. Norway is also said to have a robust private and public pension system ranking seventh in the Mercer Global Pension Index.
Switzerland, another country where life expectancy is 83, is known for having a high standard (and high cost) of living and low taxes, as well as beautiful places to visit. The country has established a special Retirement Residency Program to accommodate retirees who want to settle there.
Iceland. Also at 83 years life expectancy, Iceland has the number one rated pension system for its local retirees, according to Mercer.
Ireland. Life expectancy is 82 in Ireland, a country that International Living says is noted for the charm of its people and its landscape. According to Wise, Ireland is also known for having a very low crime rate and a low-cost government health care system.
Australia. Life expectancy is 83 and Wise describes the country as featuring beautiful beaches, friendly people and universal health care.
New Zealand. Life expectancy is 82. Wise says the country is known for its high quality of life and relatively low cost of living.
Luxembourg. Life expectancy is 82 and a relatively high cost of living. According to Expatica, the country "boasts a wealth of nature, culture, art, and history."
Netherlands. Life expectancy is 81 years. Wise says the healthcare system is one of the best in the world. The country is friendly to expats and the culture is "immersed in nature," according to Wise.
Denmark. Life expectancy is 82. According to Wise, the country's quality of life is "notoriously great," although the cost of living is high, but about average for Europe.
The Czech Republic. Life expectancy is 78. According to Expat Arrivals, while the cost of living in Prague is comparable to the rest of Europe, it's more affordable to live in the rest of the country.
Asset management and banking firm Natixis ranks countries annually for retirement security based on finances in retirement, material well-being, quality of life and health.
Considering retiring abroad?
Check the immigration and residency laws of the country in which you wish to live. Keep in mind that different countries have differing requirements for visas and residency, with many countries requiring a certain amount of passive income — such as from a pension or savings. Some countries allow you to establish dual citizenship based on the birthplace of your parents or grandparents.
Shannon Raiser, a customer advocate at Wise has some additional advice. (Wise is a tech company that facilitates international money transfers.)
Figure out the cost of living. "It is important to research and carefully evaluate the expenses associated with living in a foreign country," Raiser says. "We recommend drafting a list of expenses that you normally spend money on and then compare it with how much these same expenses will cost in the new country."
Account for currency fluctuations. With proper planning," Raiser says, "the impact of currency dips can be minimized. For instance, individuals can 'fix' the currency by purchasing it in advance and depositing it in a bank account, so that in case the rates increase, you'll have some cash that won't be affected by sudden changes." She also highly recommends spending time comparing different transfer services, as "most are riddled with hidden fees."
Open a bank account. Once you determine where you want to locate, Raiser says, "it is vital to open a bank account in that country. Since most U.S. banks do not have international locations, retirees will have to set up a new bank account… We also recommend maintaining a relationship with your current bank in the United States so you can manage recurring bills without the burdens of transferring money back and forth in the future."
Research taxes. The U.S. has tax treaties with many foreign countries. Check how these treaties affect your taxes (if you live in one of them) on the IRS website. Raiser further advises establishing a plan with your accountant to manage taxes in your new country. "Tax legislation varies from country to country and it is important for retirees to do their due diligence before the move."
Check your Social Security and health coverage. Information about receiving Social Security while living overseas can be found on the Social Security website. In general, Medicare doesn't pay for medical care outside the U.S.
Further information about retiring abroad is on the U.S. State Department website. Go to Travel.State.Gov and type "retirement abroad" in the search box.
Related Content
Note: This item first appeared in Kiplinger's Retirement Report, our popular monthly periodical that covers key concerns of affluent older Americans who are retired or preparing for retirement. Subscribe for retirement advice that's right on the money
Senior Retirement Editor, Kiplinger.com
Elaine Silvestrini has had an extensive career as a newspaper and online journalist, primarily covering legal issues at the Tampa Tribune and the Asbury Park Press in New Jersey. In more recent years, she's written for several marketing, legal and financial websites, including Annuity.org and LegalExaminer.com, and the newsletters Auto Insurance Report and Property Insurance Report.