14 Best Things to Buy at Aldi for the Holidays
Even if Aldi isn't your supermarket of choice for weekly shopping, you may want to put it on your "nice list" when seeking holiday bargains.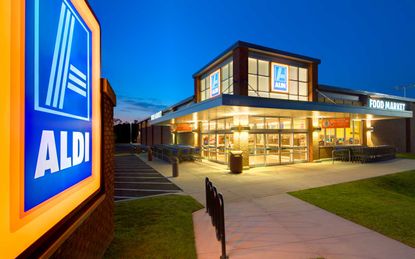 (Image credit: Getty Images)
Even if Aldi isn't your supermarket of choice for weekly shopping, you may want to put it on your "nice list" when seeking holiday bargains. At this time of year, the German discount grocer stocks an assortment of rotating seasonal items, including imports from Europe, that are ideal for entertaining and gift giving.
"Aldi offers so much more than discount groceries," says Kelsey Sheehy, personal finance expert at NerdWallet. "Shoppers can stock up on everything from toys to pajamas as they fill their carts with cheese and produce. Aldi is also a sleeper spot for great holiday gifts, including festive tins filled with popcorn or chocolate."
We took a spin through an Aldi in Northern Virginia to get a sense of the holiday offerings available to shoppers. We weren't disappointed. When feasible, we compared prices with similar items at nearby Giant and Wegmans supermarkets. Note that shelf space at Aldi is limited and products rotate in and out quickly, so if you see a seasonal item you like, grab it. Take a look at some of the best things we found at Aldi to buy for the holidays.
1/14
Toys
If you're new to Aldi, the first thing to keep in mind is that it's a discount grocer that sells more than discounted groceries. In particular, pay attention to the center aisle. That's where you'll discover the latest "Aldi Finds," the blink-and-you'll-miss-them mostly non-grocery items that come and go based on the season and availability. Naturally, toys are among Aldi's finds in December.
And we're talking affordable name-brand toys mixed in with the off brands. For the season, Aldi has a surprisingly wide selection of top name toys, corralled as Aldi Finds. I spotted a Merry Moments Classic Christmas Train set for $24.99; Mattel Barbie dolls for $6.99; "Frozen II" items including a coloring and activity set for $7.99; a Play Zoom iTouch smart phone for kids for $24.99; five-packs of Matchbox or Hot Wheels cars and trucks for $4.49; a Block Tech 20-pack figurine set with accessories for $7.99; Hasbro Disney Princess or "Frozen" dolls, $7.99 each; and Fisher Price Linkimals with songs, sounds and phrases, $23.99.
Just ahead of Christmas be on the lookout for Mr. and Mrs. Potato Head (assorted, er, varieties, for $12.99) and, an "only at Aldi" find, a National Geographic 50mm telescope for $29.99.
QUIZ: 14 Best Things to Buy at Dollar Stores for the Holidays
2/14
Chocolates
Why go to some fancy imported chocolate store at the mall that upcharges you for its expensive rent? Sure, go for the free samples, if you must, but then head to Aldi for the bargain prices on German and Belgian chocolates.
"Aldi carries Moser Roth and Choceur brands, both of which make excellent candies year round (the Choceur peanut butter cups are my personal favorite)," says Julie Ramhold, consumer analyst at DealNews.com. "Around the holidays, Aldi has a ton of different kinds of chocolates from both brands that make great gifts or stocking stuffers, as well as a midnight snack."
We drooled over Moser Roth assorted chocolate bars, $1.99 for 4.4 ounces; Choceur dark chocolate or dark chocolate almond bars, $1.49 for 5.29 ounces; Choceur milk chocolate bars, $1.49 for 5.29 ounces; Moser Roth Luxurious European chocolate truffles, $3.99 for a 7-ounce box; and assorted varieties of Schogetten chocolate, $1.49 for 3.5 ounces.
You likely won't find those fine and inexpensive chocolates in American-based chain supermarkets. We checked at Giant and found Lindt's Excellence assorted chocolate bars, $3.19 for 3.5 ounces (smaller and more expensive than Aldi's Moser Roth bars) and Ferrero Collection assorted chocolates, $5.29 for boxes between 4.6 and 5.3 ounces, more than three times the cost of Aldi's Schogetten chocolate collection.
3/14
Baked Goods
You'd also expect a German grocer to puff up the season with an array of awesome baked goods. Aldi doesn't let you down.
"Aldi's mini cream puffs are a holiday favorite in our household," says Sheehy of Nerdwallet. "The bite-sized sweets are delicious and affordable — less than $5 for 48 puffs. You can also opt for mini eclairs for the same price or cheesecake bites for under $10."
We also found L'oven Fresh Pains au Chocolate, $2.99 for 12.69 ounces; Bake Shop by Aldi mini cinnamon rolls, four for $2.99; Specially Selected mini brioche swirls (vanilla or chocolate chip), six for $2.99; Bake Shop pumpkin cake roll, marked a "seasonal favorite," $3.99 for 22 ounces.
"Whether you need rolls, garlic bread, or a last-minute cake for a party, Aldi has plenty of baked goods that are picks you'd be proud to serve but won't cost you a fortune," says Ramhold of DealNews.com.
4/14
Party Appetizers
Germans know how to snack, if Aldi is any indication, so if you're pulling together your own apps for a holiday party, then you're in luck.
We spotted (and Aldi pointed them out as "seasonal favorites") items including Emporium Selection gourmet cheese spreads (various flavors), $2.99 for a 6.5-ounce tub; Boursin garlic and herb cheese spread, $3.69 for 5.2-ounces; Happy Farms deli-style cheese balls (assorted varieties), $2.49 for 10 ounces; Happy Farms spreadable cheese cups (assorted varieties), $2.99 for 14 ounces; plus other Emporium selection cheeses including gouda, Artisan flavored, Irish cheddar and English cheddar).
We also spotted a Fremont Fish Market shrimp ring, $6.99 for 16 ounces and Specially Selected black tiger shrimp, $11.99 for 16 ounces. What about those seasonal tins of goodies?
Naturally, you'll find some of these seasonal favorites more expensive at other supermarket chains. For example, at Giant, we found President pub cheese, $6.49 for 8 ounces and various New Bridge cheese spreads, $4.99 for 7 ounces (more than double the price and half the size of Aldi's Happy Farms spreadable cheeses).
5/14
Cheese and Meat Trays
Building your own party trays to hold down the dining room table? Aldi offers a slew of cheeses, cheese spreads, cheese balls and cheese logs to make that foodie favorite a breeze.
"Aldi has a great selection of different kinds of cheeses and meats that'll allow you to create the perfect charcuterie board from scratch," notes Ramhold of DealNews.
They also come fully prepared at Aldi. Store-tagged "seasonal favorites" include Happy Farms Emporium party and specialty cheese trays, $4.89 for 15.3 ounces and Park Street Deli meat and cheese party trays, $9.99 for 24.5 ounces.
You'll have to dig deeper in your holiday stash to get similar trays at Giant. A Yancey's Fancy New York Artisan Cheese Sampler was $8.99 for 12 ounces, less than half the size of the Park Street Deli tray; a Giant assortment (cheese and meat) party tray, $8.99 for 16 ounces; and a Boar's Head charcuterie and cheese tray, $13.99 for 12 ounces.
6/14
Spiral-Sliced Ham
Spiral-sliced hams are a must-have for many families at the holidays. Aldi's Appleton Farms spiral-sliced ham were on sale for $1.19 per pound (regularly $1.99 per pound), with the average price-per-ham below $20 (limit two hams). Or, if you prefer your ham canned, you can buy the seasonal favorite Brookdale cooked canned ham for $2.99 for 16 ounces.
Giant was selling a spiral-sliced ham half for a pricier $4.39 per pound, or about $48. Wegmans, however, came in with a better bargain. The regional supermarket chain was selling its Wegmans brown sugar-cured spiral-sliced half hams for $1.49 a pound.
7/14
Nuts
We go nuts for nuts during the holiday season. Fourteen ounces of Southern Grove whole almonds, unsalted, were $4.89 at Aldi, compared to Giant's Mariani whole almonds, $4.49 for a mere 8 ounces.
Aldi's Southern Grove deluxe whole cashews were $5.19 for a 10-ounce bag; Southern Grove deluxe mixed nuts were $13.99 for a 30-ounce container. If you prefer your nuts organic, they're side-by-side with this selection, under Aldi's Simply Nature label.
8/14
Seasonal Ice Cream
Ice cream knows no season, but seasonal ice cream does, because, well, it's not available year-round. Aldi's Belmont brand of egg nog ice cream or peppermint bark ice cream, in 48-ounce containers, was $2.89.
Wegmans rolls with the seasonal flavors, too, but you'll usually have to dish out more cash to taste them. The same size carton of Perry's Ice Cream in flavors that include peppermint stick, hot cocoa and cinnamon bun was selling at Wegmans for $3.49.
9/14
Beer
Your typical neighborhood grocery store is likely well stocked with familiar domestic beers as well as the usual suspects of imported beers. Aldi carries some of those domestics, too, but its niche is with less-familiar imported brewskis that are priced like domestic beers.
Don't walk past the display without grabbing a six-pack of Bruegel Bok, $6.99 per six-pack; Holland Lager 1839, $5.99 per six-pack; Kinroo Blue Belgium white ale, $6.49 per six-pack; or Imperium Lager, $6.49 per six-pack.
10/14
Vinyl Records
Vinyl albums are all the rage, and if your millennial kids hijacked your huge collection when you went digital and said you'd never go back, you now want to go back to the flip side.
Aldi has you on its charts, in the get-it-before-they-are-gone Aldi Finds aisle center store.
The small collection of Sony classics includes Elvis Presley's "Merry Christmas, Baby"; The Jimi Hendrix Experience's "Are You Experienced?"; and "Best of Earth, Wind & Fire, Volume I."
There's even some newer music, with Khalid's "American Teen" (vinyl with a digital download included), and music from Netflix's "Stranger Things" series (the series is new but the music isn't because of that whole Upside Down thing).
All were $16.99, a bit less in most cases than you'd pay at Barnes & Noble. You may find them for around $15 on Amazon.com, but Aldi has them in front of your face and doesn't charge an annual membership fee.
11/14
Crab Legs
Living large on New Year's Eve, or at the boss's house, means getting a chance to get your crab legs on. You won't find them fresh at Aldi, just frozen. It's another seasonal favorite, and a pound and a half of Fremont snow crab legs were priced at $16.99 (so $11.33 per pound). If you're a Giant shopper, note that the location we checked was selling snow crab for $10.99 a pound, slightly less than Aldi.
12/14
Holiday Wrapping Supplies
Says NerdWallet's Sheehy, "Aldi is a virtual one-stop-shop for all of your gift wrapping needs. The discount retailer has gift boxes, bags and wrapping paper at seriously affordable prices."
Some examples: 10-pack of holiday gift boxes, $2.99; 10-pack holiday gift bags: $4.99; gift bows (36), $1.99; wrapping paper (80 square feet, heavyweight), $1.99; peel and stick gift tags (50), 99 cents.
13/14
Holiday Tins
Sheehy says don't pass over holiday gift tins, including from Aldi's proprietary Clancy brand of snacks.
Says Sheehy, "Holiday tins filled with sweet or savory treats make a great gift for neighbors, colleagues and teachers. Aldi sells a variety of festive holiday tins for less than $10, including Clancy's popcorn tins for $4.29 and Choceur chocolate assortment holiday tins for $8.99."
14/14
Baking Supplies
Some smart shoppers swear by Aldi's own brand of baking supplies, Baker's Corner. One of those smart shoppers is Trae Bodge, smart shopping expert at TrueTrae.com.
"The brownie mix and cookie mix are a really good deal and good to keep in the pantry if you need a quick dessert," says Bodge. "The Baker's Corner chocolate chips are a great deal, too. I can never have enough chocolate chips in the house. We put them in pancakes, cookies, banana bread…."
Some products and prices: The seasonal favorite Baker's Corner quick bread mix (assorted varieties) was $1.69 for 14-16.5 ounces; Baker's Corner fudge brownie mix was 85 cents for an 18.3-ounce box; Baker's Corner frosting was $1.15 for 16 ounces; Baker's Corner chocolate almond bark or vanilla almond bark was $2.69 for 24 ounces; Baker's Corner pure cane light brown sugar or powdered sugar was 89 cents for 32 ounce bags. (If you want to go the organic route, you can find baking products under Aldi's proprietary Simply Nature label.)
We did some cost comparisons at Giant. Betty Crocker brownie mix was $1.89 for a 19.9-ounce box, a buck more than Aldi's; Giant pure cane light brown sugar was $1.29 for 16 ounces; Domino powdered sugar, $2.69 for 32 ounces. If you want to go the organic route, you can find baking products under Giant's proprietary Nature's Promise organics.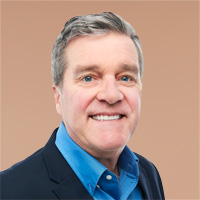 Bob was Senior Editor at Kiplinger.com for seven years and is now a contributor to the website. He has more than 40 years of experience in online, print and visual journalism. Bob has worked as an award-winning writer and editor in the Washington, D.C., market as well as at news organizations in New York, Michigan and California. Bob joined Kiplinger in 2016, bringing a wealth of expertise covering retail, entertainment, and money-saving trends and topics. He was one of the first journalists at a daily news organization to aggressively cover retail as a specialty and has been lauded in the retail industry for his expertise. Bob has also been an adjunct and associate professor of print, online and visual journalism at Syracuse University and Ithaca College. He has a master's degree from Syracuse University's S.I. Newhouse School of Public Communications and a bachelor's degree in communications and theater from Hope College.