Resist the Impulse to Buy These 14 Holiday Gifts
Don't let those holiday sale promotions persuade you into buying something now that will be much cheaper later.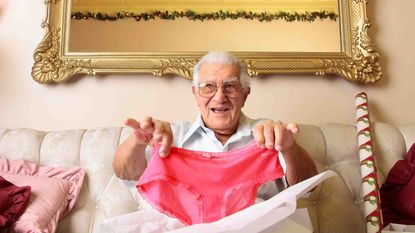 (Image credit: Getty Images)
This year's holiday shopping promises to pose unique challenges with well-known supply chain issues and shortages compounding the existing pandemic complications for retailers.
Like they did last year, stores are offering holiday deals much earlier in the year than they did before COVID. In many instances, it's good to heed these deals early, with looming shortages threatening to make last-minute shopping a very bad idea.
For example, don't wait for a better price on something on your list that has chip technology like a robot vacuum cleaner. The shortage of microchips is likely to translate into a shortage of these appliances. So if you see a good price for something like this on your list, pounce before it's too late.
But the early deals may tempt you to spend more than you should on other gifts. Stiffen your spine and try to evaluate whether promoted deals are really as good as they seem. You might be able to snag some items for much less right after the holidays or at another time of the year.
We've enlisted the help of several smart shopping experts to identify 14 product categories holiday shoppers should resist before the holidays. Take a look.
1/14
Jewelry
As a rule, the winter holiday season isn't the best time to score a deal on a pair of diamond earrings or an 18-carat gold bracelet. Things are even worse this year. As Julie Ramhold, consumer analyst with DealNews.com noted, diamonds have been affected by supply chain disruptions. "Because of that, production has slowed and demand has been hard to meet," she said. "All of that contributes to higher prices as well as lower selection and a lack of inventory to shop this holiday season."
Supply chain issues notwithstanding, in general, the best time to shop for fine jewelry at a discount is in late February — post-Valentine's Day, says Casey Runyan, managing editor of BradsDeals.com. That's when jewelry retailers typically offer their most aggressive sale pricing due to the drastic decrease in demand. The discounts available vary based on the type of jewelry, the stone setting and precious metals used, she notes.
With shortages, Ramhold added, "It'll be harder for you to find a good deal, and you may even be hard pressed to find a piece of jewelry your recipient will like. It's best to skip this category this holiday season."
2/14
Bedding
As the weather turns colder, you may be tempted to stock up on extra blankets and other bedding during Black Friday sales to get cozy. But you can snuggle up to more savings if you hold off until after the turn of the year.
Many retailers — including Macy's, Kohl's, Overstock and Pottery Barn — tend to fold their best deals on sheets, towels, comforter sets and other linens into their "white sales" in January, says NerdWallet.com consumer savings expert Courtney Jespersen. Consumers can expect to see savings of 50% or more on bedding during these sales, making them well worth the wait.
3/14
Exercise Equipment
Someone on your list may want to get in shape after being cooped up during the pandemic. However, the best deals for fitness equipment are generally around the new year "when brands lean on folks to get in shape or improve their health, said Regina Conway, a consumer expert for Slickdeals.net.
This year, the interactive fitness company Peloton "is also facing some additional challenges that may be a reason to hold off this holiday season," Conway added. "They're seeing an end to the COVID sales boom, particularly with a progression toward return to office. Further, Peloton is blaming Apple's iOS 14 App Tracking Transparency privacy feature for hurting sales. This may not be the best time to purchase."
Ramhold with DealNews.com added another note of caution about giving exercise equipment as a gift: "Exercise equipment doesn't make a good gift unless the recipient has asked for it explicitly — otherwise, you run the risk of offending the person you're gifting to." In other words, proceed with extreme caution. This is not the season for insults.
4/14
High-End Computers
If you're in the market for a laptop or desktop computer, hold off on purchasing one right now if possible. For one thing, computers are significantly affected by the supply chain and semiconductor chip issues you're hearing about across the economy. Even in a normal year, the savings offered during the winter shopping holidays won't be as substantial compared to clearance sales usually offered in late January and early February, says BradsDeals.com's Runyan.
That's in large part due to the Consumer Electronics Show in January where the top manufacturers unveil their latest products. To help clear out the previous year's models, they'll slash prices on their existing inventory immediately following the convention, she notes. So if you don't mind buying a 2021 computer model at the start of the new year, (assuming they are available) you can save several hundred dollars compared to what you'd find on Black Friday or Cyber Monday.
5/14
Winter Clothing
If you don't need to buy a new stash of cashmere sweaters or a pair of Italian leather boots right now, continue to hold off. That's because the very best deals won't pop up until after Christmas. "There's some overlap between fall and winter clothing, so it's likely that you'll find some deals on things like sweaters and boots around Black Friday or during December, DealNews.com's Rahold said. "But we likely won't see the best deals on select winter clothing until further into the season, like January. This year, those early deals may be even harder to find as practically every industry is suffering from supply chain disruptions; if we do see early discounts, the selection may be smaller or the inventory may sell out faster. Additionally, unless you know your recipient's sizes and styles very well, you run the risk of your gift not fitting or being unappreciated."
And while we're talking about clothing, Slickdeals' Conway noted that garment and accessory makers were primed to satisfy an expected "return to normalcy" this year. "But with the Delta variant causing many to take a step back, sequined clothing items and dazzling baubles may not get you as much bang for your buck this year," Conway added. "If you want to plan ahead for next year, there will likely be deep end-of-year discounts on these types of items. In the meantime, loungewear and athleisure continue to get more wear."
6/14
Furniture
Maybe your extra time at home this year has made you realize you hate your living-room couch — or that your office furniture is due for an update. You can start perusing some of your favorite furniture retailers' websites now, but hold off on making any purchases. The most significant savings on furniture items can be found in January as manufacturers look to clear out their showrooms in preparation for the arrival of spring inventory, says smart shopping expert Trae Bodge of TrueTrae.com. At that time, furniture retailers will be offering end-of-season clearance prices. If you have a particular retailer you're fond of, be sure to sign up for their email alerts so you don't miss when the sale launches.
With the surge in demand for outdoor furniture sets as more people entertained outside during the pandemic, supplies are low. As a result, holiday shoppers shouldn't expect to see prices drop on these items, Bodge adds. Consumers on the hunt for patio furniture won't likely see any deals on these items until stock levels and demand return to normal, which could be months from now, she suggests.
7/14
Holiday Decorations and Trees
Let your holiday spirit spill over into the days leading into the New Year. That's when prices on ornaments, lights, garlands, artificial trees and other seasonal items will drop like a lump of coal.
"Post-Christmas clearance discounts will be steep," says NerdWallet.com's Jespersen. "Shoppers can stock up on wreaths, ornaments and wrapping paper at a major discount, then save them for next year."
Furthermore, "if you're thinking of ditching the messy real Christmas tree this year, and going artificial, you may want to reconsider," said Kyle James, founder of Rather-Be-Shopping.com. "According to CNN, the supply of artificial trees is going to be down close to 20% and prices could jump as much as 25% due to the backlog from China.The same situation exists for Christmas decorations and ornaments."
James advised that you consider buying gently used ornaments and artificial trees from eBay or stick to a real tree for one more year.
8/14
DSLR Cameras
If you want to capture your family's most precious moments with professional quality photos, put down the smartphone and invest in a digital single-lens reflex or DSLR camera. The best time to purchase one is late January or early February, says James of Rather-Be-Shopping.com. That's following the Consumer Electronics Show in January. It's there that the newest electronics products — from laptops to televisions to cameras — are unveiled for the upcoming year. Bargain shoppers who can wait until then will see savings of up to 35% off on popular DSLR camera manufacturers including Canon and Nikon. Like many other electronics retailers, these brands will be looking to clear out older product models to make room for new inventory that will soon hit store shelves, he adds.
There's one complication for 2021, James noted. "The one caveat this year is if a new DSLR camera is on someone's wish list for Christmas. Due to the supply backlog, and shortage of microchips, you'll want to buy when you find a price you're happy with," he said. "Don't wait until close to Christmas as you might not find the camera you're looking for and have to resort to paying the marked-up price on eBay."
9/14
Calendars
If you're old school and like to hang a calendar in your kitchen or home office or prefer a sophisticated planner to help keep you on schedule, wait until mid-January if possible before buying a 2022 version, recommends Rather-Be-Shopping.com's James. By then, you should be able to find calendars for as much as 30% off, James notes.
10/14
Electronics: TVs and Streaming Media Players
Big-box retailers such as Costco, Target and Best Buy are known for their Black Friday doorbuster deals on electronics (think: HDTVs and streaming media players). However, many of these products are exclusive to a specific retailer and manufactured exclusively for the holiday season. Savvy consumers who like to shop around won't be able to do an apples-to-apples comparison, DealNews.com's Ramhold says.
And many of these electronics models tend to be off-brand, and chances are you'll likely end up replacing it much sooner than if you'd purchased a brand-name version. So rather than buy a Black Friday model simply because it's at a good price, opt for one you're familiar with and can find reviews for before you make a serious investment, Ramhold advises.
Kimberly Palmer at NerdWallet.com says prices for televisions and things like smartwatches and wearable fitness devices are higher this year and it's harder to find deals because of the general supply chain issues. If you do need to get one of these items, the best strategy this year will be to get an older model, as retailers will likely be inclined to offer deals in order to have something to offer for sale to consumers.
"The best deals we see on Black Friday sales,which have already been announced by the stores, are the older versions of electronics," Palmer said.
Bodge at Truetrae.com, suggests the best deals for televisions are to be had right before the Superbowl, which she said is "a reliable time to save on a fancy flatscreen for the big game. Also, retailers are often looking to clear last season's models in anticipation of the new, buzzy models that will be delivered" after the Consumer Electronics Show, which will be January 5-8 in 2022.
11/14
Tool Sets
If you're stumped on what to gift your household's DIY specialist, a new tool set might seem failproof. But if you're looking to get the most bang for your buck, you won't find the best bargains on tools during the Black Friday shopping weekend.
In fact, home improvement retailers such as Home Depot and Lowe's slash prices on tool gift sets, individual power tools, tool storage units and related accessories closer to Father's Day in early June, says Sara Skirboll, a shopping and trends expert for RetailMeNot.com. Buying a tool set during the winter months versus at the start of summer is the difference between getting 35% off the retail price now instead of 50% off later.
12/14
Cold-Weather Outdoor Gear
Don't be fooled by any Black Friday or Cyber Monday "deals" you might come across on winter outdoor gear, such as snowboards, sleds and hiking boots. These items are priced highest during the winter months, because that's when people use them, warns consumer savings expert Andrea Woroch. Any discounts retailers may offer on new product models won't be nearly as significant compared to end-of-season sales in late February or March, when you can score 50% or more off.
If you must buy outdoor gear right now (say, you've got someone on your holiday gift-giving list who's got a trip booked), shop at a discount specialty store such as REI's online outlet, Woroch recommends. She says consumers can expect to find deals of as much as 40% off cold-weather outerwear and sporting goods from previous seasons or overstock — not merchandise made specifically for an outlet store, which tends to be of lesser quality.
13/14
Apple Products
It's no secret that Apple plays by its own rules, especially when it comes to offering discounts on products. Holiday shoppers with their hearts set on finding bargains on the latest AirPods or Apple Watch won't see any on the tech giant's website or at its brick-and-mortar locations. That's because Apple usually limits its special offers on new items to its annual product event in September, says BradsDeals.com's Runyan.
However, you may find discounts on previous year's versions. Like many manufacturers that offer clearance sales, the tech giant will be looking to make room for the new releases.
14/14
Video Game Consoles and Electronic Toys
In years past, Black Friday shoppers have been able to score discounts on the latest video game consoles that were released earlier in the year. However, that changed last year and is unlikely to improve in 2021, with demand outstripping supply of the latest offerings, according to Conway of Slickdeals.net. "If you're in the market for a console, the 'deal' during this holiday season is that if you can find one at retail, it's a bargain," Conway said.
In fact, this year is a good year to skip electronic toys altogether if you can "because those are more expensive than ever," said Kimber Palmer of NerdWallet.com. That's because of the effects of inflation and issues with shipping and transport.

Browne Taylor joined Kiplinger in 2011 and was a channel editor for Kiplinger.com covering living and family finance topics. She previously worked at the Washington Post as a Web producer in the Style section and prior to that covered the Jobs, Cars and Real Estate sections. She earned a BA in journalism from Howard University in Washington, D.C. She is Director of Member Services, at the National Association of Home Builders.