Renting a Car Over the Holidays Will Be a Trip
Chip shortages, the pandemic and a surge in demand will combine to make renting a car a challenge. Here's our best advice to find a rental you can afford.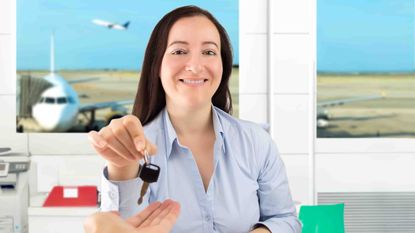 (Image credit: Getty Images)
Lots of people are planning to travel this holiday season and a good number of them hope to use rental cars to get around. According to travel website KAYAK, online car rental searches are up 230% compared to 2019 and up 243% over 2020.
But car rental companies are short on cars, having shed huge chunks of their fleets to survive the implosion of their business at the pandemic's outbreak. Restocking has been hampered by the same problem affecting car sales everywhere: a lack of supply driven by semiconductor chip shortages In addition, like other businesses having trouble hiring employees, car rental companies are reportedly struggling to adequately staff their counters.
"The increase in demand around rental cars is something we've been seeing all summer, and KAYAK's data is showing that demand isn't going to slow any time soon, especially as we enter the holiday season," said Girogos Zacharia, president of KAYAK.
Subscribe to Kiplinger's Personal Finance
Be a smarter, better informed investor.
Save up to 74%
Sign up for Kiplinger's Free E-Newsletters
Profit and prosper with the best of expert advice on investing, taxes, retirement, personal finance and more - straight to your e-mail.
Profit and prosper with the best of expert advice - straight to your e-mail.
The Cost of Car Rentals is Up
Naturally, this means that not only will it be tough to find a car to rent, but when you do, it will cost more. Different sources give different averages, but they all agree prices are up.
According to AAA spokeswoman Ellen Edmonds, daily car rental rates have increased 4% compared to last Thanksgiving at $98."
Travel planning app company Hopper.com spokeswoman Lindsay Schwimer said, "Currently the national average daily rate for rental cars is (about) $84 a day, down 31% from summer highs of $122 a day, but still up 68% from $50 a day at the beginning of the year. Prices are closer to $93 a day if you just consider the major national suppliers. Prices did rise to around $95 a day in mid-October (perhaps as a result of fall break travel), but have since eased a bit and trended down into November."
Schwimer added, "We expect rental car prices to increase sharply again into the holidays with high demand as supply remains a constraining factor."
The Most and Least Expensive Car Rental Locations
According to KAYAK, rental prices vary from city to city and from holiday to holiday. In general, New York and Hawaii are the most expensive places to rent cars over the holidays.
"Rental cars in Hawaii have always been pricey (given its island nature, shipping cars there is expensive) but demand is outstripping supply right now as more tourists flock to the island making rental cars more expensive than usual," Zacharia said. However, the market is a quirky thing. Honolulu is the least expensive place, according to KAYAK, to rent a car this Thanksgiving.
According to KAYAK, the most expensive car markets for Thanksgiving this year are:
New York, NY - $135 per day (Here, KAYAK says you can save 9% by picking up your vehicle in the city rather than at the airport.)
Charleston, SC - $123 per day (You can save 17% by picking up in the city.)
Brooklyn, NY - $118 per day
El Paso, TX - $118 per day (You can save 23% by picking up at the airport rather than the city.)
Asheville, NC - $112 per day (You can save 8% by picking up in the city.)
The least expensive car rental markets for Thanksgiving are:
Honolulu, HI - $66 per day
Boise, ID - $69 per day
Miami, FL - $70 per day
Oakland, CA - $70 per day
Sacramento, CA - $73 per day
The most expensive car rentals for Christmas this year are:
Bozeman, MT - $229 per day
Lihue, HI - $186 per day
Jackson, WY - $184 per day
Maui, HI - $171 per day
Salt Lake City, UT - $152 per day
And the least expensive car rental markets for Christmas are:
Sacramento, CA - $67 per day
Anchorage, AK - $69 per day
Oakland, CA - $80 per day
Seattle, WA - $81 per day
San Diego, CA - $82 per day
Need to Rent a Car? Do These Things
If you can travel somewhere that you can use your own car or borrow one at your destination, you can avoid the issue entirely. If those options are not realistic,in addition to KAYAK's suggestion of sometimes picking up your vehicle outside the airport, Schwimer offered advice for people who need to rent cars during their trips:
Book early. With a shortage of rental cars and demand and prices expected to be high, Hopper recommends booking your rental car as early as possible (at the same time as your holiday flights) to ensure availability and lower prices.
Check nearby airports. Many of the larger international airports are seeing high demand for car rentals, Hopper said. "We recommend checking smaller nearby airports that might have inventory still available near your destination. For instance, checking out Fort Lauderdale Airport rather than Miami International."
Find exclusive rates. Try a booking app like Hopper. Since Hopper is app-only, car rental companies send Hopper exclusive rates that are cheaper than travel websites.
Try a Car Sharing Service
As traditional car rental companies struggle to meet customer needs, another business model has emerged to fill the demand. Like Airbnb is offering people's properties as alternatives to hotels and Uber and Lyft has harnessed private car drivers to compete with taxis, peer-to-peer car sharing services like Turo, Getaround and DriveShare allow people to provide their personal vehicles for rental.
Turo spokeswoman Alexandria Mao said customers "have told us that Turo hosts saved their summer travel plans during the rental crunch, many of whom were seeing their family and friends for the first time in almost a year, and our hosts are ready to do it again this holiday season."
Mao said Turo has increased its number of electric vehicles, which are an attractive alternative to people worried about rising fuel costs.
Senior Retirement Editor, Kiplinger.com
Elaine Silvestrini has had an extensive career as a newspaper and online journalist, primarily covering legal issues at the Tampa Tribune and the Asbury Park Press in New Jersey. In more recent years, she's written for several marketing, legal and financial websites, including Annuity.org and LegalExaminer.com, and the newsletters Auto Insurance Report and Property Insurance Report.