2021 Holiday Travel May Not Be Jolly
With shortages threatening holiday vacations, here's what to expect — and what you can do.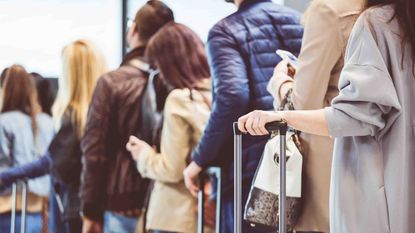 (Image credit: Getty Images)
Planning on traveling this holiday season? Undeterred by omicron and delta? Don't be surprised if your flight, like a turkey, doesn't take off and you have to spend an extra night or two at your destination. At the same time, expect to pay more for car rentals — if you can find them — and hotel rooms during your stay.
Our best advice is to do like the Boy Scouts and be prepared; be ready to roll with whatever happens.
"Management's basically stuffing the holiday turkey with uncertainty, '' said Dennis Tajer, a captain and spokesman for the Allied Pilots Association union, which represents American Airlines pilots.. Tajer said the union is doing what it can to help airlines avoid another debacle such as when American canceled more than 1,200 flights over Halloween weekend, blaming bad weather and staffing shortages. But so far, he hasn't seen evidence that the air carriers are ready.
Subscribe to Kiplinger's Personal Finance
Be a smarter, better informed investor.
Save up to 74%
Sign up for Kiplinger's Free E-Newsletters
Profit and prosper with the best of expert advice on investing, taxes, retirement, personal finance and more - straight to your e-mail.
Profit and prosper with the best of expert advice - straight to your e-mail.
What can you do? Fortunately, there are steps you can take to reduce the chances of your holiday travel being ruined. You can build buffers into your plans to ensure you're where you need to be when you need to be there. You can purchase travel insurance, including some that allow you to cancel for any reason. You can get creative in finding a rental car, and you can be ready to act if your flight is grounded.
Airlines Struggle to Recover from Pandemic Slowdown
As vaccines reduce the risk of dying or being hospitalized because of COVID-19 and international travel bans are lifted, this holiday season is expected to be busy for travelers.
AAA is forecasting that 53.4 million people will travel for Thanksgiving alone, an increase of 13% from last year, bringing travel within 5% of levels in 2019 before the pandemic. The prediction means air travel is recovering almost totally from its collapse, an increase of 80% over 2020.
More than half of Americans surveyed by PwC said they plan to travel, which is more than the usual third. While most plan to go by car, 40% plan to travel by air. Going into the season, airlines are still struggling to recover from pandemic slowdowns and travel bans that gutted their business in 2020.
Airline passenger traffic fell 96% in April 2020, compared to the previous year, according to a report by the Government Accountability Office. According to information from the U.S. Department of Transportation, U.S. air travel sank in 2020 and rebounded a bit, but not completely, in 2021:
Domestic air travel in the first eight months of 2020 was about 42% of the volume of passengers who flew in the same period of 2019. (Keep in mind that this 2020 period includes January and February, before the widespread effects of the pandemic took hold.)
International air traffic in the first eight months of 2020 was about 31% of the same period in 2019.
During the first eight months of 2021, which included widespread vaccination, the airlines saw about 69% of the domestic passenger traffic experienced in the first eight months of 2019.
During those first eight months of 2021, the airlines experienced 46% of the amount of international air passengers as the same period in 2019.
Swipe to scroll horizontally
| Time frame | First 8 months 2019 | First 8 months 2020 | First 8 months 2021 |
| --- | --- | --- | --- |
| Domestic air passenger trips | 543,034,602 | 229,579,504 | 372,051,318 |
| International air passenger trips | 79,890,202 | 24,976,691 | 36,927,680 |
Swipe to scroll horizontally
| Time Frame | August 2019 | August 2020 | August 2021 |
| --- | --- | --- | --- |
| Domestic air passenger trips | 72,715,566 | 23,910,225 | 60,572,847 |
| International air passenger trips | 11,035,622 | 1,389,278 | 6,357,070 |
Source: U.S. Department of Transportation
Airlines Face Pilot Shortage
In one small silver lining, the decreased business offered a bit of a reprieve from an existing and looming pilot shortage the industry was already experiencing. Consulting firm Oliver Wyman polled flight operations leaders in 2019, for example, and found 62% reporting a shortage in qualified pilots. before anyone ever heard of COVID-19.
But as passengers return, the pandemic has aggravated the airlines' longer term staffing issues. DOT data show that in February 2020, just before the full wrath of the pandemic hit, the airlines had 458,229 full-time employees. At the pandemic low point, in November 2020, there were 363,324 full-time airline employees. That's a difference of almost 95,000 employees, or more than a 20% workforce reduction. As of September 2021, the airlines had recovered some ground, with 410,836 full-time employees — still down more than 10% from pre-pandemic levels when there already was a pilot shortage.
Among the reasons for the pre-pandemic shortage were a decreasing number of pilots coming from the military and the high cost of getting trained as a pilot. Although those reasons have had a more significant impact on regional carriers than large airlines, they have not gone away.
A further complication came as an unintended consequence of measures that were intended to help airlines weather the devastation COVID brought to their business.
Federal aid meant to help keep the airlines afloat contained a provision that wound up making it difficult for the carriers to recover when business began to recover. Airlines that accepted help under the CARES Act were barred from laying off employees, according to Geoff Murray, a partner at Oliver Wyman. Consequently, many airlines shed staff by offering large-scale early retirements instead.
When conditions changed, the airlines were unable to simply recall employees, which they would have been able to do had there been layoffs. "They had to hire new people," Murray said. This, he said, is "certainly one of the major reasons for the current, acute shortage." But, contrary to some speculation, Murray and others interviewed for this article said reports of work shortages and slowdowns in protest of vaccine mandates are not true. Vaccine refusal, the experts said, is not a factor in pilot shortages.
Increased Demand Poses Challenges for Airlines
Airlines are hiring staff and adding flights to deal with the rush of returning business. But experts say the airlines are not keeping up with the demand and may struggle with even minor disruptions caused by weather or mechanical problems. And this time of year, weather disruptions are almost a given.
"Holiday air travel occurs in a concentrated timeframe, which adds more pressure for the airlines to accommodate the increase in demand," AAA spokeswoman Ellen Edmonds said. "Adding unforeseen weather interruptions makes it more difficult to recover since most flights are full and there are fewer options to book travelers on alternate flights promptly. Airlines are still adding staff, so there are fewer crew members to reposition as backup, which further impacts recovery."
"I think, relative to pre-COVID holiday travel levels, we're going to see higher levels of flight delays and flight cancellations due to fairly widespread staffing shortages," Murray said. The pilot shortage, he said, is causing airlines to schedule pilots to get the most productivity possible, leaving little room for schedule changes because of things like weather.
Tajer agreed that airlines are not equipped to handle disruptions in the current environment. Flights, he said, are packed. "There's not a whole lot of space to add" passengers when another flight is canceled. He said load factors, which are a measure of open seats on a given flight, are operating at upwards of 90 percent. Before the pandemic, 80% was a common level.
"Airlines can't add capacity fast enough," said Jonathan Kletzel, leader of the airline and travel practice at PwC. Kletzel said amping up the number of airline flights to accommodate increased demand is a complex, time-consuming process for the carriers. Aircraft that may have been sitting idle have to be inspected and brought up to repair, for example.
Flight Prices Lower; Everything Else Costs More
In spite of all of these issues and inflation across the economy, AAA says the cost of air travel is down. "Based on AAA booking data, we find that the average airfare is 27.3% less than last year, coming in at $132," said Edmonds. "Tuesday and Wednesday are still the most expensive and heaviest travel days with Monday being the lightest and least expensive."
But don't expect to save money in other areas. In fact, brace for your wallet to be walloped. For hotels, Edmonds said, mid-range rates have "increased about 39%, with average nightly rates ranging between $137 and $172 for AAA-Approved Hotels.."
How to Limit Problems Flying
With all this going on, "people can expect to wait longer to get through TSA and other travel checkpoints, especially if traveling abroad," Edmonds said. "But with some planning, a lot of this stress can be avoided.
She advised giving yourself enough time to compensate for any issues. She also suggested having a carry-on bag fully stocked with medications, snacks and clothing that might become necessary should you have to spend the night somewhere in the event of a flight cancellation.
Still, even the best-laid plans can go south. So what to do then? According to travel insurance comparison website Squaremouth.com, when a flight is unexpectedly delayed or canceled by the airline, most policies provide benefits during the delay, "including covering the cost of food, accommodations, and local transportation. This coverage is triggered after a specified length of time, at least 3 hours."
Coverage can also include the additional cost of transportation needed to help continue your trip as planned and the money paid in advance for things like excursions that were missed because of the disruption.
PwC's Kletzel has some specifics that go beyond the age-old advice of check in early and arrive early;:
Make sure you're familiar with your airline's digital channels — its website and mobile app. "You can get a lot done yourself through self service," Kletzel said, noting that the airport counter has "a high probability of being a nightmare during the holidays."
If possible, try to reserve morning flights. "Delays tend to cascade throughout the day," Kletzel said. If your morning flight is canceled, you have a better chance of being accommodated for another flight leaving the same day, whereas if you have an evening flight, chances are high any rebooked flight won't be until at least the following day.
Make sure you understand the flight-change, cancellation and refund policies of whatever you book. Make sure you know what you're entitled to should something happen. Yes, that means reading fine print.
Try to have a plan B if you can. If your destination is somewhere you can drive to, have a backup plan to have a car available, for example.
Be flexible. This is something available to more people who can do their jobs virtually, especially if they don't have to worry about kids' school schedules. But if you can, schedule your trip to leave a couple of days before you need to be at the destination and plan to return at a less-stressful time. "If you can travel a couple of days earlier or later (than peak travel times), you're going to have a better experience," Kletzel said.
If you think you'd prefer to spend downtime in the airport lounge, consider buying a day pass ahead of time. The club will sell out on a busy day, and it could make things less stressful in the event of a delay if you have a place to hang out away from the irritated crowds.
If your credit card doesn't give you special status with your airline, consider signing up for one that does before your trip. This could put you in a position to have a better experience in the event of a disruption.
Senior Retirement Editor, Kiplinger.com
Elaine Silvestrini has had an extensive career as a newspaper and online journalist, primarily covering legal issues at the Tampa Tribune and the Asbury Park Press in New Jersey. In more recent years, she's written for several marketing, legal and financial websites, including Annuity.org and LegalExaminer.com, and the newsletters Auto Insurance Report and Property Insurance Report.