Get a Good Deal on Car Rentals
Get up to speed on how to snag a deal and avoid pesky fees.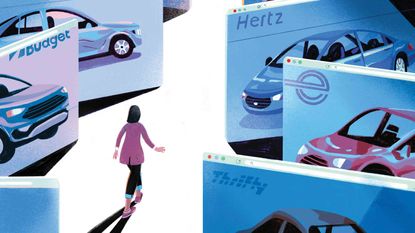 (Image credit: Illustration by Ryan Johnson)
Last spring, airport rental counters were eerily quiet as pandemic-wary Americans canceled their vacations and stayed close to home. But as spring turned to summer and fall, customers started returning, looking for vehicles for road trips as well as longer-term rentals at home to avoid using public trans­portation and ride-hailing apps. Business travelers also increasingly turned to rental cars. This summer, as more people receive a vaccine and the economy reopens, air travel is likely to pick up, too. That means customers will again be lining up at airport rental car counters—and navigating a maze of prices, fees and insurance coverages.
Many car rental agencies are taking measures to help protect customers from contracting the coronavirus. For example, Enterprise is sanitizing its vehicles between every rental; other companies are allowing 24 hours between rentals. Find out what COVID-19 precautions a company is taking before making a reservation.
How to find a great deal
A number of factors can affect rental car rates, meaning there are a number of ways you can score a deal.
Subscribe to Kiplinger's Personal Finance
Be a smarter, better informed investor.
Save up to 74%
Sign up for Kiplinger's Free E-Newsletters
Profit and prosper with the best of expert advice on investing, taxes, retirement, personal finance and more - straight to your e-mail.
Profit and prosper with the best of expert advice - straight to your e-mail.
Look beyond the big chains. Avis, Hertz and other large rental car companies have more locations than smaller agencies do, but they don't always offer the lowest rates, says Jonathan Weinberg, founder and CEO of AutoSlash, a website that helps travelers find rental deals and track rental rates. Rental companies such as Payless and Fox Rent a Car often offer cheaper rates, with rental rates of 15% to 30% less than rentals from big chains.
Renting a car from a discount agency has potential drawbacks, though. "I'm more inclined to rent from a major company because I've found the service is better and the vehicles are better maintained," Weinberg says. "That being said, if I can save $200 on a rental car by going with a smaller company, I'm going to think long and hard about what agency I rent a car from."
Comparison-shop at an aggregator. Searching for a rental car through an aggregator such as Kayak, Orbitz or Expedia can be a convenient way to shop around instead of checking rates at several rental car agencies one by one. But these websites may have less-flexible cancellation policies and fewer opportunities for upgrades than if you book with a rental car company directly. Consider shopping for the best price through the aggregator and then checking for that deal on the rental company's website.
Take advantage of membership discounts. Big-box stores such as Costco, BJ's and Sam's Club provide members discounts and perks such as free cancellations, flexible payment options and no fees for additional drivers. AARP and AAA also offer discounted rates. (AARP members save up to 30% on base rates at Avis and Budget Rent A Car; AAA members save up to 20% on Hertz rentals.) Some rental agencies offer discounts to members of the military, government employees, seniors and other select groups.
Consider prepaying. There are pros and cons to prepaying when you place a rental car reservation. The main benefit: It may help you get a lower rate. (A Kiplinger search found that prepaying for a one-week compact car rental at Avis in mid June would save $18.) However, "the big drawback with prepaying is that either there is a penalty to cancel or you cannot cancel at all," Weinberg says. (Avis customers incur a $50 processing fee if they choose to cancel a prepaid reservation 24 hours prior to their rental pickup time.) He recommends prepaying only if your pickup date is a few days away.
Consider a limited-mileage plan. If you know you're taking a short trip, you may be able to save money by choosing a limited-mileage rental plan instead of a rental with unlimited mileage. The caveat? You'll pay a fee for every additional mile that you drive over your mileage limit. For example, Enterprise charges 10 cents to 25 cents for each additional mile—and those fees can offset your lower rate.
Avoid renting a car at the airport. Where you pick up your car also affects your rate. "I'd say rental cars at airports are about 20% more expensive" than off-airport locations, says Weinberg. The rental car company has to pay taxes and fees to the airport authority and local tourism authority to rent counter space at the airport, and they pass on those costs to customers, he says. If you are getting off a plane and need to rent a car, compare the cost of an airport rental with an off-airport rental, adding in the cost of transportation to pick up the vehicle and to return to the airport after you drop off the car.
Get a one-week rental (even if you don't need the car for a whole week). A weekly car rental is often cheaper than a four- or five-day rental, says Gary Leff, founder of the travel deals site Viewfromthewing.com. That's because business travelers tend to book shorter rentals and aren't as price-sensitive as leisure travelers. For the same reason, which day you pick up a weekly rental can also affect your rate. You'll generally pay less if you pick up the car on a Friday instead of a Monday, says Leff.
Go small. Smaller rental vehicles tend to have lower rates, says Ronald Montoya, senior consumer advice editor at industry analyst Edmunds.com. Plus, they get better fuel economy, which can save a lot of money on longer trips. Compact cars are also easier to park, which can be a big benefit if you're going anyplace with limited parking. Note that even a full-size sedan is usually cheaper than an SUV.
Bundle your rental car with hotel stays. Travel packages that combine rental cars and hotel reservations can offer significant savings. Priceline, Expedia and Orbitz offer such deals. Plus, some rental car companies offer discounted rates at hotels and other rewards. Hertz customers, for instance, can qualify for a $50 hotel gift card when they rent a full-size or larger car for three or more days.
Book two one-way rentals. Some agencies offer deals for one-way rentals, says Leff. For instance, "rental car companies may offer deals at the end of winter, when they want to move cars from Florida back to the Northeast," he says. You can search for one-way rental car deals from Hertz, Budget and other agencies at Transfercar (www.transfercarus.com).
Track price changes. After you've booked a rental car, you'll want to keep your eye on rental rates to ensure you're getting the best deal. AutoSlash will track prices for you for free. (The company gets commissions on reservations booked through its links.)
Check for free upgrades at the rental car counter. It never hurts to ask for a free upgrade when you pick up a rental car, says Lauren Fix, an automotive writer and industry analyst. Depending on what vehicles the agency has on the lot, "the agent may have a larger car or a luxury car that they're willing to offer as a free upgrade," she says.
Don't overpay for insurance
Insurance is essential: If you damage the rental car, you will be responsible for the repair or replacement of the vehicle, plus damages and injuries if you hit another vehicle, says Penny Gusner, senior consumer analyst at Insurance.com. You're likely to get the hard sell on the rental agency's own insurance coverages—the CDW (collision damage waiver) and extra liability insurance. "Rental car agents are very much graded based on the number of add-ons that they sell, so they have a financial incentive to sell you their rental car insurance regardless of whether you're already covered," says Weinberg. It's expensive, and you may not need it.
Lean on your auto policy. Your car insurance policy likely covers damages to rental cars and other property damaged in an accident, as well as liability protection for you and anyone else who gets hurt. (Call your insurance agent to double-check.) However, you'd be responsible for the deductible, and making a claim could cause your insurer to raise your rates.
Let your credit card pick up the tab. The credit card that you use to pay for your rental car may provide collision damage coverage (for theft or damage to the rental car), but most credit cards don't provide liability coverage (for damage you cause to other cars and other people), says Maia Sutton, a spokeswoman at Insurify, a car insurance comparison website. Your credit card's coverage is also secondary to your primary policy—your insurance company would pay first, up to the policy limits, and the card would cover certain gaps, such as your deductible.
Credit card coverage frequently excludes certain types of vehicles, such as expensive or exotic cars, trucks, and large vans. And some credit card companies provide different insurance coverage, or no coverage at all, for different cards.
Get coverage for loss of use and diminished value. If you do damage the rental car, you don't want to be on the hook for the daily income that the rental company loses while the car is being repaired. So make sure you have loss-of-use coverage, Gusner says. You also want diminished-value insurance to pay for the difference in resale value for a car before and after an accident, which could run thousands of dollars. Oftentimes, your own auto policy and credit card won't cover these fees. So for peace of mind, you may want to get the rental company's CDW insurance policy (sometimes called a loss-damage waiver). That covers damage to the car, loss of use and diminished value.
Some renters prefer to buy the CDW for convenience or to avoid having to make a claim with their own insurer in case of an accident. CDWs typically cost $10 to $30 per day for economy vehicles and more for larger vehicles and SUVs.
Purchase insurance in advance. Weinberg recommends that travelers get their insurance squared away before they pick up their rental car. "A lot of companies let you pick up your car keys without standing in line, so you don't even have to interact with an agent," he says. (You may need to enroll in a rental car company's loyalty program to skip the counter.)
If you use an aggregator such as Hotwire or Priceline, you often have the option to buy third-party coverage, which is typically less expensive than what the rental car company offers. But if you damage the rental vehicle, you'll have to go through some red tape to make a claim.
Inspect for damage. Take pictures or a video of the vehicle when you pick it up and when you return it, just in case the car rental company tries to send you a bill for damage later on. Weinberg says to make sure the pictures are time-stamped and that the rental lot sign is visible in the background so there's no disputing where the photos were taken.
In general, "the airport locations of major rental car companies are less persnickety about minor damage, but a company can always come back to you and say that you damaged their car," says Leff. "And it's very difficult to prove you didn't if you don't have documentation."
Trim the fees
Don't prepay for gas. Pre­paying for gas—you get charged for a tank of gas at a cheaper-than-market per-gallon price when you return the car—is a good deal for the rental car company, but not necessarily for you. "It may seem like a good deal, but you almost always end up overpaying," says Weinberg. One reason to not prepay, he says: Rental car companies charge customers taxes on gasoline. "If you buy the prepaid gas, that 10-cent-per-gallon 'cheaper than pump price' rate can get inflated by 50 cents per gallon or more just from rental taxes."
You're better off refilling the tank yourself before you return it. You can use the mobile app GasBuddy to compare rates from nearby gas stations.
Bring your own toll trans­ponder and child seat. Most rental car companies charge a flat or daily fee for using their toll transponder, with daily fees typically running between $5 and $10. As a result, Paula Twidale, senior vice president of travel at AAA, recommends that customers bring their own transponder. "Just make sure your transponder works in the states that you'll be driving in," says Twidale. (If you're not in a hurry to reach your destination, you can use Google Maps or Waze to plot a course with no toll roads.)
Traveling with an infant or young child? Bring your own car seat—rental car companies typically charge $10 to $15 per day per child seat.
Stick with one driver. You may pay a fee, often up to $15 a day, to add additional drivers. At Alamo, Avis, Budget, Enterprise, Fox and Payless, spouses and domestic partners can be added as drivers free. In some states, including Illinois, Indiana, Iowa, Missouri, New York, Oregon, Texas, Utah and Wisconsin, that policy extends to all rentals. And by California law, there are no fees for any additional drivers.
Watch out for hidden fees
There are all sorts of hidden car rental fees, and you'll find them more often at discount agencies, warns Jonathan Weinberg, CEO of AutoSlash. Your best approach to avoiding them, he says, is to read the fine print on your rental agreement when you make a reservation and when you pick up your car. "If you notice at the counter that there's a difference in price, ask the agent why," he says. "The company may try to sneak in extra services, like roadside assistance, that you may not need."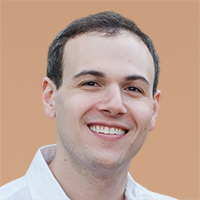 Contributing Writer, Kiplinger's Personal Finance
Daniel Bortz is a freelance writer based in Arlington, Va. His work has been published by The New York Times, The Washington Post, Consumer Reports, Newsweek, and Money magazine, among others.