Save Money With an Electric Car
Although some are still a pricey luxury, we found EVs that are fun, affordable and eligible for tax incentives.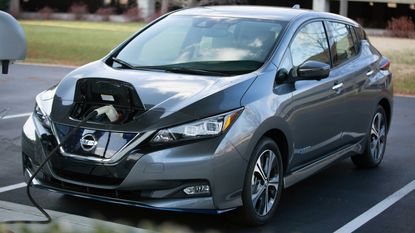 (Image credit: Courtesy Nissan)
People buy electric cars for all sorts of reasons—a common one is the I'm-so-green statement they make. In our polarized times, that message has met with backlash, even vandalism. But how about this for a reason to buy electric that plays to a fundamental American (and Kiplinger's) value: They can save you money.
That's can, not will. You'll have to align a number of variables to make the savings work. But the potential is there.
So, what are those variables? And what are the cars that fit the bill? And are they anything you'd want to actually, you know, drive? First, let's recap the qualities of electric cars you can buy now:
Subscribe to Kiplinger's Personal Finance
Be a smarter, better informed investor.
Save up to 74%
Sign up for Kiplinger's Free E-Newsletters
Profit and prosper with the best of expert advice on investing, taxes, retirement, personal finance and more - straight to your e-mail.
Profit and prosper with the best of expert advice - straight to your e-mail.
■ They all have excellent acceleration. Some are astonishingly fast.
■ They all cost less to operate on a per-mile basis than a similar vehicle with a gas engine.
■ Most cost more, new, than their gas-engine equivalents.
■ Although electrics are not truly "zero pollution," they are un­questionably greener than gas-powered cars.
■ Models that have greater range (between recharging) cost more money.
That last issue—range—has traditionally been the Achilles heel of the battery-powered electric. The smile you get while zipping about, saving the planet, fades quickly when there's 10 miles of range left in your battery and you're not sure where your next charge is coming from. Refueling a gasoline car is about as easy as finding a cup of coffee—you can even get picky about brand and price. Electricity, not so much. Recharging away from home requires thought, even if you're behind the wheel of a Tesla, which has access to a proprietary charging network. And having to pay more up front for greater range is simply not a thing with a gas car—virtually any one of them can travel farther on a tank of fuel than you can before needing to drain your own.
So, in our quest to make an electric car a money-saving proposition, range is one of the variables. Basically, once you've decided what sort of range you're willing to pay for (100 miles? 200 miles?), you've locked in that cost. And that's also how much money you could have paid for the gas-powered equivalent that will serve as your point of comparison.
Take the Chevrolet Bolt EV, for example. With 259 miles of range, this offering from General Motors is popular and oft recommended. Running the build-and-price option on the Chevy website puts one at $31,995 (reflecting a $6,250 incentive from the company). For comparison purposes, we can stick with Chevrolet. A front-wheel-drive Equinox crossover has the same number of doors and a similar amount of interior space. With an effort to keep trim and options similar to the Bolt, it goes for $28,235 (reflecting a smaller, $3,250 rebate).
That's a $3,760 premium for the electric. How do you recoup that? By paying less for fuel—er, energy. You'll probably pay less for maintenance and service, too, in the long run.
When's the payoff? To figure that out, you need to have a good grasp of the variables we mentioned earlier:
■ The fuel efficiency of your "gas equivalent" (such as the Equinox in our example).
■ How many miles your EV gets per kilowatt/hour.
■ What you pay for electricity at home.
■ Miles driven each year.
Time for some quick arithmetic (there are plenty of calculators available online to help you). For our Bolt-versus-Equinox matchup, using Maryland's average cost per kilowatt-hour of 13 cents, average $2.33 per gallon gas price (regular) and annual driving of 15,000 miles, the Bolt's "fuel" cost is $698 lower per year than the Equinox's. You'd recoup the price premium for the EV in a little over five years.
Are we oversimplifying? A bit. Because very few people are going to pay cash for a five-figure car, you must consider the cost of financing—as well as resale value, insurance and other metrics usually involved in car ownership.
A taxing calculation
One variable that can play significantly to an electric vehicle's advantage: tax benefits. The big one here is the federal tax credit of up to $7,500 that's available on many battery-powered electrics.
That's big money. It's almost double the difference in sticker price between our two Chevrolets. So why didn't we use it in our math? Because the tax credit is not available on any GM products—or, for that matter, Teslas. The credit was structured so that only the first 200,000 qualifying vehicles sold by any manufacturer would qualify for the full amount—the goal being to give carmakers an incentive to get started.
Furthermore, that's a federal tax credit, which means it's something you have to claim when you file your taxes. It doesn't come off the price at closing, like a manufacturer's rebate or money for your trade-in. And while tax credits are powerful stuff, lowering your liability dollar for dollar, the one for an EV isn't refundable—in other words, it won't give you back more than you owe. So if you buy a 2020 Hyundai Kona crossover (MSRP $37,190, range 258 miles) and the $7,500 credit you're eligible for exceeds your total federal tax liability, your tax bill goes to zero. That sounds pretty cool, sure, but it leaves some savings on the table.
Another twist: If you lease—which a number of experts we spoke with recommended as a smart option for an EV, given how quickly the powertrain technology (read: range) is evolving—then the tax credit belongs to the manufacturer, not you. It will probably be factored into your lease payments, according to Green Car Reports, a website aimed at the EV marketplace. Depending on whether you could or could not claim the whole credit based on your own personal finances, this could be a benefit to you.
Also note that there are a variety of state and regional tax rebates and promotions available. Some are straight-out money in your pocket. Check out https://plugstar.com/tools/incentives to see, by zip code, what's available to you. And some of the state and regional credits are also available on used purchases as well, which is not the case for the big federal tax credit. (For more on used electrics, see below.)
What to buy
Back to the cars: We've established a metric to calculate potential savings. We've told you that range costs money, and the question of how much is enough is one that only you can answer. Do you commute? Will this be your only car? How are you going to recharge it? At home? Will you need to pay the extra money for a fast charger there?
Generally speaking, then, a modestly priced EV is the right goldilocks call. Sure, you could get into a MINI Cooper Electric Hardtop for less than $30,000, but with only 110 miles of range, this is a Mama Bear bowl of cold porridge. Even a weekend out of town would require planning. The MINI is sort of the last model standing of the first generation of EVs from big manufacturers: a battery-electric drivetrain pasted into a gas-powered platform.
At the other extreme are the mind-blowers like the new Porsche Taycan and most of Tesla's offerings. Their performance is extraordinary, and their range is substantial. They might ultimately cost less per mile to operate than a gas equivalent, but c'mon. If you're buying an $80,000-plus car, that's just a rationalization. Too hot!
In addition to the Bolt and the Hyundai Kona we mentioned, the Kia Nero crossover ($39,090, 239-mile range), the Hyundai Ioniq hatch ($33,045, 170-mile range) and the Nissan LEAF ($32,545, 149 mile range/$39,145 for 226 mile range) all occupy the happy middle ground: decent range at a price that's around what Americans pay, on average, for a new vehicle (just under $39,000). All are still eligible for the full federal tax credit. The Nissan LEAF is also notable for being in production since 2010, undergoing evolutions that have significantly improved its range and other performance factors. Unlike a number of other early EV efforts, the LEAF was designed as an electric right from the start.
And where is Tesla? Selling a ton of cars, developing a cultlike following (both as a product and as a stock), getting a mountain of press (both good and bad) and generally doing things differently. What they're not doing—yet—is bringing to market an affordable vehicle. And by that we mean something that you can actually get into for less than the average new car transaction price. The Tesla Model 3, the best-selling electric yet (it displaced the LEAF), is the closest offering. In theory, you can order the most basic version of it, with 263 miles of range, for less than $40,000. But, no $7,500 tax credit here. None.
In September, Tesla CEO Elon Musk discussed having a $25,000 electric on the market in a few years. But then, Musk says a lot of things. Speaking of the future, any discussion of electric cars must include mention of models yet to come: On the horizon, pickup trucks from Tesla, Lordstown Motors and Rivian, and probably Ford and Chevrolet, too. An all-electric GMC Hummer even! Entries from volume manufacturers making a run at Tesla include the Ford Mach-E, a Mustang-inspired crossover SUV starting at $42,895 for 230 miles of range, and the Volvo XC40 Recharge ($53,990, with somewhere north of 200 miles of range; EPA certification hadn't been completed at press time). Curiously, Volvo is also involved with the Polestar brand, whose pricier, swoopier Polestar 2 shares some architecture with the XC40. VW's ID.4 crossover looks promising as well. But the world of electrics is fraught with delayed rollouts of "the next Tesla." Will any save you money? Wouldn't run the numbers until you can actually touch one.
Are used EVs a deal?
"Buy used" has been a good rule of thumb to save money on a car over the years (though there are exceptions). How well does it apply to electric vehicles?
That depends a bit on your goals. If your interest is in having an electric car because you want an electric car, maybe. If your goal is simply to have a second set of wheels on the cheap, electrics can be a smoking deal (if you'll pardon the pun).
Either way, you've got homework to do. First, just as with buying an electric vehicle new, you have to make peace with the fact that battery-only EVs have their own challenges to go along with their rewards—chief among them the limited range between recharges they offer. Buying used exacerbates that problem, because a used electric isn't going to have the absolute latest in battery technology (it's not new, after all) and because the actual battery installed in whatever you're considering is also used. All those recharge cycles compromise maximum range. (Think about how your phone or laptop behaves over time.)
The other big thing to consider when buying an EV used is that the most rewarding tax incentives and rebates aren't available. You may be eligible for a federal tax credit worth up to $7,500 on some electric and hybrid vehicles, but not when bought used. State and local incentives might be available for the used shopper (particularly on the home recharging stations you'll want), but you'll need to check carefully. We recommend looking at https://plugstar.com/tools/incentives.
But the incentive landscape is one reason that prices on used EVs are so tantalizingly low. You can get into a 2017 Nissan LEAF, for example, for about $10,000. (That's a huge drop for a car that sold new for more than $30,000.) And that's just the start of the savings, because you're now taking ownership of the vehicle at the time when an electric's lower maintenance and service costs really come into play. A recent study by Consumer Reports found that service and maintenance costs for EVs were half those of gas vehicles over the life of a vehicle (one big reason: they have far fewer moving parts). But during the first three years or so of car ownership, factory-provided warranties and maintenance packages can blur the comparison.
Between that and the fact that using electricity instead of fossil fuels is virtually always going to be more cost-effective, a used electric could be one of the cheapest ways to put reliable wheels under you. Karl Brauer, executive analyst at iSeeCars.com, points to his personal experience with a Fiat 500e. "There's no cooling system. There's no oil changing. There's no transmission servicing. The car has almost no parts that can really break or even need to be serviced. So if you're looking for a runabout car, with about 50 to 60 miles max daily use, and you have access to an outlet to plug in, you can spend your $8,800 on a used Fiat 500e and essentially drive it around for free, except for insurance. And a slightly increased electric bill every month."
But while EVs hold a cost advantage in service and maintenance, battery life remains a worry for buyers, in part because the degree of deterioration (which would reduce range) is hard to determine. Manufacturers have the tools to test battery condition, but these devices are expensive and generally out of reach for independent resellers or the local mechanic you'd look to for a pre-purchase inspection of any used car.
Ronald Montoya, senior consumer advice editor at Edmunds.com, has written extensively about the pros and cons of used EVs. His counsel: Have faith in the long warranties (at least eight years or 100,000 miles) that cover EVs' battery and powertrain systems. "I think the easiest thing I could say is, the newer, the better," he says. "So don't find something that's five years old. Try to stick with maybe a two- to three-year-old vehicle. That would be the sweet spot."

Former Senior Online Editor
In his former role as Senior Online Editor, David edited and wrote a wide range of content for Kiplinger.com. With more than 20 years of experience with Kiplinger, David worked on numerous Kiplinger publications, including The Kiplinger Letter and Kiplinger's Personal Finance magazine. He co-hosted Your Money's Worth, Kiplinger's podcast and helped develop the Economic Forecasts feature.