Financial Topics Safe for This Year's Christmas Dinner
Talking about money over a Christmas ham may be less stressful than getting into politics or social issues this year. Here are some possibilities to get the ball rolling.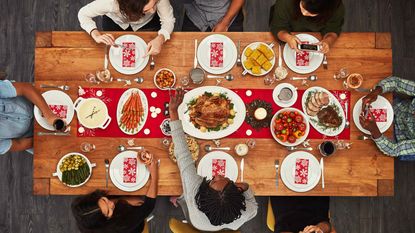 (Image credit: Getty Images)
Coronavirus? Politics? Whether or not your Uncle Joe will ever get a job?
There are always some topics of conversation you would rather avoid at the family dinner table this Christmas, and the past two years have thrown some doozies into the mix. This may be your first family holiday after an extended period of social distancing, so there could be some interesting developments. Holiday gatherings and family dynamics can be movie worthy, from comedies to downright horror shows. So, it might be helpful to do a little planning in advance to help keep the conversations positive and the mood festive.
Financial topics can be on the touchy side of some family dynamics, but this year there are many financial subjects you can amiably navigate. And some of these neutral zone areas might be just the right distraction from comments about Aunt Dotty's third helping of fruitcake.
1/5
Gratitude, it applies to finances as well
It is easy to get so caught up in the logistics of decorating, shopping and wrapping gifts that you forget to focus on what the holiday is all about. Christmas, like Thanksgiving, is a natural time to count your blessings, and that includes being mindful of what you already have. Even if it is not your family tradition to have everyone go around the table and say what they are thankful for, you can quietly do this for yourself.
From a financial perspective, being grateful for what you already have can reduce stress, and allow you to avoid spending traps that come with Black Friday, Cyber Monday and finally after-Christmas sales. A focus on gratitude can shift your attention to what you have rather than what you are lacking. It may also help you to commit to your long-term goals, focusing, for example, on the value and importance of saving to buy your first home or meeting your retirement savings goals.
2/5
Celebrate financial wins
Financial accomplishments are always worth celebrating, but they are especially sweet after the challenges of the last year and a half. While many Americans faced financial hardship during the pandemic, others were able to take advantage of a forced reduction in spending. Whatever you were able to accomplish, small or large, take a moment to recognize what you achieved. Maintaining employment, not getting behind in bills, refinancing a home … all are wins.
A year into the pandemic, more than half (53%) of Americans said that their financial situation had improved when compared to the previous year, according to the Pew Research Center. Why not take some time at the Thanksgiving table to recognize the financial goals that you and your family members realized this year? If family members were able to increase their 401(k) contribution or purchase a home over the past year, that is an accomplishment worth recognizing. And for kids who were at home and had some extra time to help neighbors or pick up odd jobs, they can join in with their stories as well.
Such celebrations can be a motivation for family members who have had success to keep it up — and inspiration for those who need a push to get started.
3/5
Charitable giving
The holiday season is a wonderful time to discuss end-of-year charitable giving plans of either individual members or the family. As in last year, you can get a deduction for charitable contributions made in 2021, whether you itemize or not, and if you do itemize, the contribution limit is higher than usual — you can deduct up to 100% of your adjusted gross income for donations to qualified philanthropies. This includes donating used cars, especially important right now as there are fewer used cars available in the market. Your used car this year may have more donation value than you think.
If your portfolio benefited from the stock market gains of the past year, you may have another tax-smart option for charitable giving. By donating appreciated stocks to a charity, you can deduct the current value of the securities without having to pay capital gains on their appreciation.
Finally, family members over age 70½ might consider donating some of their required minimum distributions. You can give up to $100,000 directly from your IRA or workplace retirement account to charity without owing income taxes on the withdrawal.
4/5
Referrals for financial planners
If you have financial goals with which you could use professional guidance, use this time with your family to ask whether they can recommend a financial planner who can help. Just as you might ask your family for recommendations on the best new restaurants or a trusted doctor, getting a referral for a financial adviser can be invaluable.
Of course, once you get a few names, you will want to do your own homework to make sure that adviser is a good fit. Look for someone who has experience working with clients who have a similar financial situation to yours. It is also essential to understand how they get paid, and whether they offer the services that you need.
5/5
Estate planning
While this one might be better suited for after you have left the dinner table, holiday gatherings are a great opportunity to discreetly check in with family members on estate plans. This can be an uncomfortable topic for some, but the pandemic has also reminded many of us of our own mortality and could mean family members are more amenable to having this important conversation. Especially if someone volunteers what they have done to be better prepared for the unexpected.
Having an estate plan in order means that your family member can rest assured their wishes will be carried out in a worst-case scenario. At a minimum, an estate plan should include a will, health care directives and a health care proxy, and financial power of attorney. Those who want or need to provide additional financial support to loved ones might also consider a life insurance policy.
Having financial conversations does not have to be awkward, especially if you stick to broad topics, like those above. The more you talk about money as a family, the more comfortable you will be discussing it going forward, which means you can tackle more difficult money conversations in the future. And who knows, Uncle Joe might leave the gathering this year and be inspired to get that job.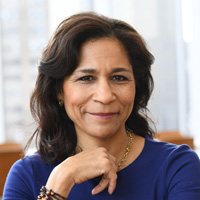 President of Prudential Individual Life Insurance, Prudential Financial
Salene Hitchcock-Gear is president of Prudential Individual Life Insurance, a business unit of Prudential that offers competitive solutions to meet the needs of consumers through the manufacturing and distribution of a diverse portfolio of life insurance products. An insurance industry veteran with more than 30 years of experience, Hitchcock-Gear joined Prudential in 2017 as chief operating officer of Prudential Advisors, the Company's national sales organization with more than 3,000 financial professionals, advisors and fee-based financial planners who offer clients a broad range of financial solutions. She became president of the Individual Life Insurance business in 2018.