37 Ways to Earn Up to 9% Yields on Your Money
Our field guide to income investments of varying dividend yields and interest rates identifies opportunities ranging from ordinary to downright exotic.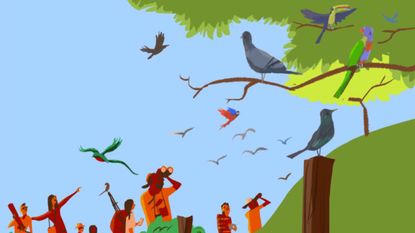 (Image credit: Illustration by A. Richard Allen)
Early 2022 was a period most investors would prefer to forget. Stocks slumped, and the bond market suffered its worst rout in more than 40 years. There was no shortage of culprits: soaring energy prices, rising inflation, higher interest rates and new geopolitical risk in the form of the horrifying war in Ukraine.
Moreover, the Federal Reserve Board, which underestimated the extent of the inflation challenge, is swiftly pivoting to a hawkish monetary policy.
"The Fed is laughably far behind the curve," says Spenser Lerner, head of multi-asset solutions at Harbor Capital Advisors. He expects the central bank to jack up the federal funds rate (the rate that banks charge each other for overnight loans) from a current 0.25%-to-0.50% target range (as of mid-April) to at least 2.75% by 2023.
At the same time, the Fed will flip from the massive bond-buying program known as quantitative easing, which it favored during the COVID-era economy, to quantitative tightening. That means shrinking its bloated balance sheet by tens of billions of dollars each month by letting some of the bonds it holds mature without replacing them, or even selling them into the market.
How quickly central bankers can tame inflation – and whether they send the economy into a recession in the process – is a topic of lively debate.
Yet market turbulence has tossed up some interesting opportunities for income-starved investors. Particularly at the short end of the (remarkably flat) yield curve, yields are becoming respectable for the first time in at least a couple of years (interest rates on short-term IOUs have moved up briskly in anticipation of looming Fed rate hikes).
Weaker stock prices combined with strong corporate earnings and dividend increases have created some opportunities in income stocks. Shares of closed-end funds (CEFs) are selling at steeper discounts to the value of the assets in their portfolios, due to market volatility. Energy shortages and surging prices have made oil and gas pipelines – including master limited partnerships (MLPs) – a hot sector again.
Our guide will help you identify attractive income-producing investments in eight different categories, extending from fairly ordinary securities to ones that are more on the exotic side, with a range of risk levels and dividend yields/interest rates to match. Before you embark on your quest for income, keep a few considerations in mind. Prior to investing, you should have a plan in place that stipulates appropriate long-term portfolio allocations. Everyone's situation is different, but generally you should ensure that you have enough cash or cash equivalents on hand to cover at least six months to a year of living expenses before investing in risky assets such as stocks and high-yield bonds.
Disclaimer
Prices, yields and other data are through April 8. But be aware that because of the rapid increase in rates this year, yields – particularly for bond funds – are a fast-moving target.