Credit, Debit or Cash?
Each method has pros and cons. Your best bet is to stay flexible.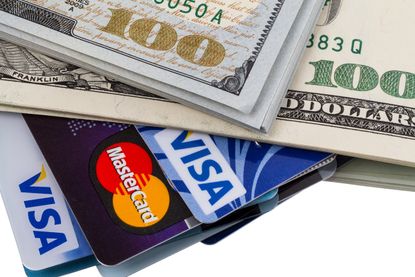 (Image credit: ra3rn)
Money has a long and diverse history. Several millennia ago, cattle and other livestock served as currency. Later, cowrie shells—from mollusks found in the Indian and Pacific oceans—were traded far and wide, from transactions in ancient China to the Atlantic slave trade. North American colonists briefly paid for goods and services with wampum—strings of beads that Native Americans crafted from clam shells.
These days, your payment options usually boil down to paper or plastic: hard cash or a check, or a credit or debit card. With newer technologies, you can link your payment accounts to an app, allowing you to pay with your smartphone or, say, split the dinner check by sending money to a friend. Most people pack a range of options. A study by ATM operator Cardtronics (opens in new tab) found that 85% of consumers used at least two payment methods each month, and 55% used at least three.
To help you make the most of different ways to pay, we've outlined the benefits and the pitfalls of each. With payments becoming more complex and varied, you have a lot to consider. But at least you don't have to stuff your wallet with squirrel pelts or tobacco—two other payment methods found in the history books.
Subscribe to Kiplinger's Personal Finance
Be a smarter, better informed investor.
Save up to 74%
Sign up for Kiplinger's Free E-Newsletters
Profit and prosper with the best of expert advice on investing, taxes, retirement, personal finance and more - straight to your e-mail.
Profit and prosper with the best of expert advice - straight to your e-mail.
The Credit Card Advantage
For disciplined spenders, credit cards have the edge. A big plus is the potential to earn hundreds—or even thousands—of dollars in rewards each year (see Master the Rules of Credit Cards to Maximize Your Rewards). With the no-fee Citi Double Cash (opens in new tab) card, for example, you get 1% cash back when you make a purchase and an additional 1% when you pay the bill, for a total of 2%, on everything you buy. Other cards offer bigger rewards for spending in certain categories. The American Express Blue Cash Preferred (opens in new tab) card ($95 annual fee) pays 6% cash back on up to $6,000 in supermarket purchases yearly, 3% on money spent at gas stations and select department stores, and 1% on everything else. Frequent travelers may choose to use cards that earn points or miles that are redeemable toward flights, hotel stays and other travel-related purchases. (For more of our favorite rewards cards, see Best Rewards Credit Cards)
If a thief gets ahold of your credit card or card data, you have stronger legal protections than with a debit card. Your liability is capped at $50. And card networks American Express, Discover, MasterCard and Visa all have zero-liability policies that protect credit card holders in case of fraudulent purchases. If you report any credit card lost or stolen before any unauthorized charges appear, or if only the card number—but not the physical card—is stolen, you'll have no liability. If you find an error on your credit card bill—say, a duplicate charge or one for an item you never received—you have the right to dispute the charge and withhold payment on it until the card issuer resolves the case.
The downsides. If you don't pay your bill in full, interest will kick in—typically on any unpaid portion of the balance. And in the next billing cycle, you'll incur interest on new purchases starting on the date you make them. Sometimes you'll pay additional fees if you use a card. If you pay your federal income taxes with a card, you'll pay an extra 2% to 4% of the bill because the IRS uses third-party processors. Retailers may pass on fees of up to 4% to customers who use Visa or MasterCard, as long as such businesses clearly post their policy and don't run afoul of laws in several states that prohibit the practice. Plus, if you pay your credit card bill late, you could be hit with a penalty as high as $38. (Late payments also hurt your credit score.)
If you think you'll lose control of your spending with a credit card, consider keeping one around and using it, say, only for gas or other regular purchases that don't tempt you to overspend. A history of on-time payments on a credit card helps boost your credit score—and a high credit score qualifies you for the lowest interest rates on mortgages and other loans.
The Discipline of Debit Cards
If you like the convenience of paying with plastic but prefer to spend within the limits of your bank balance, you probably tend to reach for your debit card when you're at the register. And when you pay with a debit card (as with a credit card), you can track your spending by eyeballing your monthly statement.
Some checking accounts pay an enticing interest rate on the balance, as well as refund out-of-network ATM surcharges if you use your debit card several times a month and meet other requirements. With the UltimateAccount from Northpointe Bank (opens in new tab), you'll earn 5% on a balance of up to $5,000 if you make 15 debit card purchases monthly totaling $500 or more, receive electronic statements, and have a monthly direct deposit or withdrawal of at least $100. Plus, the account refunds up to $10 a month in out-of-network ATM fees. The Free Rewards Checking account from Consumers Credit Union (opens in new tab) (Illinois) yields up to 4.59% on a balance of up to $20,000 if you use your debit card 12 times monthly at the register (you have to sign rather than enter a PIN to verify the purchase) and meet a few other requirements. All ATM fees are refunded. To search for other accounts that are available to you locally and nationally, visit www.depositaccounts.com (opens in new tab).
Many institutions halted their debit rewards programs years ago, and the programs that remain aren't typically as lucrative as those offered by the best credit cards. But it's worth checking whether your bank offers discounts at certain merchants or points for money you spend using your debit card. Some independent services allow you to link to your debit card to earn rewards. Enroll any American Express, MasterCard or Visa debit card or credit card in Thanks Again (opens in new tab) and you'll earn one point per dollar when you use it at eligible airport merchants, restaurants and parking facilities. Points are convertible to participating loyalty programs, including American Airlines AAdvantage (opens in new tab), Hilton HHonors (opens in new tab), Southwest Rapid Rewards (opens in new tab) and United MileagePlus (opens in new tab). You can also link an American Express, MasterCard or Visa debit or credit card with Fuel Rewards (opens in new tab). When you spend a specified amount on your card at participating restaurants and merchants, you'll get a discount on gas at eligible Shell stations. For every $50 spent on dining, for example, you'll get 10 cents off per gallon. And just for being a member, you'll get at least 3 cents off per gallon every time you fuel up.
The downsides. Legally, debit cards have weaker fraud protections than credit cards. Your liability is capped at $50 in unauthorized charges if you notify your bank within two business days of learning that your debit card has been lost or stolen, but you could be on the hook for up to $500 if you report a missing card after those two days have passed. And if you wait more than 60 calendar days after your statement is sent, you could possibly be responsible for all the money stolen from your account.
If you report a missing debit card before any suspicious charges appear, you'll have no liability. And if your card number, but not the card itself, is used fraudulently, you won't be responsible for unauthorized charges if you contest them within 60 days of the statement containing them being mailed to you.
In practice, your bank will likely refund any unauthorized charges as long as you notify it promptly of a lost or stolen debit card. But you may have to wait several days to get the money back in your account.
It's tempting to spend more than you have in your checking account if you enroll in overdraft protection, and the fees can be ugly, at a median $30 a pop if the bank covers the overdraft for you, according to economic-research firm Moebs Services (opens in new tab). Arranging an automatic transfer of money from savings to checking in case of overdraft can also incur charges of as much as $15 per transfer. (If you have no overdraft protection, merchants will decline your debit card.)
Cash Is Still King
Although the use of cash declined from 40% of consumer transactions in 2012 to 32% in 2015, it's still the most frequently used payment method at stores, according to a study by the Federal Reserve Bank of San Francisco. That's especially true for transactions of less than $10.
Cash is the ultimate budgeting tool because once it's gone, it's really gone. "It is very hard to fully comprehend the amount of money you are spending when you never physically possess it," says Robert Solimano, a certified financial planner and founder of Angel Oak Financial Services (opens in new tab). He counsels young clients to use cash whenever possible, "so that they may feel the pain of actually being separated from the money they earn."
Many in the under-40 set are happy to oblige. The San Francisco Fed study found that the 18-to-34 age group preferred cash more than older age groups. And a study from TD Bank shows that 44% of millennials aren't using credit at all, with some citing concerns about racking up debt with a credit card.
Paying with cash could earn you a discount. Merchants are charged fees each time you use a credit or debit card, so some smaller retailers charge less to customers who hand over cash. Some gas stations, for example, shave off a few cents per gallon of gas if you make a cash payment.
The downsides. The average fee for withdrawing cash from an ATM outside of your bank's network—including the charge from the ATM's operator as well as one from your own bank—has hit a record high of $4.57, according to a survey from Bankrate.com (opens in new tab). If you frequently pay with cash, you'll benefit from using a bank that has a wide network of ATMs in your area or that reimburses fees for out-of-network ATM with­drawals. Online banks tend to have more-generous reimbursements than big national banks. Ally Bank (opens in new tab), for example, reimburses up to $10 a month in ATM fees with its free Interest Checking account, which yields up to 0.6%, depending on the balance. Cash is immune to the data breaches that plague credit card users. But remember, if your credit or debit card is hacked or goes missing, you have liability protections. Lose a wad of cash and you will probably never see it again.
The Prepaid Option
A prepaid debit card, unlike a traditional debit card, is not tied to a checking account. But many prepaid cards offer similar functions, such as direct deposit and the ability to make purchases, pay bills and withdraw cash at the ATM. A prepaid card that carries no overdraft option may be a good choice if you have trouble staying within a spending limit. The fees can add up, though, with some cards levying monthly and cash-reload fees, plus other charges. We like Bluebird by American Express & Walmart for its combination of low fees and handy features.
Starting in October 2017, prepaid cards will be subject to federal rules that require clear disclosure of account terms, limit the fees and interest associated with an overdraft line of credit, provide timely dispute resolution, and limit fraud liability (including a $50 liability cap for customers who report a lost or stolen card within two days of learning that it has gone missing). The regulations affect other electronic prepaid accounts, too, including some mobile wallets and peer-to-peer payment apps.
Peer-to-Peer Payments: Alternatives to Cash
Cash may be your first choice to pay the babysitter or reimburse a coworker for picking up the tab at lunch. But peer-to-peer payment tools, such as Square Cash, PayPal and Venmo (owned by PayPal), have made strides in mimicking the speed and ease of moving plain old cash. And in some ways, they're more convenient: You can zap money to your sister on the other side of the country without pulling out your checkbook. Typically, you'll need the recipient's e-mail address or phone number to send money, and he or she will have to be comfortable sharing account information with the app.
Depending on the service, you may have a choice of linking directly to your bank account, debit card or credit card or transferring money from your bank account to be stored by the service until you're ready to use it. Square Cash and Venmo charge 3% of the amount sent if you use a credit card, and PayPal charges 2.9% plus 30 cents if you send money with a debit or credit card.
Banks have joined forces, too. Several institutions that belong to the ClearXchange network—including Bank of America, Capital One 360, Chase, U.S. Bank and Wells Fargo—allow customers to send and receive money instantly with their bank accounts. In 2017, the consortium is rebranding its network with the name Zelle, which will come with a stand-alone mobile app. Anyone with a U.S. checking or savings account can receive money, and Zelle has agreements with Visa, MasterCard and other networks to open more avenues for banks to participate.
Contributing Editor, Kiplinger's Personal Finance
Lisa has spent more than15 years with Kiplinger's Personal Finance and heads up the magazine's annual rankings of the best banks, best rewards credit cards, and financial-services firms with the best customer service. She reports on a variety of other topics, too, from retirement to health care to money concerns for millennials. She has shared her expertise as a guest on the Today Show, CNN, Fox, NPR, Cheddar and many other media outlets around the nation. Lisa graduated from Ball State University and received the school's "Graduate of the Last Decade" award in 2014. A military spouse, she has moved around the U.S. and currently lives in the Philadelphia area with her husband and two sons.