Time to Change Your Credit Card Now to Bag Huge Bonuses
With credit card rewards payouts, make your plastic pay you.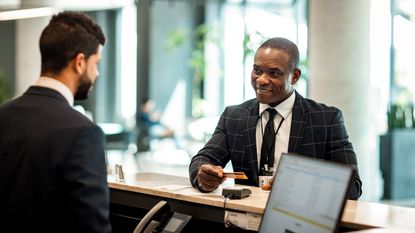 (Image credit: Getty Images)
This article only highlights the American Express Green Credit Card. We may get compensation if you visit partner links on our site. We may not cover every available offer. Our relationship with advertisers may impact how an offer is presented on our website. However, our selection of products is made independently of our relationship to advertisers.
Do you enjoy throwing money down the drain? I think we all know the answer, but if you pay off your credit card in full each month and it's not a rewards credit card, you are almost certainly missing a serious money-making trick.
Right now, some banks are falling over themselves to throw money at new customers to take out a rewards credit card with massive intro bonuses on top of regular ongoing rewards.
Subscribe to Kiplinger's Personal Finance
Be a smarter, better informed investor.
Save up to 74%
Sign up for Kiplinger's Free E-Newsletters
Profit and prosper with the best of expert advice on investing, taxes, retirement, personal finance and more - straight to your e-mail.
Profit and prosper with the best of expert advice - straight to your e-mail.
So why continue to accept a card that is giving you nothing back? I recently made a clarion call for savers to take advantage of rising rates and switch, and now I'm making a similar call to credit card holders, too.
American Express' $800 bonus
The recent highlight is the American Express® Green Card , which is paying newbies a 60,000 points bonus (typically worth $600) for those who spend $3,000 in the first three months. Plus, new cardholders can earn 20% back (up to $200 as a statement credit) on eligible travel and transit purchases made during your first 6 months of Card Membership. That's up to $800 bonus value in exchange for a $150 annual fee.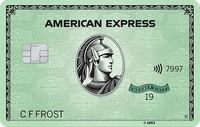 American Express® Green Card Variable rewards
This is a solid travel rewards card, offering three points per dollar spent on travel, transit and restaurants. The card recently upped its welcome bonus to 60,000 points (typically worth $600), plus you can earn up to $200 cash back on certain travel and transit purchases. See rates and fees.
Intro bonus: Earn 60,000 Membership Rewards® Points after you spend $3,000 on purchases on your new Card in your first 6 months of Card Membership. Plus, earn 20% back on eligible travel and transit purchases made during your first 6 months of Card Membership, up to $200 back in the form of a statement credit.
Interest rate: 20.99% to 28.99% variable APR
Annual fee: $150
Foreign transaction fee: None
Rewards: Earn three Membership Rewards® points for every dollar spent on travel and transit (airfare, hotels, cruises, tours, car rental, campgrounds, vacation rentals, trains, taxis, rideshares, ferries, tolls, parking, buses and subways). Also earn three points for every dollar spent on eligible dining, including takeout and delivery in the U.S.
Airport Security Clearance: Receive up to $189 per calendar year in statement credits when you pay for your CLEAR Plus membership (subject to auto-renewal) with the American Express® Green Card.Oth
Other Travel Benefits: Trip delay insurance up to $300 for certain expenses on a round-trip ticket paid for exclusive with your card - see terms for limitations; plus get a $100 annual statement credit toward LoungeBuddy, and app that helps you gain access to travel lounges
Redemption: There is no option for cash back; the greatest value comes from booking travel with points, and from the many discounts and other perks
Terms apply
Other American Express credit cards also provide substantial bonuses to new cardmembers. For a summary of the Green, Gold and Platinum cards, check out American Express Credit Cards: The Best Pick for You.
Why a reward credit card makes sense
Recent figures released by American Bankers' Association show just over half of Americans with a credit card carry a balance over every month, which means they aren't paying it off in full and therefore are paying interest.
If you cannot pay off a credit card in full, then a reward credit card is not right for you. You are better off with a balance transfer credit card so you move it from a high-interest card to one at 0% interest. There's little point in a rewards credit card in that scenario as over time the interest will dwarf any gain from the reward.
Yet if you can or do pay off your card in full each month then a rewards credit card is a no-brainer as you are effectively being paid to spend. You can choose between a cashback credit card that pays money into your account or one that gives you points or vouchers.
I should add that a rewards card isn't an excuse to spend on stuff you can't afford or don't need just to gain the reward, otherwise it's a false economy. Instead, just put all your normal spending on it, which is easier these days with fewer and fewer places accepting cash.
I've been using rewards credit cards for years, mainly to amass airline miles. I put all my normal spending on one, and I've chopped and changed to snag intro bonuses, as has my wife, which means we've managed to travel across the world in business or first class, paying less in cash each time than we would have for an economy ticket.
How credit cards work
It's this simple: you spend on the card, pay it off in full each month so there is no interest, and you get your reward usually monthly or annually depending on the conditions. It's free money if you do it right.
I should add that credit cards are like fire. They're a great tool if used correctly, but they can burn you if you use them badly. A bad use of a rewards card would be to pay the fee and not spend, meaning you get nothing back, to buy stuff you cannot afford, to not to pay it off in full, or to miss payments, which means interest, possible charges and a hit to your credit score.
---
As an independent publication dedicated to helping you make the most of your money, the article above is our view and is not the opinion of any entity mentioned such as a card issuer, hotel, airline, etc. Similarly, the content has not been reviewed or endorsed by any of those entities.
Guy has extensive experience in personal finance journalism having joined Future (Kiplinger's parent company) after 13 years at MoneySavingExpert.com, most recently as deputy editor, and working closely alongside Martin Lewis. He has also worked at the Daily Mail as a personal finance reporter and his work has appeared in The Sun, Guardian, Observer, Mirror and other national newspapers. As a money and consumer expert, Guy is a regular guest on TV and radio – appearing on BBC News, BBC Radio 4, Sky News, ITV News and more.