Savings Rates of 5%+: It's Time to Switch
Returns on deposit accounts are rising, so should you take advantage?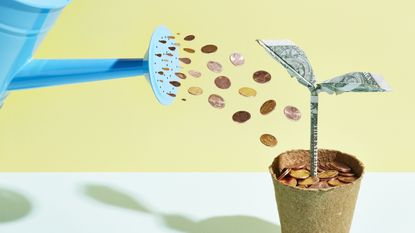 (Image credit: Getty Images)
Many people scoff at the idea of seeking out the best savings accounts as we have got used to them paying miserly returns. Millions of people across the globe leave their emergency funds or spare money in current accounts paying no interest or in old savings accounts that pay close to nothing.
However, I want to fly the flag for the growing army of switchers in so many countries who are now seeking out the best rates, as right now it can make a big difference.
While I cannot tell you whether to save or invest, as that's a personal choice based on a number of factors, what I will say is that if you are a cautious investor, then I would certainly be considering guaranteed returns of about 5%, which you can find on the the best CDs, best high yield savings account or best money market accounts.
Subscribe to Kiplinger's Personal Finance
Be a smarter, better informed investor.
Save up to 74%
Sign up for Kiplinger's Free E-Newsletters
Profit and prosper with the best of expert advice on investing, taxes, retirement, personal finance and more - straight to your e-mail.
Profit and prosper with the best of expert advice - straight to your e-mail.
Before we go on, check out our tool in partnership with Bankrate below, which lists the best CD accounts.
Of course, the ability to make good money switching only applies if you have penalty-free access to your cash.
Can you make $1,000s switching your savings?
At 5% returns, for every $1,000 you have, you are earning about $50 per year, which is not to be sniffed at when you look at recent averages. If you have $100,000, that's another $5,000 per year, which could pay for a vacation or an upgrade to your home.
I have recently moved my savings around to take advantage of higher rates and I would encourage others to do the same as otherwise you are throwing money away. Switching can take as little as a few minutes and if that can earn you hundreds - or even thousands - more per year, I'd say that's a few minutes well spent.
While I've been playing the savings merry-go-round for the past decade even in a low-interest rate environment, I accept I am an exception given I am a personal finance journalist, so this is my bread and butter, and not everyone would have taken the time to do so for far smaller gains than today.
In fact, I wouldn't have written this sort of article a year ago with so much gusto when rates were so much lower, which reduced the incentive to switch and made savings look less attractive versus the best investments. Having done this sort of job for close to 20 years, this is the most exciting time I can remember for the savings market as we are coming out of the doldrums and into the light.
Yes, I really did put "savings" and "excitement" in the same sentence, because for us personal finance nerds it is an exciting time.
Could savings rates go even higher?
There is a chance rates could improve further if the Federal Reserve hikes interest rates yet again next week to combat inflation, though with all the turmoil surrounding bank collapses, and the insistence from some quarters that accelerating rate rises contributed to the problems, that is all still up in the air.
While a Fed rate hike doesn't guarantee a rise in savings rates, banks tend to at least roughly follow the Fed's trajectory, so you'd expect some upward movement.
Of course, you can't control what the Fed does, nor what is happening in the wider economy, but you can control how hard your money is working for you to some extent, so I say it's time to become a savvy saver.
Guy has extensive experience in personal finance journalism having joined Future (Kiplinger's parent company) after 13 years at MoneySavingExpert.com, most recently as deputy editor, and working closely alongside Martin Lewis. He has also worked at the Daily Mail as a personal finance reporter and his work has appeared in The Sun, Guardian, Observer, Mirror and other national newspapers. As a money and consumer expert, Guy is a regular guest on TV and radio – appearing on BBC News, BBC Radio 4, Sky News, ITV News and more.