Will Savings Rates Go Up in 2023?
Savings rates have been rising steadily since March 2022, and are expected to rise through 2023. Should you switch now?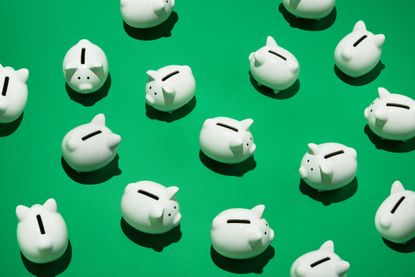 (Image credit: Getty)
To combat inflation, the Federal Reserve has been continuously hiking interest rates in an attempt to drive spending down as consumers realize higher commercial interest rates on mortgages, credit card APRs and other loans. The Fed raised interest rates Wednesday by 0.25%, which means savings rates are expected to increase, too.
There is a silver lining, however — as the federal funds rate increases, interest rates on high-yield savings accounts and CDs typically do too. Offering a high APY (annual percentage yield) on accounts is an effective way for banks to compete for customers and attract deposits. Savings interest rates have been steadily rising since March of last year, and will likely continue to do so throughout 2023, meaning even more return on your cash.
Savings rates expected to peak in 2023
Currently, interest rates are higher than they have been since 2007. And, although inflation is easing, the Federal Reserve will likely continue to raise rates even after its latest 0.25% hike — which brought it to a range of 4.75% to 5%.
Subscribe to Kiplinger's Personal Finance
Be a smarter, better informed investor.
Save up to 74%
Sign up for Kiplinger's Free E-Newsletters
Profit and prosper with the best of expert advice on investing, taxes, retirement, personal finance and more - straight to your e-mail.
Profit and prosper with the best of expert advice - straight to your e-mail.
Bankrate (opens in new tab) predicts the federal funds rate will increase to around 5.25% in 2023. As a result, savings rates are expected to rise as well, with more high-yield savings accounts predicted to peak at 5.25 APY in the middle of this year, and many already surpass 4%.
Our new comparison tool — in partnership with Bankrate — will help you find the best rates available now.
How to find the best savings rates
Compare high yield rates online: Online banks typically offer more generous APYs on savings accounts, so banking online could help you get the best savings rate possible. So, changing from your traditional savings account at a brick-and-mortar bank to an online one might be a good option.
Avoid teaser rates and tiered interest rates: Teaser rates are promotional rates banks use to attract new customers, but these rates are typically short-lived. Tiered interest rates pay a different yield based on the balance in your account, but if you plan on using your savings at some point, opting for an account with a flat APY is likely a better choice.
Take into account any fees: While high-yield savings accounts do offer higher than average APY on deposits, some have strings attached. Some high-yield accounts will have fees or balance requirements that could potentially decrease their overall value, so it's important to consider this to find the best options.
Here are some of the best high-yield accounts for March 2023, per Bankrate.
UFB Direct: 5.02% APY $0 minimum opening deposit $10 monthly fee if less than $5,000 is in the account
Popular Direct: 4.40% APY $5,000 minimum opening deposit No monthly fee
MySavingsDirect: 4.35% APY $1 minimum opening deposit No monthly fee
Bask Bank: 4.45% APY $0 minimum opening deposit No monthly fee
Should you switch?
Switching to a high-yield savings account could be a good idea, as fed rates are predicted to increase in 2023. These interest rate increases, although smaller than most of 2022's increases, will likely see accounts boosting their APY.
However, it's probably smarter to act now rather than wait. As inflation rates begin to decrease, rates could also level off or decrease, although that is likely to take some time. According to the policy-setting Federal Open Market Committee (opens in new tab), inflation will fall to 3.1% in 2023, 2.5% in 2024 and 2.1% in 2025.
Related Content
Erin pairs personal experience with research and is passionate about sharing personal finance advice with others. Previously, she was a freelancer focusing on the credit card side of finance, but has branched out since then to cover other aspects of personal finance. Erin is well-versed in traditional media with reporting, interviewing and research, as well as using graphic design and video and audio storytelling to share with her readers.