How to Keep Your Savings Safe
If you want to keep your savings safe, you may have to open multiple accounts in order to keep your cash FDIC and NCUA insured.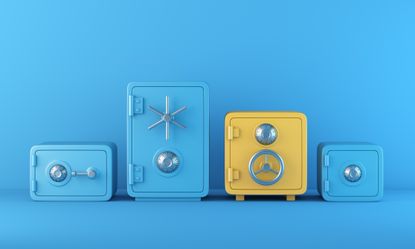 (Image credit: Getty)
Whether you've come into a large financial windfall or you've built wealth through disciplined saving, it's important to make sure your money is protected from potential failings at your financial institution. Especially in the aftermath of recent bank failures, including both Silicon Valley Bank and Signature Bank's collapse, keeping your savings safe has been at the front of many people's minds.
The Federal Deposit Insurance Corp. (FDIC) insures bank deposits for up to $250,000 per depositor or $500,000 for joint accounts per bank. The National Credit Union Administration (NCUA) — also a federal agency — has a similar program with the same coverage limits that insures deposits in credit unions.
Therefore, if your savings are greater than the $250,000 limit, not all of your cash will be safe. For some, surpassing this $250,000 limit may seem like a pipedream, but you could, for example, find yourself in a position where you've just sold a property and have more than the insured limit in one account. Plus, any yields on savings accounts that take your deposit over $250,000 will not be covered either.
Subscribe to Kiplinger's Personal Finance
Be a smarter, better informed investor.
Save up to 74%
Sign up for Kiplinger's Free E-Newsletters
Profit and prosper with the best of expert advice on investing, taxes, retirement, personal finance and more - straight to your e-mail.
Profit and prosper with the best of expert advice - straight to your e-mail.
If you're concerned about keeping all of your funds federally insured, one option is to open multiple checking or savings accounts to split your money between.
Even if your first priority is security, you'll also want to get the highest interest rates on your savings — which can sometimes be a challenge. Luckily, in partnership with Bankrate, we have a useful tool below that will help you find the best rates that are also FDIC or NCUA-insured.
MaxMyInterest.com can help you manage your savings, spreading your cash among high-yield savings accounts at insured banks while remaining within FDIC limits. The service charges 0.04% per quarter or $40 per $100,000 held in your savings accounts (subject to a minimum of $20 every 3 months.)
The tool allows direct checking account links from 18 large banks and brokerage firms, including Bank of America, Fidelity, USAA and others. If your bank isn't supported by a direct link, you can open a Max account and link checking and savings accounts from thousands of banks.
If you're looking for a new savings account, you can use the Max Common Application. Max partners with eight online banks, including Ally Bank, American Express Bank and Barclays.
Online banks make it easy to open new accounts — which is what you'll appreciate if you have to set up multiple accounts to deposit your cash. Remember though, that while you can earn higher interest at online banks, you likely won't get the same customer service you'll find at a brick-and-mortar bank. If you have questions, you may be required to use digital methods — an online chatbot, or an email contact form — depending on the institution.
The same goes for fintech companies that offer high-yield accounts by partnering with banks that hold the deposits. You could be limited to using an e-mail contact form to solve any account issues.
You also want to make sure that your fintech account is FDIC or NCUA-insured. The bank that's holding your deposit should be listed on the fintech's website and state whether it is an FDIC member.
Ex-staff writer, Kiplinger's Personal Finance
Rivan joined Kiplinger on Leap Day 2016 as a reporter for Kiplinger's Personal Finance magazine. A Michigan native, she graduated from the University of Michigan in 2014 and from there freelanced as a local copy editor and proofreader, and served as a research assistant to a local Detroit journalist. Her work has been featured in the Ann Arbor Observer and Sage Business Researcher. She is currently assistant editor, personal finance at The Washington Post.