Keep Your Savings Safe
If your wealth exceeds FDIC limits, it may be time to open multiple accounts. But make sure your money is earning something, too.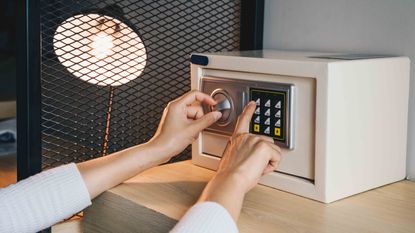 (Image credit: Getty Images)
Whether you've come into a big windfall or accumulated wealth through disciplined saving, it's important to protect your money from fraud or insolvency at your financial institution. The Federal Deposit Insurance Corp. insures bank deposits for up to $250,000 per depositor per bank or $500,000 for joint accounts per bank. The FDIC offers a tool you can use to calculate coverage on your insured accounts at specific banks at https://edie.fdic.gov (opens in new tab). If what you've saved exceeds those amounts, you may need to open multiple checking or savings accounts at FDIC-insured institutions.
You also want to get the highest interest rates—a challenge at a time when rates are at record lows.
MaxMyInterest.com (opens in new tab) will spread your cash among high-yield savings accounts at insured banks while remaining within FDIC limits. The service charges a quarterly fee of 0.02% of your cash balance, or $20 per $100,000. The tool allows direct checking account links from 18 large banks and brokerage firms, including Bank of America, Fidelity, USAA and others. If your bank isn't supported by a direct link, you can open a Max account and link checking and savings accounts from thousands of banks.
Subscribe to Kiplinger's Personal Finance
Be a smarter, better informed investor.
Save up to 74%
Sign up for Kiplinger's Free E-Newsletters
Profit and prosper with the best of expert advice on investing, taxes, retirement, personal finance and more - straight to your e-mail.
Profit and prosper with the best of expert advice - straight to your e-mail.
If you're looking for a new savings account, you can use the Max Common Application. Max partners with eight online banks, including Ally Bank, American Express Bank and Barclays.
While you can earn higher interest at online banks, you won't get the same customer service you'll find at a brick-and-mortar bank. If you have questions, you may be required to use a chat box, phone number or e-mail contact form, depending on the institution.
The same goes for fintech companies that offer high-yield accounts by partnering with banks that hold the deposits. You could be limited to using an e-mail contact form to solve any account issues. You also want to make sure that your fintech account is FDIC-insured. The bank that's holding your deposit should be listed on the fintech's website and state whether it is an FDIC member.
Staff Writer, Kiplinger's Personal Finance
Rivan joined Kiplinger on Leap Day 2016 as a reporter for Kiplinger's Personal Finance magazine. She's now a staff writer for the magazine and helps produce content for Kiplinger.com. A Michigan native, she graduated from the University of Michigan in 2014 and from there freelanced as a local copy editor and proofreader, and served as a research assistant to a local Detroit journalist. Her work has been featured in the Ann Arbor Observer and Sage Business Researcher.