Switch Accounts for a Better Yield?
If your current account has a reliable history of strong yields, it might be worth sticking around.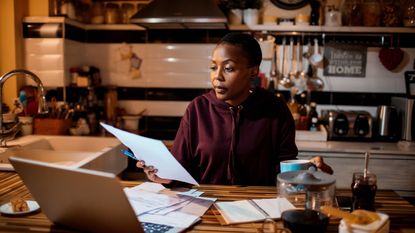 (Image credit: Getty Images)
Interest rates on savings accounts often fluctuate, making the hunt for the highest yield on your savings stash a cat-and-mouse game. If your account's yield falls, is it worth switching to a different account offering a better rate? After all, the new account's yield could drop at any time, too.
Doing some math can help you make the call. Say you have $10,000 in a savings account with a rate that recently dropped to 0.4%. Over the next year, you'll earn about $40 in interest if the rate remains steady. If you move the money to an account yielding 0.7% — one of the top rates available recently — you'll earn about $70 in interest over a year, or $30 more, if the yield stays the same (but that's a big if).
If you hold a bigger balance, switching becomes more compelling. "The more you have in the savings account, the larger the difference, and that can make even a small rate advantage worthwhile," says Ken Tumin, of DepositAccounts.com (opens in new tab). Using the example above but with a $50,000 balance, you'd earn about $150 more in interest by moving your money to the higher-yielding account. With a $100,000 balance, the difference is about $300. You can run the numbers by visiting Investor.gov (opens in new tab), hovering over the "Financial Tools & Calculators" tab and selecting "Compound Interest Calculator."
Subscribe to Kiplinger's Personal Finance
Be a smarter, better informed investor.
Save up to 74%
Sign up for Kiplinger's Free E-Newsletters
Profit and prosper with the best of expert advice on investing, taxes, retirement, personal finance and more - straight to your e-mail.
Profit and prosper with the best of expert advice - straight to your e-mail.
Look for consistency. Accounts that have reliably offered strong yields in the past are more likely to continue providing above-average rates than those that occasionally dangle chart-topping yields to attract customers. To see a list of the highest-yielding accounts in your area, visit Depositaccounts (opens in new tab). For each account, you can click on "Details" to see its rate history. Tumin notes that in an index of 10 well-established online savings accounts that DepositAccounts tracks, the no-fee accounts from Live Oak Bank (0.6% yield), SFGI Direct (0.56% yield) and Synchrony (0.55% yield) recently offered rates higher than the index average of 0.49%, and they've had above-average rates for the past three and a half years, too.
Contributing Editor, Kiplinger's Personal Finance
Lisa has spent more than15 years with Kiplinger's Personal Finance and heads up the magazine's annual rankings of the best banks, best rewards credit cards, and financial-services firms with the best customer service. She reports on a variety of other topics, too, from retirement to health care to money concerns for millennials. She has shared her expertise as a guest on the Today Show, CNN, Fox, NPR, Cheddar and many other media outlets around the nation. Lisa graduated from Ball State University and received the school's "Graduate of the Last Decade" award in 2014. A military spouse, she has moved around the U.S. and currently lives in the Philadelphia area with her husband and two sons.