What to Look Out for Using Digital Payments Like Venmo and Zelle
More and more Americans have abandoned paper money and coins, but there are risks to using peer-to-peer digital payments.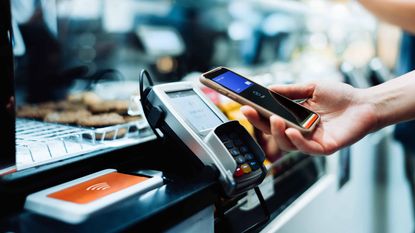 (Image credit: Getty Images )
If you can't remember the last time you paid cash for groceries or a cup of coffee, you're not alone. More than 40% of Americans say they don't use cash for any of their purchases in a typical week, up from 24% in 2015, according to Pew Research.
What's more, many Americans have resigned themselves to a world without cash: Nearly 65% believe that it's either likely or very likely that the U.S. will become a cashless society in their lifetimes, according to a Gallup poll conducted in 2022.
Multiple factors have led to a shift away from cash, including the increase in online shopping, particularly during the COVID-19 pandemic, and the growing use of self-checkout lanes at grocery and other retail stores. Technology has also played a role. Electronic payment devices have made it possible for even very small merchants, such as sellers at local farmers markets, to accept digital payments. Meanwhile, smartphone apps such as Zelle, Venmo, Apple Pay, and Cash App allow users to pay their babysitters or split a restaurant bill without opening their wallets. The shift has led to some profound changes in the retail and banking industry. Some retailers no longer accept cash payments, while the number of ATMs has declined by 4% since 2019, according to Euromonitor International, a London-based research firm.
Subscribe to Kiplinger's Personal Finance
Be a smarter, better informed investor.
Save up to 74%
Sign up for Kiplinger's Free E-Newsletters
Profit and prosper with the best of expert advice on investing, taxes, retirement, personal finance and more - straight to your e-mail.
Profit and prosper with the best of expert advice - straight to your e-mail.
Misdirected Money
While transferring money via payment apps is convenient, the fact that you don't have to do it in person increases the risk that you'll send it to the wrong recipient. In addition, scammers have targeted users of mobile payment apps by impersonating legitimate businesses seeking payment for a product or service. Others pretend to be a loved one needing cash to pay for an emergency. Another tactic is to send a text purportedly from your bank, claiming that your account has been compromised.
Some 13% of people who have used one of the most popular payment apps say they've been victimized by a scam, while 11% report that their accounts have been hacked, according to Pew Research. U.S. consumers lost $1.6 billion to payment app scams in 2021, an amount that's projected to rise to $3 billion by 2026, according to ACI Worldwide, a payments software company. These scams aren't new, but they're problematic for users of mobile payment apps. Once you transfer money, it's difficult to get it back, even if you were scammed or accidentally sent it to the wrong recipient. However, if a criminal hacks your P2P account (say, by stealing your user name and password and logging in from his or her device) and makes unauthorized transactions, you may have some legal protections.
Some lawmakers are pressuring the banks that own the Zelle network to reimburse customers who lose money due to payment fraud. It's unclear, though, how such a plan would work and whether it would cover customers who lose money due to user error.
If you use payment apps, the Federal Trade Commission and the American Bankers Association offer these tips:
-- Protect your account with multifactor authentication or a PIN.
-- Confirm the name, e-mail, phone number, or applicable identifier of your intended recipient before you transfer money.
-- Don't share bank authentication or verification numbers or your personal information with anyone who contacts you, even if caller ID indicates it's a familiar company.
-- Set up alerts to notify you of transactions in your account.
Note: This item first appeared in Kiplinger's Personal Finance Magazine, a monthly, trustworthy source of advice and guidance. Subscribe to help you make more money and keep more of the money you make here.

Senior Editor, Kiplinger's Personal Finance
Block joined Kiplinger in June 2012 from USA Today, where she was a reporter and personal finance columnist for more than 15 years. Prior to that, she worked for the Akron Beacon-Journal and Dow Jones Newswires. In 1993, she was a Knight-Bagehot fellow in economics and business journalism at the Columbia University Graduate School of Journalism. She has a BA in communications from Bethany College in Bethany, W.Va.