Where's My Stimulus Check? The IRS's "Get My Payment" Tool is No Longer Available
Although the IRS has taken down its online tool for tracking stimulus checks, there are other ways to get stimulus check information.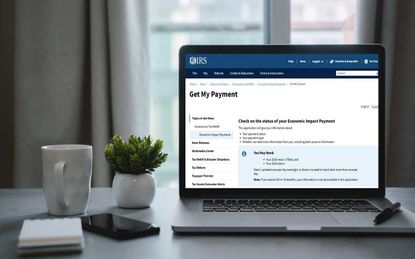 (Image credit: Getty Images; IRS.gov)
If you're still asking yourself "where's my stimulus check," the IRS no longer has an online portal where you can track your payment. The old portal – called the "Get My Payment" tool – was taken down earlier this year, since the IRS is no longer sending stimulus check payments. (To find out how much money you should have received, see our Third Stimulus Check Calculator.)
You can still find the amount of your third stimulus payment by creating an online IRS account or refer to IRS Notice 1444-C or Letter 6475, which the IRS mailed earlier this year to people who received a third stimulus payment in 2021. If you didn't get a payment, or your received less than the full amount, you might be able to get what you're owed by claiming the recovery rebate credit on your 2021 tax return (although you need to file your return soon!). You'll need the total payment amount from your online account, Notice 1444-C, or Letter 6475 to calculate your recovery rebate credit. If you're married and filed a joint tax return, each spouse needs to log into their own online account or use their own notice/letter for their half of the total payment.
State Stimulus Checks in 2022
Although the federal government isn't sending out stimulus checks this year, some states are sending similar tax rebate payments in 2022. These state "stimulus checks" are designed to help residents battle rising inflation and deal with other economic difficulties. Funding for the state payments typically comes from a budget surplus or federal COVID-relief aid. To see if your state is (or will be) sending a rebate this year, see States Sending Stimulus Checks.
Subscribe to Kiplinger's Personal Finance
Be a smarter, better informed investor.
Save up to 74%
Sign up for Kiplinger's Free E-Newsletters
Profit and prosper with the best of expert advice on investing, taxes, retirement, personal finance and more - straight to your e-mail.
Profit and prosper with the best of expert advice - straight to your e-mail.
How the Former Stimulus Check Portal Worked
The old "Get My Payment" tool that was taken down allowed you to:
Check the status of your stimulus payment;
Confirm your payment type (paper check or direct deposit); and
Get a projected direct deposit or paper check delivery date (or find out if a payment hasn't been scheduled).
To access the tool, you were asked to provide a:
Social Security Number (SSN) or Individual Tax ID Number (ITIN);
Date of birth;
Street address; and
Five-digit ZIP or postal code.
If you filed a joint tax return, either spouse could access the portal by providing their own information for the security questions used to verify a taxpayer's identity. Once verified, the same payment status was shown for both spouses.
If you submit information that didn't match the IRS's records three times within a 24-hour period, you were locked out of the portal for 24 hours. You were also locked out if you previously accessed the system five times within a 24-hour period.
For third-round stimulus checks, the "Get My Payment" tool displayed one of the following:
1. Payment Status. If you got this message, a payment been issued. The status page showed a payment date, payment method (direct deposit or mail), and account information if paid by direct deposit.
2. Need More Information. This message was displayed if your 2020 tax return was processed but the IRS didn't have bank account information for you and your payment had not been issued yet. It also may have meant that your payment was returned to the IRS by the Post Office as undeliverable.
3. Payment Status Not Available. This meant either the IRS hadn't processed your payment yet, the IRS didn't have enough information to issue you a payment, or you were not eligible for a payment.
Some of the states issuing rebate payments have similar online tools where you can track the status of your state payment.
Rocky Mengle was a Senior Tax Editor for Kiplinger from October 2018 to January 2023 with more than 20 years of experience covering federal and state tax developments. Before coming to Kiplinger, Rocky worked for Wolters Kluwer Tax & Accounting, and Kleinrock Publishing, where he provided breaking news and guidance for CPAs, tax attorneys, and other tax professionals. He has also been quoted as an expert by USA Today, Forbes, U.S. News & World Report, Reuters, Accounting Today, and other media outlets. Rocky holds a law degree from the University of Connecticut and a B.A. in History from Salisbury University.