Best National Banks, 2018
Large banks have the resources to serve up a variety of deposit accounts and loans, as well as financial planning, investing and wealth-management services.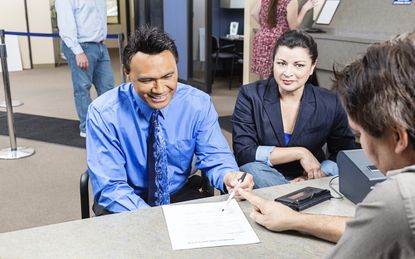 (Image credit: Getty Images)
Large banks have the resources to serve up a variety of deposit accounts and loans, as well as financial planning, investing and wealth-management services. They also tend to have robust digital and mobile tools.
For example, many big banks--including our winner and runner-up--offer Zelle (opens in new tab), a peer-to-peer payment service that allows users to send money to customers of other participating banks in minutes.
Here's a look at our top picks for national banks.
All rates as of June 22, 2018.
1/3
BEST: TD Bank
Although its roots are in Canada, TD Bank (opens in new tab) has built a strong presence in the U.S., with more than 1,200 branches in 15 East Coast states and the District of Columbia. And if you frequently visit a branch, you may appreciate the small touches TD adds to the experience: free pens and lollipops for you (plus other goodies on occasion) and free biscuits for your dog. Plus, TD branches are generally open until 6 or 7 p.m. on weekdays, and many branches are open on Saturdays, Sundays and a few federal holidays, too. TD has revamped its website, with a streamlined design no matter what kind of device you use and easy-to-access shortcuts to tools to make transfers, pay bills and use other services.
Regardless of how much money you keep in the bank, you'll likely find a checking account that suits you. Convenience Checking (opens in new tab) requires a minimum daily balance of only $100 to waive the $15 monthly fee. If you maintain a higher balance ($2,500 for Premier Checking (opens in new tab) or $20,000 in a combination of deposits and loans for Relationship Checking (opens in new tab)), you get more perks, such as waived fees for out-of-network ATM transactions and free checks and money orders. Students have access to a free checking account paired with a free savings account. For customers who are 60 or older, TD offers an account that waives the $10 monthly fee if you keep a $250 minimum balance and comes with free standard checks, cashier's checks, money orders and paper statements.
Savers have a variety of options, including a basic savings account with a $300 minimum to avoid a $5 monthly fee (0.05% interest). The Preferred Savings (opens in new tab) account ($20,000 minimum to waive a $15 monthly fee) offers up to 1.2% to 1.5% interest, depending on the balance and your region, if you have an eligible linked account, such as an active personal or small-business checking account, a mortgage or a credit card. Interest rates on standard certificates of deposit (minimum $250 deposit) are paltry, but recently you could earn 2% with a $10,000 deposit on the Choice Promotional one-year CD (opens in new tab) if you have an eligible checking account.
If you have at least $500,000 in investable assets, you're eligible to use the services of TD Wealth Private Client Group (opens in new tab), whose advisers can assist with wealth and retirement planning, investment management, philanthropic planning and other financial needs.
2/3
RUNNER-UP: U.S. Bank
U.S. Bank (opens in new tab) has grown into one of the country's largest banks, with more than 3,000 branches in 25 states, mostly in the Midwest and West. And U.S. Bank is no slouch on the digital side of the business. It recently won accolades from research and consulting firm Corporate Insight for excellence in person-to-person payments and online bill paying. For four years in a row, the Ethisphere Institute has named U.S. Bank one of the world's most ethical companies.
You can choose from an array of checking accounts, including the Silver package (opens in new tab), which comes with a free money market deposit account and requires $1,000 in monthly direct deposits or a $1,500 minimum balance in your checking and money market account to waive the $6.95 monthly fee. If you're willing to widen your relationship with the bank, check out the Gold checking package (opens in new tab), which waives the $14.95 monthly fee if you have a mortgage, home-equity loan or line of credit, credit card, or personal loan with U.S. Bank. You also get a free money market savings account and free overdraft transfers from a linked deposit account. The Premium (opens in new tab) and Platinum packages (opens in new tab) come with higher minimums and more perks. Plus, the bank offers free accounts for students and seniors and offers any checking account with no monthly fee to current and former members of the military.
Besides the free money market accounts tied to the Silver, Gold and Platinum packages, customers can also choose among standard savings and money market accounts, as well as CDs with minimum deposits starting at $500 (but rates on standard CDs are low).
3/3
The Best Banks and Credit Unions for You, 2018
These stellar banks and credit unions are making all the right moves to win satisfied customers:
Contributing Editor, Kiplinger's Personal Finance
Lisa has spent more than15 years with Kiplinger's Personal Finance and heads up the magazine's annual rankings of the best banks, best rewards credit cards, and financial-services firms with the best customer service. She reports on a variety of other topics, too, from retirement to health care to money concerns for millennials. She has shared her expertise as a guest on the Today Show, CNN, Fox, NPR, Cheddar and many other media outlets around the nation. Lisa graduated from Ball State University and received the school's "Graduate of the Last Decade" award in 2014. A military spouse, she has moved around the U.S. and currently lives in the Philadelphia area with her husband and two sons.