Best Banks for Small-Business Owners, 2018
A small-business owner's banking needs depend on the nature of the company.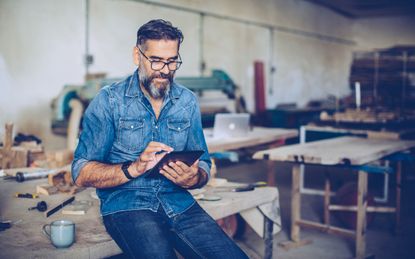 (Image credit: Getty Images)
A small-business owner's banking needs depend on the nature of the company. If you frequently deposit cash, for instance, you'll want access to a nearby branch. If banking exclusively online (or over the phone) is feasible, you have more options.
Here's a look at our top bank picks for small-business owners.
All rates as of June 22, 2018.
1/3
BEST: TD Bank
TD (opens in new tab) is especially attractive for small-business customers who also have personal accounts with TD. With Business Convenience Checking Plus (opens in new tab), you won't pay the $25 monthly fee if you have a combined balance of at least $1,500 in your personal and business checking accounts (and the fee is waived for the first two statement cycles regardless of the balance). You get a combined 500 free checks or electronic transactions deposited and paid per month (50 cents per item thereafter), and you can deposit up to $10,000 in cash each month free (20 cents per $100 deposited thereafter).
TD also offers a basic business checking account (opens in new tab) with a flat $10 monthly fee. Or you can choose Premier Checking (opens in new tab), which is free if you maintain $40,000 in your personal checking and business deposit accounts or meet other requirements, such as having a small-business loan with TD. And the Premier account comes with more benefits, such as free money orders and cashier's checks.
TD offers savings products for small businesses, too, including a money market deposit account (opens in new tab) that yields 1.26% on a balance of $10,000 or more ($2,500 minimum to avoid the $15 monthly fee) if you have an eligible business checking account (opens in new tab). The bank also provides other resources for small businesses, including loans and lines of credit, payment-processing services, and free online tutorials and workshops.
2/3
RUNNER-UP: Pen Air Federal Credit Union
Pen Air (opens in new tab)'s branches are in the Pensacola, Fla., area, but joining the credit union from afar may be worthwhile for business owners who don't mind banking remotely. Pen Air's business checking account (opens in new tab) has no minimum balance requirement or monthly fee and is free of several other fees that business accounts commonly charge, such as for paper statements, checks paid or deposited, and cash deposits--although you must deposit at least $25 into a business savings account to represent your share in the credit union.
Pen Air also has a business money market deposit account (opens in new tab) that yields up to 0.75%, depending on the balance ($2,500 minimum to earn interest and waive a $10 monthly fee). The credit union offers small-business loans, too. To join Pen Air, become a member of the Friends of the Navy-Marine Corps Relief Society (opens in new tab) (Pen Air makes a $3 donation on your behalf, so you pay no fee).
3/3
The Best Banks and Credit Unions for You, 2018
These stellar banks and credit unions are making all the right moves to win satisfied customers:
Contributing Editor, Kiplinger's Personal Finance
Lisa has spent more than15 years with Kiplinger's Personal Finance and heads up the magazine's annual rankings of the best banks, best rewards credit cards, and financial-services firms with the best customer service. She reports on a variety of other topics, too, from retirement to health care to money concerns for millennials. She has shared her expertise as a guest on the Today Show, CNN, Fox, NPR, Cheddar and many other media outlets around the nation. Lisa graduated from Ball State University and received the school's "Graduate of the Last Decade" award in 2014. A military spouse, she has moved around the U.S. and currently lives in the Philadelphia area with her husband and two sons.