Best Banks for Families With Students, 2018
These are the best financial institutions for families with students in 2018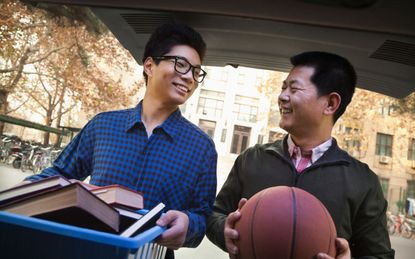 (Image credit: Getty Images)
The consummate bank for families is one they can grow with over time, with a starter account for teenagers and additional free accounts once they turn 18, plus attractive choices for the parents so they can make transfers and keep tabs on their kids' transactions.
Here's a look at our top bank picks for families with students.
All rates as of June 22, 2018.
1/3
BEST: Capital One 360
The online arm of Capital One Bank (opens in new tab) has a free Money teen checking account (opens in new tab), which is designed for parents and their kids between 13 and 18 years old to open together. There are no fees or minimum deposits. Only the teen receives a debit card, but adults can keep an eye on transactions via app or text alerts. Cash withdrawals from Allpoint or Capital One ATMs are free.
Once your child turns 18, he or she can move over to the regular 360 Checking account (opens in new tab), which also doesn't require a minimum balance or charge monthly fees. Parents with a Capital One branch account can also link it to a regular 360 Checking account and transfer money between those accounts instantly. For savers, Capital One 360 offers a Kids Savings Account (opens in new tab), which earns 1% and has no fees or balance requirements. Only parents can transfer money in or out.
The Capital One app (opens in new tab) allows for mobile check deposit and peer-to-peer payments through Zelle. You can get customer service for Capital One 360 accounts at Capital One branches, and at the more-relaxed hubs known as Capital One Cafes (opens in new tab), you can ask questions or make ATM deposits--then grab a latte.
2/3
Axos Bank
First Checking (opens in new tab), a joint account for teens younger than 18 and their parents, was added to the Axos Bank (opens in new tab) (formerly Bank of Internet USA) lineup last year. The account charges no monthly fees and has no balance requirements beyond an initial deposit of $100. It also imposes low daily withdrawal limits ($100 in cash withdrawals, $500 in purchases), nixes overdraft fees, and refunds $12 in ATM fees per statement cycle.
Once your teen turns 18, he or she will have several checking account options, including the no-frills, no-fee Essential Checking, with unlimited reimbursement of ATM fees in the U.S., or CashBack Checking (opens in new tab), which rewards active debit card users with 1% cash back as long as they keep at least $1,500 in the account. Parents who bank with their kids may prefer Rewards Checking (opens in new tab). Parents can transfer money to their children instantly if both have an Axos account. The app (opens in new tab) also allows you to transfer funds and deposit checks remotely.
3/3
The Best Banks and Credit Unions for You, 2018
These stellar banks and credit unions are making all the right moves to win satisfied customers:
Associate Editor, Kiplinger's Personal Finance
Miriam lived in Toronto, Canada, before joining Kiplinger's Personal Finance in November 2012. Prior to that, she freelanced as a fact-checker for several Canadian publications, including Reader's Digest Canada, Style at Home and Air Canada's enRoute. She received a BA from the University of Toronto with a major in English literature and completed a certificate in Magazine and Web Publishing at Ryerson University.