Best Banks for Military Personnel, 2018
Service members face challenges, such as frequent moves and overseas deployments, that call for ease and simplicity in banking.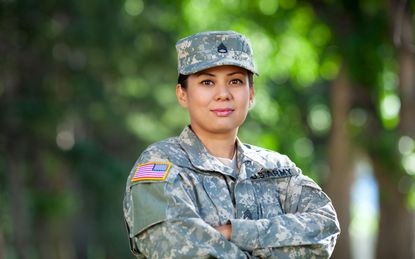 (Image credit: Getty Images)
Service members face challenges, such as frequent moves and overseas deployments, that call for ease and simplicity in banking. These institutions feature no-hassle checking and savings accounts, as well as services tailored to military personnel.
Here's a look at our top bank picks for military personnel.
Disclaimer
All rates as of June 22, 2018.
1/3
BEST: Navy Federal Credit Union
Navy Federal is open to members and veterans of all military branches--plus Department of Defense civilian workers--and has 289 branches around the U.S., plus 28 abroad. Active-duty military personnel who have a qualifying military direct deposit can use a free checking account that pays 0.05% interest and rebates up to $20 monthly in out-of-network ATM surcharges (including overseas transactions).
Among the options for other customers are a free basic checking account and Flagship Checking, which requires a $1,500 balance to waive the $10 monthly fee, yields up to 0.45% and refunds $10 monthly in ATM fees if you have direct deposit. All the checking accounts come with free overdraft transfers from a savings account and free checks. Navy Federal also offers the Go prepaid debit card, which has no monthly, activation or purchase fee. For transactions abroad, both regular and prepaid debit cards charge a reasonable fee: 1% if the purchase is in a foreign currency or 0.8% if it's in U.S. dollars.
All Navy Federal members get a free savings account, and the free standard money market deposit account yields up to 0.75%. Plus, the credit union offers articles and resources for military members on its website and hosts financial seminars around the country.
2/3
RUNNER-UP: USAA
Military members and veterans and their families can bank with USAA, which operates primarily online and offers a broad suite of products and services. The free Classic Checking account will reimburse up to $15 monthly in out-of-network ATM fees in the U.S. and has free overdraft transfers. (Through a pilot program in certain states, USAA is also offering CashBack Rewards Checking, which gives you 10 cents back on every debit card purchase.) ATM surcharges are not refunded for overseas transactions, but the foreign-transaction fee on debit card purchases and ATM withdrawals is only 1%. Savings accounts--including a youth savings account--are free.
Among USAA's other offerings are insurance policies (including auto, homeowners, renters and life insurance), investment accounts (including IRAs and 529 plans) and resources especially for military members. The USAA website, for example, has a calculator to help military members estimate their potential retirement savings under the new Blended Retirement System. And USAA gained recognition from Corporate Insight for excellence in self-service options online and for presentation of transaction history and statements.
3/3
The Best Banks and Credit Unions for You, 2018
These stellar banks and credit unions are making all the right moves to win satisfied customers:

Associate Editor, Kiplinger's Personal Finance
Miriam lived in Toronto, Canada, before joining Kiplinger's Personal Finance in November 2012. Prior to that, she freelanced as a fact-checker for several Canadian publications, including Reader's Digest Canada, Style at Home and Air Canada's enRoute. She received a BA from the University of Toronto with a major in English literature and completed a certificate in Magazine and Web Publishing at Ryerson University.